This content has been archived. It may no longer be relevant
As spring quarter rolls around, student government undergoes its annual changeover. Though every spot in the 2010-2011 student government was open, the only competition was for the presidential and vice presidential positions, between three pairs of candidates. Elections took place on Friday from 12-7 p.m. in Perry Lounge, and the results were out by Friday night.  Juniors Laura Buchanan and Esteban Xifre Villar are our new presidents.
Buchanan and Xifre ran for the spots of president and vice president, respectively, with a message of plans for the future. Sophomores Austin Kingsbery and Grace Hathaway focused on providing "communication, innovation, dedication." Juniors Ron Meyer and Dani Corbitt used the slogan "A Stronger Student Voice." The campaign strategy of each pair was similar. They put up posters, had videos playing in the concourse at meal times, and had a presentation of ideas in the Pub during Week 5.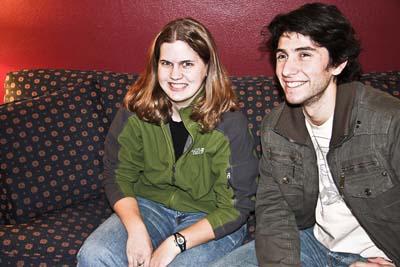 Meyer, propelled by his desire for students to know that he is reachable, sat in a GDR from 11:30-1:30 p.m. on election day to answer questions from anyone who cared to come in and talk. "Our policies have to do with communication with Dr. Palmer and the deans," Meyer stressed during the lunchtime meeting. Their main goal was to increase the amount of student-administration discussion to let students help with the decision-making process.
Buchanan said about her decision to run for president, "I thought that my past leadership experience at Principia had given me a good perspective on how best to accomplish goals at Principia … and I felt like this position would allow me to do the most good for the largest number of people. I want to make sure that the student voice is heard and that some smaller student needs are taken care of, like getting shuttles to the airport."
She was also inspired by her brother, senior Will Buchanan, who is the current student body president: "My brother inspired me to run because he made me realize that you don't have to be a superhero to be student body president … You just have to be committed and experienced."
"I'm not my brother," said Buchanan.  "We have different means of going about things and different takes on the role of student government, but we have a similar management style and we're equally driven."
Her partner Xifre is eager to start working this spring. The first thing that the new presidents have to do is put together a board of representatives. This student government is the first one to use the new streamlined model, in which there are fewer members.
Xifre ran for office last year with senior Katie Sydness, but was not elected. Instead he has filled his time with activities such as being an RA in Rackham and playing on the soccer team. "I wanted to give back to Prin because it really has changed me in many ways," said Xifre. "It's also the best position in order to be involved with everything that is going on and making sure I can help represent the student body. It's actually perfect because it gave me more time to prepare and be an RA and to learn a lot for this round."
Aside from their new presidential responsibilities, both Buchanan and Xifre lead busy lives. Buchanan is a triple major (political science, math, and economics), the executive co-director of the Public Affairs Conference, a Sunday reader, and former vice president of the CSO. Xifre is an economics and business major, plays on the soccer team and sings in Plus One, the co-ed a capella group on campus.
Xifre and Buchanan have worked together before during their freshman years, when he was the president of Anderson and she was the president of Rackham. They are also currently in Model UN together. Their decision to run together was based on their complimentary leadership styles. Xifre describes his attitude as a more "think things through" type while hers is a more straightforward attitude. "His experience and leadership styles complement mine perfectly," she agreed. They have various goals that range from small projects, such as airport shuttles, to larger goals that involve the administration.
Xifre and Buchanan are not the only new additions to the student government. Junior Amelia Heron is the newly elected all-campus eco head. Freshman Robert Barnacle and sophomore Brandon McKee are the new men's intramural heads, and freshmen Jessica Gealy and Liza Hagerman are the new women's intramural heads. Finally, junior Nate Hey is the new all-campus metaphysical head.
Next year's co-intramural head Hagerman has been the Anderson intramural head since the fall. She regularly attends sports activities, and started playing lacrosse this quarter.
"I ran because I really like intramurals and I really would like to help [get] more girls to come do it," said Hagerman. "I have some new ideas and want to be involved in this student government."
Hagerman and Gealy plan on continuing the aerobics activities that the current intramural heads have hosted on Saturday mornings, and might even kick it up a notch, since the aerobics classes are so popular. The two are looking for the highest possible student involvement.
"We want more people because numbers give us a broader view of sports, and we'll have more ability to do more activities," Hagerman explained. "It gives us more options of what we can do. It can't hurt to get more people out there!"