The well-acted true story of Holocaust denial on trial
Respected British Historian, David Irving, sues Deborah Lipstadt, an American Professor when she accuses him of denying the Holocaust in the Fall of 1996. Denial re-enacts this libel case.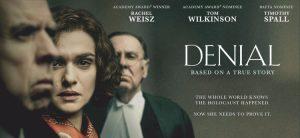 In both life and the film, Lipstadt's book, Denying the Holocaust, referred to Irving as a falsifier and a bigot because of his stance on the Holocaust. By suing her in a British court Irving had the upper hand, because in British libel cases, the burden of proof is placed on the accused. In other words, Lipstadt and her legal team had to prove that Irving deliberately falsified history to suit his ideology.
Director Mick Jackson has assembled a terrific cast to retell the story of this trial, featuring the tremendous Rachel Weisz as Lipstadt, and the legendary Timothy Spall as Irving. The great Tom Wilkinson also stars as Richard Rampton, the lead attorney and historian for Lipstadt.
Jackson and his incredible cast often succeed in finding the story behind the story. For example, there is a major rift between Lisptadt and Rampton at the start of the evidence-gathering process. On a visit to Auschwitz, Lipstadt becomes infuriated with Rampton because of his non-emotional, by-the-book approach, which she finds disrespectful. This is a beautifully nuanced scene with a great kicker of an ending line: "This isn't about memorializing. It's about forensics."
However, as the trial gathers steam, the wound between lawyer and client is gradually healed in a delicate way which oddly contrasts the largely TV-movie nature of the production.
When I say, "TV-movie," I am by no means implying an incompetent supporting cast or low production value. I only mean that the movie's potential for grace is hindered by what I like to call "scaredy-cat editing."
For such an emotionally-charged and often heady film, it's incredibly distracting to be made more aware that we're watching a movie by quick, sloppy editing which distrusts its cast and story to get the job done. Constant use of the shot-reverse shot technique really minimizes the actor's performances and elides moments that should land with more of a thump.
Still, Weisz and Spall truly shine in their respective roles.
Weisz – after her grandly impressive turn in The Lobster earlier this year – continues to prove she is one of the most capable and versatile of today's actresses in this incredibly challenging role. In a weaker year for the Best Actress competition, this performance would probably garner her an Oscar nod, or at least more significant buzz.
Spall is one of the best, most underrated and most prolific British actors working today. His most recognizable roles since the early 2000s have been as semi-sympathetic villains – Mr. Turner and Peter Pettigrew in the Harry Potter series. His Irving in Denial is no exception, and he pulls it off with sly, sneaking affability.
In the grand scheme of things, Denial isn't a great movie. It isn't even this year's best film about remembering the Holocaust. That honor belongs to Demon, a Polish horror film which serves as an allegory for the country's unwillingness to talk about its past.
But Denial's subject matter is so uniquely important and its cast is so brilliant that I have no regrets in recommending it.
Denial = 3.5/5
'Denial' is rated PG-13 for thematic material and brief strong language.
Image courtesy of