This content has been archived. It may no longer be relevant
In response to the economic recession that plagued the last calendar year, Principia College decreased its operating budget by over eight percent with budget cuts across the board in the 2009-2010 operating budget, including changing the meal plan so that initial meal plan dollars are no longer refunded after spring quarter.
Director of Dining Services Lance Thornton explains that this adjustment in the meal plan policy is aimed at "creating a balance of commitment between the students and the Dining Services operation," and to achieve financial security for Dining Services. It "commits to being open seven days a week for three meals a day every quarter term, preparing and providing a variety of items. " Thornton added, "Thus, each student commits to spending an average of $7.01 per day (…) for each of the ten-week quarters."
This modification only applies to the initial meal plan dollars after spring quarter. All unused dollars roll over from fall to winter and winter to spring quarter. Any remaining add-on dollars will be refunded after spring quarter. In the past year, about one third of the student body did not spend at least an average of $7.01 per day, while the other students met this amount or purchased additional meal plan dollars.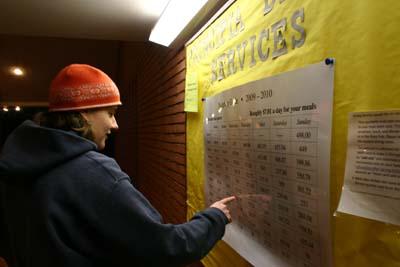 Thornton stressed that Dining Services has consciously made a point to "provide multiple options and ways to use the meal plan dollars" – from numerous packaged and grab-and-go items, to-go boxes and labor intensive, themed, made-to-order menus on Friday nights.  Also, the recently approved convenience store will present another option for students to use up their meal card dollars.
One student, senior Anna Procter, fears that this change will foster a consumerist mentality of "I'm not going to get the money back anyway, so I'll just buy as much as I can. " In addition, this change may further decrease the incentive to watch how much they are spending in the scramble room.
Procter said she only became aware of how much each item actually costs through being on an alternative meal plan in Williams, which includes a lot of individual cooking. "In the scramble room," she said, "I did not have even the slightest sense of how much juice versus milk versus rice etc. is."
In other areas, the administration has looked to ways to save money during this economically unstable time by increasing revenue, reducing department spending, and postponing faculty and staff hires and capital projects. For 2010-2011, there will be "additional reductions to Principia's operating budgets," said Karen Grimmer, Director of Administration and Budget. "The College is working diligently to save money through energy conservation efforts and through reductions in specific targeted areas that will have as little impact on students and the academic program as possible."
Grimmer said she is "so grateful to departments and budget managers for their dedicated efforts to look for ways to save money this year." As the college normally relies on the interest generated from this fund to pay for over 60 percent of the operating cost, the substantial decrease of the endowment fund leads to a decrease in the money available to cover Principia's operating expenses.