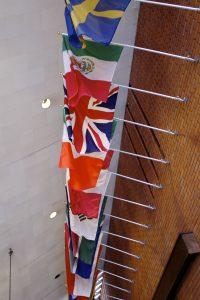 The upcoming Whole World Festival will be held on March 1, marking its 13th annual celebration. The festival will be held in Wanamaker Hall. Junior Shirley Moihloe, president of Friendship Around the World – the club that sponsors the WWF – said that the forthcoming festival will be organized by both international and domestic students on campus this time. Relevant sources noted that the festival will be dedicated to Bente Morse, the late international student coordinator and former faculty advisor of this event.
Principia College, blessed with students from different countries and cultures, has invested in the Whole World Festival to allow both its international and domestic students to appreciate the value of diversity. The festival is celebrated yearly at Principia College as a special day dedicated to friendship among the community at large.
During this festival, domestic students and students from many countries come together to showcase the value of their different cultures in songs, dances, skits, fashion design and poem recitation.
Moihloe said that this year's Friendship Around the World  committee decided to incorporate domestic students in this year's preparation to embrace diverse perspectives and the mission of friendship as well. "Both domestic and international students should work together to build up this festival so that both communities learn to appreciate the value of diversity in which they live through their life at Principia," senior Nancy Irianki said.
During the planning and organization, students meet weekly to contribute ideas that will aid the event's success. However, guests outside campus are often invited to join. "The guests are invited to participate and share their ideas and views on certain issues to add significance to the event," Moihloe said.
Many people describe WWF as an entertainment-focused event because of its focus on performances from different cultural backgrounds. WWF typically starts off with entertainment from students, reinforcing and enhancing the festival's theme of cultures and traditions.
"The Whole World Festival is a beautiful opportunity to celebrate the global perspective of this campus, and for everyone to have fun. This is one of my favorite events of the year, and it's such a joy to be a part of. Giving students an opportunity to perform song, music, and dance from different countries is a celebration for everyone, which is why Wanamaker is always packed," said Marina Byquist, international student coordinator.
The performances in the festival help attendees appreciate the joy and happiness embodied by those in the festival. Music from Korea, France, Africa, Germany, Jamaica and the Americas are all backgrounds represented at WWF.
Another form of entertainment during the festival is the fashion show. The models parade in two parallel lines to background music, wearing their colorful, cultural attires.
Despite the success of the festival, there are some challenges that come along during the organization process. "The major challenge we face as the board is capital. There is [never] enough money to fund our entire budget, so we use the little that we have to cater for all our needs," Moihloe said. "Apart from capital, not everyone on campus attends the festival. Many students think that WWF is designated for international students only."
Moihloe said that students should be informed that this festival is for everyone. "This is the only festival where friends share with you their different traditions as they depict how rich their culture is," she said.