This content has been archived. It may no longer be relevant
Here at Principia College, the rugby team has been a growing sensation throughout the years. From back in the late 70s when the team first formed, to 1981 when the team was second in the nation, to weekly practices continuing today, there has never been a question of rugby's consistent popularity on the Principia campus. Originally, the team was a student, captain-run club. This year, however, with the hiring of a new head coach, rugby will likely commence its transition away from a club and to a varsity sport.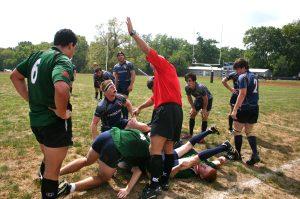 Head coach Ward Patterson comments, "The school is changing a lot. They've moved us from an under the carpet club, to part of a program and part of the athletic department.  This gives us a team. We're on the map. We have a locker room. We have laundry every day like varsity athletes. The school has made that leap, giving us the recognition and the support not only in the administration but campus-wide." And there is an apparent wave of excitement toward this new addition to the program.
Patterson was born and raised in South Africa where rugby is seen as a kind of "national religion." According to Patterson, "You could get out of a lot of things but you couldn't get out of rugby." From the time he was a young boy all the way through high school he couldn't not play. It was the popular thing to do with his father and older brothers, and a major passion in the community in South Africa. Ward played on 12 or 13 teams until he suffered a neck injury in high school and thought he'd never play again. However, when he came to Principia as a student, he found the opportunity to retract his retirement, and after a conversation with a resident counselor, he joined the newly-birthed rugby team and played all through college.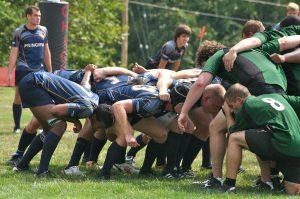 After college, Patterson went on to coach as a hobby in grad school and then at Principia, Middlebury College, and UCONN. These opportunities, along with what he learned from his own coaches over the years, have shaped Patterson into the coach he is today. He has a unique coaching philosophy that boils down to coaching character education, and "[using] rugby to get there." He describes rugby as a test of how the players operate as individuals and as a team to achieve goals. He believes that it's not so much the actual game that is worthwhile, but rather how the game reflects who the player is. At previous schools, he explains, it was almost impossible to get the men to practice, to listen, or even to care. They came and went as they pleased, never seeking a deeper purpose behind the sport. Ward describes feeling "enormously privileged" to be working with the men here at Principia.
Because Prin's team is fairly young, a coach might feel uncertain with the direction the season may take. Not Ward Patterson. Even though the team is made up mostly of underclassmen or individuals without much experience, Ward says, "what [I] absolutely cherishe is the passion and desire they have to play the game every single day, all the time. These kids are all keen, keen, keen, madly keen. They listen, they pay attention, they try to execute and encourage each other to be better." Ward recognizes natural talent and potential in the underclassmen and the team as a whole. He regards the returning players as "the point to the spear" and true leaders of the squad. As a coach he stresses effort, and a competitive drive to play "flat out."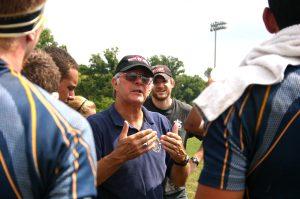 With the new program, his goal is to build the players' own understanding of the actual game of rugby rather than "feeling they are hamstrung by coaching instructions." He wants each of his players to feel comfortable enough to make their own decisions and to feel free and relaxed so that they can play well. "For me, you push yourself. If you work together and follow the principle of the game you can be highly successful." He doesn't emphasize individual plays so much as playing as a team and understanding enough to support one another, and fight for the win.
This new form of coaching is a clear reconstruction of the previous program. The whole mood of the team has shifted since Patterson took over. President of the team, Jake Milner, talks about the new coach in a praiseworthy manner: "He demands perfection. He wants us to be the best we can be. He's a coach as opposed to a facilitator and he wants us to succeed." The same can be said from Team Captain Max Russell: "He's got tons of experience and a fun personality. He keeps practice fresh but also very focused. Everyone wants to play to his standards. We want to step up with every practice. The drive to impress him is more of an incentive now." And who wouldn't want to impress someone who wholeheartedly believes in the power of rugby?
Ward ends the interview: "If you've got a pulse, you should be playing. It's one of the sports that, in my world, can change your life. There are not many activities in the world that do that. The brotherhood of the sport is worldwide." We're all definitely looking forward to the rugby season at Principia College, which will continue through the fall semester into the spring. So, if you're interested in learning "courage, fortitude, determination, and overcoming obstacles", come play for Ward Patterson, who we are elated to have as a part of our community, and a part of our Athletic Program.
"Rugby's a bond that supersedes everything else we do." –Coach Patterson
Go Thunder Chickens.