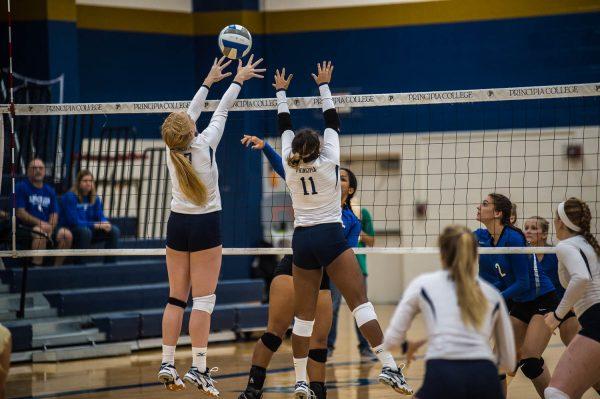 By: Connor Coyne
This year, the volleyball team has been off to their best start in program history, boasting a current record of 16-3. With three players already named SLIAC player of the week, the Principia volleyball team is a contender for the title. What's behind this year's success?
Could it be a type of special gatorade? Possibly it's magic water? There's got to be an answer to their unstoppable season. Believe it or not, it's quite simple. It's the motto the team has now coined across campus. The "Vibe Tribe."
Cha Cha Fisher, the lone senior on the team said, "Vibe signifies the tight familial bond and trust that we have in each other, which manifests itself in pure harmony and expression on the court. This team loves each other so freakin' much, on and off the court. That's why we win."
Simple enough: they play well, they win and they're pretty good at it.
The volleyball team currently holds 779 kills on the season, compared to holding their opponents collectively to 747. Prin doesn't make many attack errors either. Compared to the rest of SLIAC, Principia has nearly 200 errors less than the rest of the conference. This year, the women's volleyball team have 121 aces to their opponents' 90, and have scored a total of 1611 points on the season, 300 more points than all of the opponents they've faced.
This season, the volleyball team have notched some big W's against powerhouse teams such as Greenville, Spalding and Westminster. Over the weekend of Sept. 30th, the team travelled to Eureka, Illinois to take a huge game away from Greenville University, who has won the SLIAC title every year since 2013. Not only did Prin take them to five sets and eventually win the game, it also marked a monumental win for Head Coach, Mary Ann Sprague, who collected her 300th career win. The Vibe Tribe took care of business that weekend and left Ronald Reagan's alma mater with 2 W's of their own.
One of the key offensive performers this season has been junior Sophia Hathaway. She currently leads the team in kills, with 242 to her name. "We are extremely gritty and passionate," Hathway said. "We never really give up, which makes us pretty annoying to other teams. We know how to get the best out of each other, dig deep, and play for [each other]". She continued to say, "We don't take any game for granted and go in knowing we have to play our best. We also don't back down from challenging teams."
The grittiness and passion with which the team is playing has not gone unnoticed. Fans are now more fired up than ever. White outs, tie-dye vibe tribe t-shirts and "I believe" chants are seen in Hay Field House consistently.
Behind the grit and toughness of the vibe tribe are 13 women who all deeply love and care for each other. "I am proud of how much we love and support one another, not only on the court but off as well. They're some of my best friends and there's no one I'd rather step on the court with," Hathaway said.
Fisher added, "This team is afraid of no one and we're out to express Love to our highest capacity…The biggest lesson here is how much Love has to do with athletic performance and success in life. Success is always possible if you start with the right foundation."
The foundation is set for the Vibe Tribe. It's been prevalent in the tremendous season they're having. Watch out SLIAC. The tribe's coming for you.
Image courtesy of Dan Kistler