We spent our time in Istanbul doing a range of activities, from swimming in the Bosphorus Strait at the edge of the Black Sea to visiting the Hagia Sophia. We were welcomed into the home and studio of a local rug weaver/artist and saw as much of the Sultanamet (a part of Istanbul) as we could. Highlights include shopping at the bazaars and local shops, eating in different restaurants and meeting all kinds of people from around the world.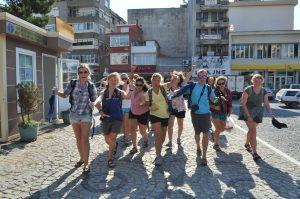 From Istanbul we traveled by bus to Bergama, a smaller agricultural town. In Bergama we spent time drawing at the Acropolis, which overlooks the town, and the Askeplion, a major ancient medical center. We explored the town and found favorite restaurants and markets. While drawing in the older part of town, we were all surrounded by children who wanted to teach us Turkish words, show us their art or draw in our sketchbooks.
From Bergama we traveled south to Priene, a tiny village tucked up against rocky hills. Here we hiked to the top of the Priene Acropolis, visited the ancient site, played futbol and learned how to play hepsi (a Turkish card game) from our Turkish bus driver, who speaks no English but really knows how to play cards. We watched a rock carving demonstration by a local artisan and swam in the Mediterranean Sea and watched the sun set after a fish dinner.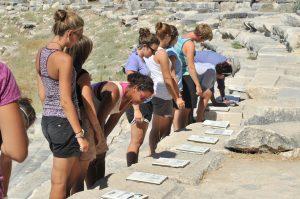 From Priene we moved to Selcuk, our final destination in Turkey, for a visit to Ephesus. Here we also met with Gilbert Wiplinger, a leading expert on aqueducts that supplied the ancient city of Ephesus with water. We spent the day with him, going to one of his dig sites and seeing all the arches left standing. We toured Ephesus and met with Hilke Thur, who explained to the group the excavation and work being done on the Terrace Houses, the home of the wealthy people of Ephesus.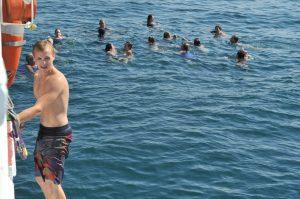 We left Turkey on September 25, taking a short ferry ride to Samos to begin the Greece portion of the abroad.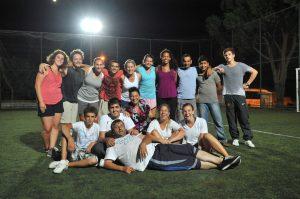 The people of Turkey have been gracious hosts and we have felt welcome everywhere we have gone. The people have been curious about why we spend our time drawing and have enjoyed seeing our work.