Hot Tub Time Machine is a hilariously absurd romp through time that delivers the goods on exactly what its title would lead the viewer to presume, and little else. With a ridiculous premise that pokes fun at both the teen movie and mid-life crisis buddy comedy genres, the film successfully evokes a handful of laughs.
Filled with a seemingly endless amount of silly debauchery, the film's incredibly likeable cast does a decent job of making the film more enjoyable than it might be otherwise.  Without question, the film's most redeeming quality is its self-awareness.  Never at any point does it take itself too seriously.  It's a pretty bad movie, but with a title like Hot Tub Time Machine, isn't that the point?
The movie tells the story of three longtime friends who are each going through some degree of a mid-life crisis.  Adam (John Cusack) is dealing with a break-up from his long-time, live-in girlfriend.  Nick (Craig Robinson, "The Office") abandoned his musical aspirations and is currently working at a pet grooming shop while trying to cope with his unfaithful wife.  Worst off is their friend Lou (Rob Corddry, "The Daily Show"), an alcoholic loner who kicks the movie off and sets the plot in motion by attempting to commit suicide.  Standing at his hospital bed, his two friends decide that they all need to get their groove back by heading up to Kodiak Valley, the setting of their fondest twenty-year-old memories.  Joining them on their trip is Adam's nephew Jacob, a computer geek who never leaves his uncle's basement.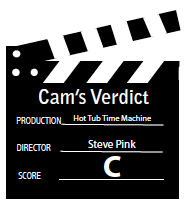 Upon arriving at Kodiak Valley, they realize that much has changed since the days of their cherished past.  The whole town is rundown and practically abandoned.  Regardless, they head to the Silver Peaks Lodge and check in to their old favorite room.  Despite the depressing scene, they quickly conclude that it's nothing that copious amounts of drugs and alcohol can't fix.  In the midst of their highly inebriated soirée, a rogue can of illegal Russian Red Bull gets spilled on the hot tub's control panel.  Given the movie's title, you can only assume what kind of special powers the hot tub is then imbued with.
The next morning, something seems just a bit off but still oddly familiar.  Back in the lodge, everyone aside from the foursome is attired in bright neon.  With Ronald Reagan giving a live speech on TV, Nick asks a random person what color Michael Jackson's skin is.  The answer confirms their hair-brained suspicion.  Somehow they've gone back in time!  Trying to get their bearings, they head back to their room where a look in the mirror reveals reflections of their 20-year-old selves with Jacob's reflection flickering in and out.
At that moment, the hot tub repairman (Chevy Chase) mysteriously appears out of nowhere to lend the group some cryptic advice.  The realization comes to them that they've been given a second chance at re-shaping their lives.  Knowing that the future hangs in the balance, and in an effort to avoid the "butterfly effect," the friends set out to retrace their steps.  Adam needs to get stabbed in the eye with a fork while breaking up with his girlfriend.  Lou needs to get pummeled by the bully ski instructor, and Nick needs to rejoin his band on stage for one last performance.  As you can imagine, everything goes haywire in their attempt to set everything straight.  Though the group does return back to the present intact, saying much more would ruin the movie's payoff.
In the end, Hot Tub Time Machine is a fun movie.  It's not a great movie, but it's not trying to be.  See it or don't see it.  It's good for some laughs, but if you miss it, you're not really missing out.