Students streamed into the Science Center atrium on the Saturdays of weeks three and four for the first ever Principia DJ competition. It included seven DJs in the first round, four finalists, a voting station, one winner, a large crowd that hit the dance floor and an eclectic variety of music from techno and electronic to hip-hop and R&B.
The social event planners created a DJ competition in order to solve the problem of graduating DJs. Junior Jay Amuka, one of the event organizers, explained that "the past year, we've had [Jesse] Davis most of the time, but since he's graduated this past spring, there's been a shortage of DJs on campus. With this competition, we were hoping we can get some DJs to stick around."
The event showed that DJs are no rarity on this campus. Seven students entered into the competition and each DJed for half an hour the first Saturday. The four finalists, freshman Dennis Adjei-Baah, a team of seniors Kenji Yoshinobu and Ezra Ranz, and senior Erik Siegling, had fifty minutes the next Saturday to convince the crowd of their ability and music taste. The rotation of the DJs "really kept things fresh and exposed the audience to a lot of different styles," said sophomore Austin Kingsbery.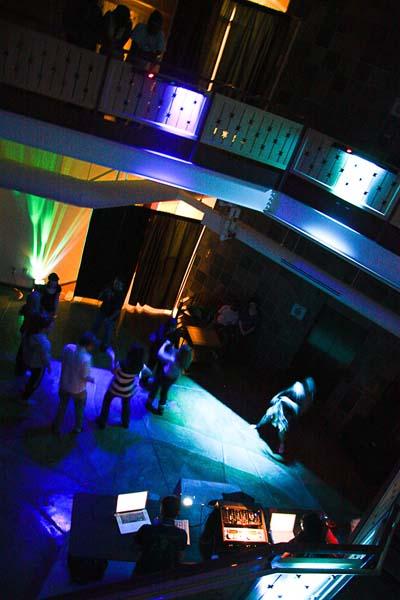 At the peak of both nights, the atrium was packed with Principians who showed up to support their friends, hear some good beats, and rock out on the dance floor. "The event came across really well," said organizer Amuka. "We haven't heard any negative feedback; everyone liked and really enjoyed it." He also pointed out that in such competitions, it is never possible to ensure complete fairness because the audience numbers fluctuate strongly throughout the course of the night.
Adjei-Baah, who played mostly hip-hop and fast beats that make you dance, took first place and won $100. This was his first time as a DJ in front of a larger crowd. He entered the competition because "the art of mixing music is fun," he said. "Transitioning from one song to another without a pause, it's like a flow."
Second-place winner Yoshinobu, who entered in the competition as a duo with Ranz, said he was especially excited about "hearing the music I like off the big speakers."
Siegling, who has pursued DJing as a hobby for about two years, enjoyed playing in front of a larger crowd because "the music's louder, you can feel it more, see everyone jumping around in front of you, which creates a growing pulse of energy."
The location lent itself well to the occasion. The two-story atrium made the setting look "professional," said freshman Blanda Matzenbacher. "There's a lot of space to dance and if you need a break, you can go upstairs to relax without leaving the music."
"It's great that people are getting interested in DJing as an art form," said Siegling, who was voted third in the competition. "For years people have been mostly interested in people playing guitar or bands, but now people are realizing that DJs have the ability to create new and crazy musical experiences. It's really cool to see the DJ culture hitting Principia!"