This content has been archived. It may no longer be relevant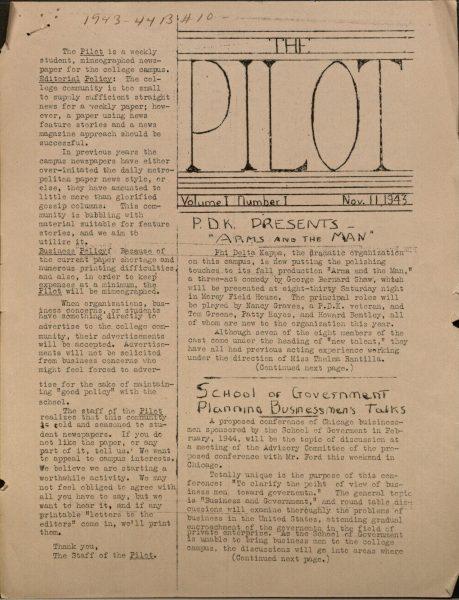 It all started 70 years ago with a group of Principia students and a desire for a news source that would transcend your average cosmopolitan style of "glorified gossip" and seek out relevance and truth. On Nov. 11, 1943, the first edition of Principia's own news publication, the Pilot, was printed.
Beginning as a weekly news publication with handwritten headlines and stapled pages, the Pilot has come leaps and bounds, evolving alongside the technology and student body of the times. The Pilot has seen many forms, from its beginnings as an eight-page, mimeographed, 8.5-by-11 inch sheet newspaper to the streamline color-printed magazine we see today.
Once costing each reader a few cents per issue, the Pilot is now printed four times every semester and distributed free of cost.
According to an article in Gateway Journalism Review written by mass communication associate professor Paul Van Slambrouck, the Pilot's faculty adviser, the publication does make minimal revenue from ads and subscriptions, but the bulk of its budget comes from the annual student activities fee.
Producing an issue of the Pilot is no easy task. Seven editors lead a staff of almost 40 writers, copy editors, photographers and designers.
The editors-in-chief – sophomore Annika Fredrikson and senior Julia Suber – have numerous responsibilities. These include meetings with the Pilot's publisher, College President Jonathan Palmer, to discuss article topics and ideas for upcoming issues; directing the other editors; and giving the "final word" as to what articles are published. They invest hours into the editing as well as the compilation all of the designers' work into what becomes the final product.
There are also assigning editors – senior Stephen Purcell and sophomore Bobby Witney – who are responsible for running "story meetings." During these meetings, the editors and writers work together to brainstorm story ideas to ensure that the most important international, domestic and campus news topics are covered in the upcoming issue. While the editors suggest topics they would like to see written, writers are often able to choose topics of their choice.
The Pilot's three remaining editors are copy chief Colby Bermel, a sophomore; design editor Alice Batista, a junior; and photo editor Nathan Wright, a senior. Each plays a huge role in the editing and design process.
Throughout the editing process, each story goes though a minimum of six edits: two copy editors, an editor-in-chief or an assigning editor, Bermel, Van Slambrouck, and Bermel again for a final read-through. Palmer reviews articles that are seen as particularly sensitive.
After all is said and done, the ultimate goal and intent of the Pilot is to provide the Principia community with quality pieces of interest to both faculty and students. However, the question still remains among many Principians: does the Pilot experience censorship?
Van Slambrouck and Palmer are the two Principia employees involved in the Pilot's publication. As its faculty adviser, Van Slambrouck views his responsibility as just that: "to advise and guide." "This is a student-led publication," he added. "It will reflect the skill set of its editors and writers and designers at any point in time." As Van Slambrouck looks over each article for edits, he provides feedback and guidance to the editors. However, he leaves the overall content to the discretion of the writers, and ultimately the editors.
Palmer's job as president of The Principia also includes being the Pilot's publisher. However, he sees these two roles as being separate. "I try to be pretty clear about what hat I'm wearing. When I meet with the [editing] board and faculty adviser, I am publisher," he said.
In the dual role of president and publisher, Palmer is in a unique position, often faced with the challenge of being the news himself, and obligated to uphold the integrity of the publication. Regarding how he approaches potential issues that may arise from this seeming conflict of interest, he said, "Other than a legal statement, I've never said 'please say it this way.' It is more like, 'do with it what you will, this is my feedback.'"
As with all news publications, readers must be wondering, "what is it I'm not seeing?" This is a fair question to ask, and in regards to whether or not he may stop the publication of an article, Palmer said, "There have been rumors that I have pulled articles, and I have not."
Liza Hagerman, the English department's postgraduate intern who was a Pilot editor-in-chief last school year, commented on Palmer's involvement with content control as minimal. "He might bring up something to resolve. Most of the time when he did bring things up, they were things that needed to be resolved on some level," he said.
In addition to the concern of censorship, it is also important to be asking if the Pilot is serving as an accurate representation of the community. "I do think the Pilot does a good job of printing issues that are relevant to the student body, as well as the community on the whole," Purcell said.
Hagerman expressed similar sentiments. "We felt like it was a medium for helping the community to be aware of what's going on, both positive issues and issues needing resolution. We didn't want to disregard issues that needed to be talked about," she said.
In 2006-2007 the Pilot played a high profile role with its coverage of an internal administration dispute.  Student coverage helped bring new information to the community.  There was a change of leadership in the fall of 2007 followed by an overhaul of the institution's rules of governance.
Each new team of editors has brought enthusiasm, but often diverse skills and preferences, ranging from literary to journalistic.
"It is such a wonderful learning opportunity for everyone involved as to how to lead and be a part of a team," Fredrikson said in discussing the Pilot's purpose.
Van Slambrouck also described the Pilot as a learning tool. "It teaches you to decide what's important and what's not, [as well as] critical thinking and clarity of communication," he said. "It's a lab for learning."
He also believes that this learning opportunity that Pilot provides is what has attracted a staff consisting of students from all different disciplines. "I think that's what makes the Pilot good," he said.
While the mission of the Pilot is to strive to be an accurate representation of its community, it is fair for readers to be questioning its content. However, its purpose is not only to serve as a tool to inform readers, but also to teach practical skills that can benefit the entire staff down the road.