This content has been archived. It may no longer be relevant
Ever wonder how the Palmers met and got to where they are today?  Jonathan and Sue Palmer both graduated from Principia College, though Sue transferred in her sophomore year from UC Irvine.  These two met in the dining room on the college campus, where they both attended the same Sunday school class taught by Lou Garringer.  There was no turning back for these two as they were engaged on Christmas, 1978, the year Jonathan graduated with an English and theater major.  Sue still had one more year of college at this point, so to fill the time before she graduated Jonathan received an MS degree from Simmons College.  Sue, a business and sociology major, was living in Sylvester House during her years at Principia.  After news of her engagement was received by Sylvester House (which was an all girls house at the time), Sue had a pinning ceremony to celebrate the occasion, complete with the Sylvester pinning song and all.  The Palmers were married in June of 1979, after Sue's graduation.  From there they moved to Boston where they both received MBA's from Babson College.  After their time in Boston, the two moved to Claremont area in southern California where Jonathan worked at the Claremont College and Sue was a product manager for a company in the area.  It was in California that their daughter Katie was born, and then their son Jeremy.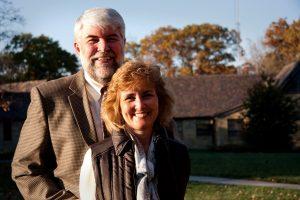 After ten years in California, the Palmer family moved to Norman, Oklahoma where Jonathan worked as a faculty member at the University of Oklahoma for three years. Then the Palmer's moved to Maryland where Jonathan worked as a faculty member for the University of Maryland and Sue did some grant writing for College Summit, a nonprofit organization designed to help kids get into college.  From there, the family moved to Williamsburg, Virginia where they lived for six years before coming to Principia College and where they still maintain a residency.
When asked how Prin has changed from the time they were both students and what it is like being back as faculty, Sue stated that "obviously the world has changed in thirty years, but there are still the same issues we wrestle with, the same moral issues.  I think there are greater temptations the world presents to students today, in one sense, but we are all still figuring out who we are and what stands we are taking.  So those things about Principia haven't changed."
Both Jonathan and Sue agree that the atmosphere on campus, despite the many physical changes that have occurred since they attended as students, has remained largely the same. Jonathan and Sue both love walking down Lilac Lane when the lilacs are in full bloom and smelling their flowery fragrance and they love the familiar creaking of the chapel as these things have remained the same throughout the years.
The camaraderie on campus, the loving atmosphere and the relationships between students and faculty have all stayed very much the same.  Jonathan made the point that no student here has had to write a paper on an electric typewriter nor have they experienced the frustrations that come with it, and that the recent advancement in technology have changed the way students operate academically. Despite these changes, however, Jonathan also stated that "the tone now in the internet age is still relatively the same.  I think we are all still learning how to have conversations with each other that are deep and rich and satisfying, and having an opportunity really to build some things together in an environment that is probably unique in higher education where you have students, faculty and staff fundamentally pulling in the same direction… [when] you go into a classroom…you are expected to be an equal partner in the learning experience."  All in all, the Palmer's agree that Principia College has not changed in the ways that count: our fundamental values, commitment to learning and character education remain a top priority.
Some fun facts I learned about the Palmer's:
As a student here, Dr. Palmer went on the England Abroad
During her middle school years, Mrs. Palmer lived in Johannesburg, in South Africa
Dr. Palmer lived in 212, which is now Gehner House
The Palmer's favorite things to do on campus are attending chapel and hymn sing. They also love eating in the dining room with students
They enjoy entertaining at Hutchinson House and hosting the guest speakers that come to Principia
I am a junior at Principia College, English major and a staff writer for the Principia Pilot.