By L. Kincaid Holmes
Summer is just around the corner but are summer internships?
Internships are a vital part of a college education. In fact, many majors at Principia College and elsewhere require an internship to graduate. But the COVID-19 shut-downs have stalled, if not shut down, many of this summer's internships.
The manager of The Christian Science Monitor's internship program, Kendra Nordin Beato, a 1992 graduate of Principia College, is working with four spring semester interns, remotely. One of them, 2018 Principia College graduate Nate Richards, is a video intern.
"We all went home [March 13] and that was the last time together in person," says Beato. After assigning laptops to each, the group of four had two months of in-person work in Boston before transitioning to working from home to continue their duties as interns.
The Monitor's situation, and the uncertainties created by COVID-19, is typical of what employers and students hoping to partner in internships are facing.
At Principia, a few students have found unique circumstances to complete internships this summer, but many with internships have seen them cancelled or put on hold.
Remote internships seem to be working for the moment, according to Beato. She aims to stay connected to her interns to reduce the feeling of isolation by having two daily "check ins."
"We don't know when Gov. Baker will lift the stay-at-home order," says Beato, leaving summer internships up in the air.
"The thing about journalism is that it's a trade; you learn by doing," she adds "[I'm] not sure how to recreate that" if remote work continues into the summer.
Looking at the summer, whether or not each intern can move forward with the internship is being handled on a case-by-case basis, but they "don't know a lot of the answers yet," says Beato.
At Principia, students Rachel Ostheim, Sammy Keller, Tara Adhikari, and Rachel McLeod-Warrick, have met a series of obstacles in solidifying summer plans.
Ostheim, a rising senior majoring in mass communication, was applying in January for an internship at The Mother Church, but​ she was didn't get one, so she began applying to various other places in March.
Most employers were skeptical of hosting an internship during the pandemic shutdown and stopped accepting interns.
While Ostheim's top choice of an internship did not turn out as she had hoped, she will be an intern for her dad's financial planning business in South Carolina.
Ostheim was looking forward to having the "real feeling of going to work" and being on her own, she says. But she will still be able to fulfill her major's internship requirement.
Sammy Keller, a rising senior, fulfilled his global studies internship requirement last summer at The Mother Church, working in the translations department. But he is going back to The Mother Church in Boston, Massachusetts as soon as finals end, to work on plaza activities – giving tours and working in hospitality.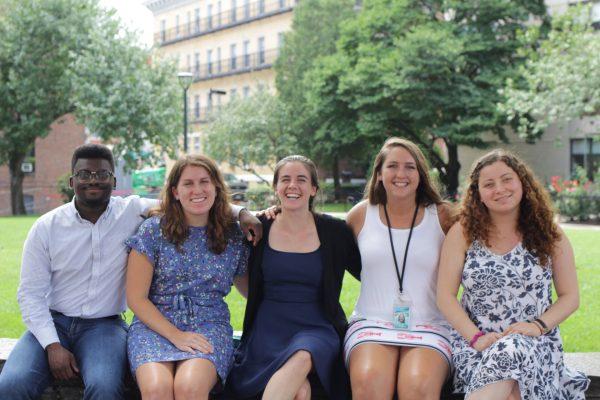 While Keller knows he is still working for The Mother Church over the summer, Beato at The Monitor is still unsure of what the future holds for her summer interns.
"As of right now – yes" the plan is set to go ahead, says Keller. "It's a little weird since my job is hospitality" and there is no certainty there will be anyone to greet if the shutdown continues.
"My housing applications for Asher House and the Benevolent Association are on hold," says Keller, who is trying to solidify his summer plans in case things do open.
Tara Adhikari, majoring in political science and global studies, applied in September for an internship at the United States Department of State and was accepted. For a while Adhikari was uncertain if the internship would continue, but State, among many others, cancelled internships for the summer.
"The circumstances are beyond control" says Adhikari. "I am not sure what the summer looks like [but] I am sure I will find something to do."
Rachel McLeod-Warrick, a rising junior studying biology, was planning on continuing her work on grass species with Principia's professor Chrissy McAllister on a research grant.
McLeod-Warrick and a classmate were McAllister's research assistants throughout the school year, helping with data collection and analysis on "the modularity integrating in blue stem in the cross-country field" across from the gate house on Beltrees Road. They were dissecting the "spikelets" of blue stem grass.
"We had just finished data collection and were starting to dive into the meaning" of the data collected, says McLeod-Warrick.
McLeod-Warrick was supposed to continue her work for the research grant onsite, at Principia, over the summer – completing a research poster to present at the Botanical Society of America Botany Conference, which was cancelled.
Answers for whether students can follow through on their summer plans are beginning to unfold, but some of the news is not what student wanted to hear.

•Featured photo at top: Summer 2019 interns at the Mother Church included Principia students, from left to right starting with the student in the pink blouse, Susan Fransisco (Upper School grad), Aurora Muller, Matthew McLeod-Warrick, Hannah Hathaway, Mandy-Kay Johnson. Susan Fransico