Dialogue between students and the administration is highly important at any college. Everyone can reasonably benefit when students raise concerns about moral standards, rules, regulations, and daily interactions. Principia is no exception. In recent years the question of homosexuality has been one of the biggest topics of discussion on campus. The transition to semesters, however, has brought a variety of worries and concerns to the forefront of students' thought and thus effectively decreased the level of debates, especially on the topic of homosexuality. Several students active in promoting changes to the policy or in community thought graduated last year.
Now a number of these alumni are still exchanging ideas through social media about how to address Principia policies regarding homosexuality. On Facebook, a group called "Principians for Queer Equality" provides a forum for anyone to join in the discussion. Graduates and current students exchange their ideas on the Blue Pages, which prohibit an open display of homosexual affection on campus. The group's description states: "Principians for Queer Equality is a network that welcomes current students, alumni, faculty, staff, family members of current/former students, and anyone else who considers themselves part of the Principia community or invested in it. Our goal is to eliminate homophobic policies and homophobia at The Principia and make the institution a welcoming one for students of all genders and orientations."
The Facebook group investigates ways of advocating their perspective that no one should be excluded or alienated because of his or her sexual orientation. Examples include a letter campaign to the Board of Trustees as a means of seeking and engaging in dialogue. One of the members of the group is current senior Amber Dahlin. She said: "I've been talking with some recent and not-so-recent graduates on the Principians for Queer Equality Facebook page and in other forums about ways to support community members who feel silenced, judged, or afraid because of the portion in the Blue Pages that prohibits dating and public displays of affection between people of the same gender. […] It's essential that we keep talking about this and other issues, not necessarily in organized discussions, but in personal conversations. The more we bring this to the table in open-minded settings, the more we foster understanding and progress." Overall, "Principians for Queer Equality" strives to effect change through open dialogue and conversation.
The main initiative of this group and similar organizations on networks like LinkedIn does not come from current students, but from alumni of various backgrounds and ages.
While online debates seem to be flourishing these days, the absence of on-campus conversations in general is keenly felt by students, faculty, and administration. All those interviewed for this story agreed that there should be more dialogue on all sorts of topics on campus. College President Dr. Jonathan Palmer said: "I would say since [the introduction of the Free Speech Policy] I found it difficult to find the conversation [about the homosexuality topic]. And I believe that is almost two years ago." Talking about general dialogue on campus, Dr. Palmer added: "It's not that we don't have conversations, but to the extent that we can continue to enhance them, I think that is an important opportunity for us. And I think for me that is one of the great experiences at Principia, is to have had that conversation." In light of the recent shift from on-campus activism to off-campus activism, Dr. Palmer also said: "I certainly don't want to lose the conversation to alums. It's not that alums cannot have this conversation as well, but I want to make sure we are having it locally."
Dean of Students Dorsie Glen agrees with Dr. Palmer about the importance of hearing student voices: "We are certainly open to ideas and listening to ideas. […] We always need to look at policies and look and see if there are things we need to reconsider." Glen also pointed out that while dialogue is important and students should realize that change of policies is possible and has occurred in the past, these changes do not happen overnight: "Unfortunately, most times change happens slowly. However, if we think about it as planting a seed that we get to take care of and water … we might move before we have a chance to see it flower, but it is a combination of efforts that helps the seed  – the idea – to grow."
Change of any kind requires honesty and the sharing of opposing points of view. Looking at the importance of dialogue and debates on campus in general, Resident Counselor Jonathan Daugherty sees definite value in students actively sharing their concerns and needs. He stated: "The increasing homework load does make it hard for students to think about bigger things, but hopefully they can. Mrs. Eddy once said: 'When faced with disease [or challenges of any form], look upon the right side, and then have more fight in you, more indignation at such an imposition as disease' (Peel 72). Clearly, she was exhorting her students to fight for their right to freedom from everything that would impose limitations." Daughtery added: "Likewise, it's awesome when college students overcome 'dysfunctional politeness' and strive to support causes of social justice that are larger than their next paper/test." In regards to the role of student concern and activism relating to societal concerns, Daugherty also shared: "Student protests clearly have had major roles in ending things like the Vietnam War. However, it is important to remember that Christian Science is probably the greatest cause mankind has ever known. Although it's impossible to measure what this Cause brings to the world, it's hard to not believe that it is an unseen leaven bringing great good to world thought."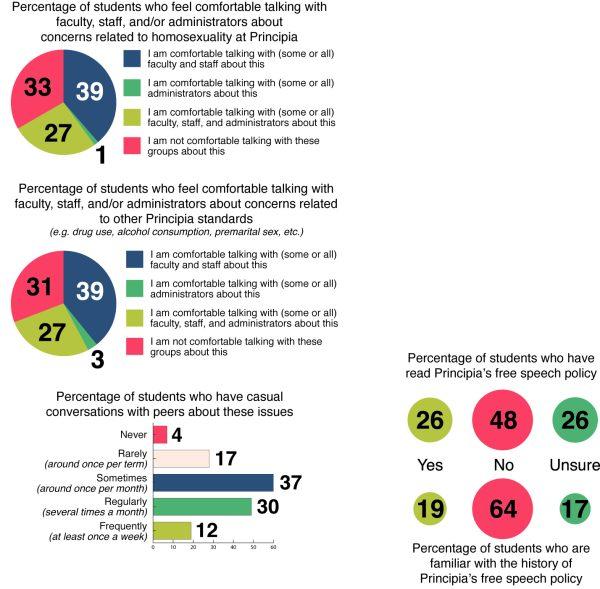 Senior Natalie Zdan also shared her ideas on the importance of dialogue and conversation about all issues: "It's simple. Educational institutions exist to serve students, right?  Therefore, it's only fair for the administration to tell students why they feel certain changes need be made before they settle on any decision. And, for the same reason, students' voices need to be heard and seriously considered before any decision is made. To leave the students out of decision-making is like designing products without the target customers' tastes in mind—it just doesn't make sense. […] On another note, the institution couldn't function without faculty [either], and their voices also need to be included in the dialogue."
On this considerably small campus, students, faculty and staff interact with each other on a very regular basis. That means we are constantly presented with opportunities to practice open and honest dialogue, as strongly encouraged by Mary Kimball Morgan. In Education at the Principia, Mrs. Morgan writes in her article "Right Relationship: Founded on Principle": "If our relationship with these girls and boys is what it should be, they will talk freely with us of their problems that present themselves and also of their own hopes and interests in life. At least, they will do so if they find in our response to their questioning something of sufficient value to feed them or if they find in us an honest, intelligent, sympathetic readiness to consider with them these fundamental problems of human experience. These questions include economic, political, social, marriage, and religious problems with which humanity is struggling – apparently in the dark – at present" (p. 55, EAP).
Throughout Principia's history, students have shown interest in sharing their ideas and plans with each other and with the administration. A good example of effective communication between students and the administration happened in spring 2009 in relation to a student-led initiative to amend an aspect of the Blue Pages' homosexuality policy. Prior to 2009, advocating a change in the policy was prohibited. A student committee worked with Dr. Palmer and Glen to change that aspect of the Blue Pages. The resulting "Freedom of Speech" policy allows for a full range of discussion on the topic of homosexuality, as well as other topics. Part of the policy states: "The College supports honest questioning of a community standard, spontaneous informal conversations, metaphysical research and prayer, or even responsible articles in the Principia Pilot. Individuals are always free to seek answers and have opinions." (Note: The full document can be accessed on OSL webpage.)
Following the introduction of that policy, students displayed quite an interest in expressing their views on other policies. During the 2010-2011 academic year, the student body presidents, in cooperation with the administration, hosted a series of talks in which students were able to express their perspectives on and concerns about policies and standards at Principia. In the spring of 2011, a group of students distributed pins that are still worn by students who support the idea of eliminating parts of the Blue Pages that do not allow the open expression of all sexual orientations.
Most students express an interest in open dialogue about many topics and have plenty of ideas about what could be improved or at least reconsidered. Social networks certainly open a new mode of conversation with people on and off campus who love Principia and love to be part of Principia's progress. The real change, however, requires students to stand up for their ideas and to share them. Otherwise, the administration has little chance of knowing what is actually going on in students' lives. Discussion about the Blue Pages and the question of homosexuality is a prime example of this problem. Anyone is free to share their voices and holding opinions back results in misunderstanding and stagnancy. Principia can move and progress only at the pace set by its students and administration.
Dr. Palmer has aimed to implement Mrs. Morgan's statement from the beginning of his relationship with the student body. Reassuring students to speak up, he said: "Students have had tremendous impact [on this campus] and I hope they feel listened to!" Unlike other colleges, Principia is unique in that student life, and thus daily dialogue, is based on the foundations of Christian Science: "All of those [conversations] are enriched […] if we are reflecting the one Mind. What does that help us understand? [That] help[s] looking for the harmony of being God-directed in all that we do."