This content has been archived. It may no longer be relevant
Principia continues its effort to maintain and increase a global presence, both by admitting a diverse student body and by exploring the prospect of a satellite campus. At the start of the quarter, representatives from the Admissions Office were simultaneously recruiting on four different continents. These trips demonstrate Principia's "strong commitment to maintaining a diverse international campus and expanding it," according to Dean of Enrollment Management Brian McCauley. McCauley himself just returned from a two week trip to Africa, where he visited Kenya, South Africa and Ghana. Vitalis Otieno, the men's soccer coach and a native Kenyan, joined McCauley for the Kenya portion of the trip.
The purpose of the trip was primarily admissions-based. McCauley and Otieno conducted over 30 interviews with prospective students, all of which were at least an hour long.  According to McCauley, the interviews "really got into depth about [the students'] academic preparedness, their commitment to Christian Science, and their language abilities." The in-depth interviews provided the International Admissions Committee with information that facilitated a thoughtful and improved evaluation of candidates. McCauley emphasized that these interviews were conducted because the Admissions Office wants to "make sure that any student, domestic or international, who comes to Principia is positioned to be successful here across the board."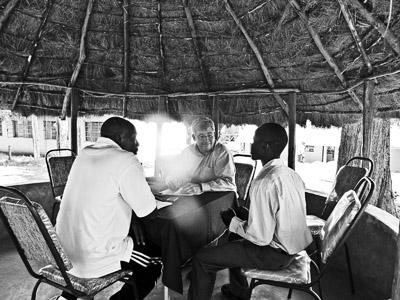 The usefulness of the trip this year led McCauley to expect he will be making the same visit next year. He also expects recruiting trips to eventually expand to Latin America.  While the trip fulfilled its admissions-oriented objectives, McCauley and Otieno also used the opportunity to further explore the possibility of opening a satellite campus in Africa, an effort which is being headed by Dean of Academics Scott Schneberger, who requested this trip serve as a preliminary examination.
College President Jonathan Palmer explained that the underlying drive to pursue a satellite campus "is very mission-based," and is rooted in the questions: "How do we serve the Cause of Christian Science? How do we provide Principia educational opportunities for as many students as we can?" Schneberger echoed this sentiment, saying Principia is "really interested in serving the Cause and investing in those areas where there seems to be a growing interest in Christian Science and in meeting their educational needs."
McCauley says that during his time on the African continent, he "brought up the concept [of a satellite campus] with over 300 hundred people. The response from everybody was overwhelmingly positive." He noted there were varying reasons for the support. Some individuals found the prospect of lower costs exciting. Others believed a local campus would encourage students to return home after graduation as opposed to staying in the United States. All agreed, though, that Principia could serve many more Christian Scientists in this region than it does now. These sentiments supported Palmer's projections that "there are literally hundreds of students out there who would take advantage of [a satellite campus] who can't at this point."
The process for exploring the possibility of another campus is complex and will undoubtedly be lengthy. The administration first submitted the idea for approval by the Trustees in the college's strategic plan for 2020. The Trustees approved the idea under the heading of "Global Educational Opportunities" and charged that the Academic Dean's office take the steps to "investigate one or more satellite campuses, physical or virtual." Schneberger then hired former Principia professor Charles Heck as a consultant and asked that he provide an in-depth examination of the possibilities for a satellite campus. According to Heck, he was to "provide a big picture and independent thinking."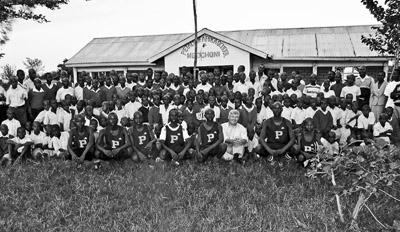 After extensive research, including interviews with faculty, staff, and students, Heck concluded in his report that "the case for a satellite campus opening by 2020 is strongest in Sub-Saharan Africa."  He continued to note the prospect is still a "dream" and that Principia must first work to strengthen ties in the region. While the administration agrees with Heck's assessment that the best potential is in Africa, the model for the campus is still very much undecided.
Schneberger confirmed the wide array of possible models, from an entirely virtual experience to a two-year associate degree program. What the administration is trying to do, remarked Palmer, "is to look at what has worked for other institutions and see if there is a model that really makes sense for us." In evaluating the differing models, one particular concern about the online model is its ability—or inability—to deliver the "full Principia experience." Schneberger reiterated, "The most important thing we are looking at is character education. How do we do character education online?" He seemed convinced that this purpose could be met, concluding: "We are very confident that we can do that—that there are ways of instilling, teaching, and promoting character development online."
The next step, according to Schneberger, is to create a Tiger Team to further investigate the prospect of a satellite campus and to create a plan to move forward. He expects that process to begin this summer.