Principia College has recently taken a number of steps toward becoming a more sustainable campus. These steps include purchasing mixed green electric power for the campus, replacing windows in the Howard Center with energy efficient windows, converting bathroom lights across camups to motion-sensored lights, and reconfiguring the hot water boilers, heating and air conditioning systems on the West Quad Loop, among other things.
The College campus now runs off of 100 percent mixed green energy. However, energy at Principia itself is not 100 percent pure, as it comes from multiple energy sources from around the nation.  Previous Director of Facilities Steve Fulkerson said, "We are purchasing mixed green power, but what is actually consumed on campus is from a variety of sources throughout the electrical grid throughout the midwest, and is not pure green power."  Even though the electricity in our power lines is not pure green energy, the College's use of this mixed green power helps to pay for cleaner energy around the nation.
Bruce Alioto, Contracts Officer, said, "We buy from First Energy Resources. Our electricity is called mixed green, it's hydro, solar, wind, biomass."  Both Alioto and Fulkerson explained that the College has purchased 10,500 renewable energy credits, which go towards our mixed green energy here on campus.  This improvement in electricity quality on campus is one of many steps being taken to promote sustainability and environmentally friendly habits here at Principia.
Our facilities department has purchased four electric vehicles to use around campus and is hoping to buy more under Ed Goewert, Principia's new Facilities Director.  Facilities has also hired engineers to convert the lights in the bathrooms of all the academic buildings to motion sensor controlled lighting, which will help reduce the power waste that occurs when the lights are left on for a long period of time. The current windows in Davis, Howard Center, Perry Lounge, the Book Store and the Pub are being replaced with energy efficient windows. Furthermore, all the old glass and aluminum taken from the Howard Center project will be recycled locally by Principia. This will help decrease our contribution to landfill waste, and Principia will also receive money in return for its recyclable products.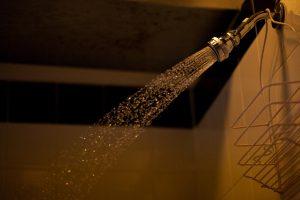 Another change that further promotes sustainablity is the conversion of all the hot water heaters in the resident counselors' apartments to separate systems.  Before this change, the resident counselor's apartments received water from the same water heaters that also provided for the rest of the house. This forced the water heaters to work double time on breaks when the students were not in the houses in order to bring hot water to only a few people.  Due to these installations, the water supplies in the residential houses will now be heated more efficiently year-round.
Principia plans to further conserve energy by transferring all the buildings in the West Quad Loop from dependence upon their own individual boilers, heaters and air conditioners to a consolidated system that will provide for all the buildings. The West Quad Loop currently consists of Clara, Lowery, the Chapel and Voney Art Studio.  As all these buildings, except the Chapel, have their own boilers and heating and air conditioning units, the goal is to expand the heating and air conditioning systems to include Howard and Sylvester and remove all but two boilers. That way, these boilers will provide for all six buildings. Fulkerson said, "By doing so, we are going to be replacing the air conditioning and heating equipment for that loop with new state-of-the-art, energy efficient and environmentally friendly equipment."
The Sustainability Council has been an influential factor in Principia's efforts to increase its sustainability. The council consists of Senior Lauren Powers (student representative), Jeff Cornelius, Bruce Alioto, Steve Fulkerson, Trey McCartt and Dining Services, and Steve Ward.  Powers said that the goal of the Council is to promote sustainability on campus and to create a sustainability minor.  Powers said their next steps are to create a newsletter, raise awareness about the council's ideas and activities and to fund-raise.
Sustainability is also being exhibited on an individual basis around campus.  Sophomore Garrett Bourcier, the interim All Campus Eco Head, was excited that plastics one through seven can now be recycled on campus.  Bourcier said he would like to show environmentally-conscious movies once a week on campus in hopes of raising student awareness about the need to preserve the environment.
Principia's ongoing efforts to create a healthier, more environmentally-aware campus are rooted in the ideas and efforts of such people as Steve Fulkerson, Bruce Alioto and the Sustainability Council. Fulkerson said, "We are making progress."
I am a junior at Principia College, English major and a staff writer for the Principia Pilot.