Have you ever meandered past the tennis courts on a Saturday morning and witnessed the Panthers engrossed in a match, and then passed the spot again hours later, only to see the athletes still entrenched in their respective games? While aces and aggression may be integral to a win in tennis, the duration of the matches suggests that mental stamina is perhaps even more crucial to a successful outcome.
Players on both the men's and women's teams spoke of the importance of maintaining focus during matches. Senior Todd Zimmerman said, "I love playing tennis because of the mental fortitude it takes to play your best." Junior Courtney Banko also noted the importance of the mental aspect of the game, acknowledging how the new head women's tennis coach, Shannon Carney, "taught us how to play our opponent mentally." The intensity of their mental strength, coupled with their extensive physical and metaphysical preparation, helped athletes on both teams to develop competitively both as individual players and as members of a team.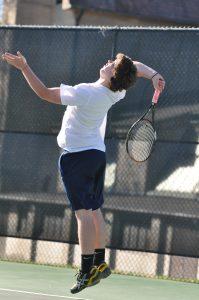 Consequently, both teams enjoyed successful seasons this year; the men placed fourth in the SLIAC conference, while the women were undefeated in SLIAC and competed in the first round of the NCAA National Tennis Tournament. Members of both teams also garnered numerous all-conference honors.
On the women's team, freshman Carlie Sanderude, sophomore Sarah Corbitt, junior Marianna Hronek, Banko, and senior Jasmine Carcieri all earned first team all-conference recognition in singles play. Sanderude and Corbitt, freshman Hilary Frandsen and Banko, and Hronek and Carcieri earned first team all-conference honors in doubles play. Frandsen also received second team all-conference for singles play. Furthermore, Sanderude won both the SLIAC Player and Newcomer of the Year awards and also earned two SLIAC Women's Tennis Player of the Week recognitions. Frandsen was also named a SLIAC Women's Tennis Player of the Week.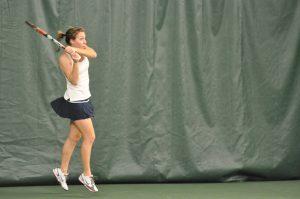 Numerous members of the men's team were also named to all-conference teams. Sophomore Kevin Hagenlocher received first team all-conference recognition for his singles play, while junior Ben Black earned second team all-conference in singles play. Zimmerman received honorable mention for his singles play, and freshmen Scott Ross and Kenny Sydness received honorable mention for their doubles play.
Not only did both teams enjoy great success on the court, but they had a strong friendship on and off the court. Head men's tennis coach Casey Reynolds said that the men "came together and bonded well." Freshman Weston Kalogeridis explained that the team's spring break trip to Orlando really helped them bond as a team. He explained, "In Orlando, we didn't win at all … but we came together as a team and bonded chemistry-wise."
Ross also noted how the Orlando trip played a major role in helping the men to bond as teammates. He referred to it as "the turning point … where we all became a true team." Ross also noted that although "there were a lot of different personalities in the team … we all got along well with each other and had a nice sense of chemistry for the most part."
Members of the women's team also developed close friendships. "I think what brought us together was [that] we went through so many tough times physically and mentally," said Banko. Carcieri also noted how tight-knit the women became. She said, "I've never felt so close with any of the girls … in any past years."
A strong sense of fun also characterized the women's tennis team. Coach Carney said: "They're all really special and it was a lot of fun. I think fun is a large part of it. They had fun, they laughed a lot." The women's lightheartedness was perhaps most vividly expressed on the days when they all wore crazy outfits to practice. Banko explained how one day, prior to their spring break trip to Orlando, they all wore bikinis to practice, while another day they all dressed in '80s attire.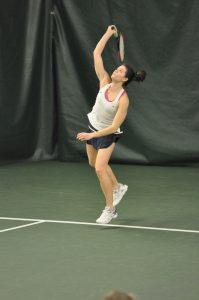 Both teams are very young–the men's team is only losing one senior, while the women's team is graduating two–and with such solid mental, physical and metaphysical foundations, in addition to the friendships they have cultivated, both teams have a lot to look forward to in the years to come.
Coach Reynolds said that next year, the men "got a couple of really strong recruits coming in … I think we're going to be stronger, we're going to be deeper and I'm looking forward to seeing how the team comes together and competes."
Carcieri is also excited to see how the women play next year. She said, "As a senior … I'm so proud of us, all the girls … I can't wait to see them go even farther after I graduate … it was an amazing season to end on for me."