This content has been archived. It may no longer be relevant
If you're like most Principians, you probably recycle at least occasionally. You might feel a little guilty about forgetting to sort out your trash a few times, but you do pretty well overall. You own at least one reusable shopping bag but still manage to accumulate plastic ones on various Target or Schnucks runs. The point is, you're aware of environmental issues and ways you can help out, yet you don't always commit.
But there are people on this campus who are passionate about the environment and ways to reduce waste on a daily basis. You can probably think of at least one Nepal Abroader or biology major (maybe both) who will gladly talk your ear off about their ideas. And as much as you think you've heard about sustainability at Principia, there's still a lot going on that's worth noticing.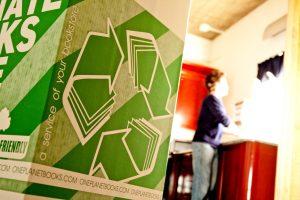 For one thing, Principia was recently entered into RecycleMania, a nationwide waste reduction competition designed especially for college students. The competition occurs annually over a 10-week period, and throughout that time individual schools are ranked on their amount of recyclables versus trash per capita. According to junior Nick Tosto, Principia's All-Campus Eco Head, Principia is not officially competing on a national level this year, although there is an on-campus competition between houses with a $150 prize attached to first place.
Junior Lulu Mosman volunteered to take charge of the RecycleMania project in its first year. She said that there were a few problems with advertising and communication with house eco heads, who are responsible for weighing recycled material each week. But Mosman added that, overall, "It's been effective enough for a first attempt."
Although it is an important ongoing initiative, recycling isn't the only eco-friendly project on campus. The Principia College Center for Sustainability is up and running as of the end of last quarter. According to Director Steve Ward, College President Jonathan Palmer and the Governor of Illinois recently signed an Illinois Campus Sustainability Compact. He added that the contract commits Principia to "incorporate sustainability into their campus operations, academic and research programs, student activities and community outreach." The Center for Sustainability is helping to meet these goals.
Ward said that weekly meetings are not limited to a select group of eco experts, although there is "sustainability council" involved in organizational efforts. All students, staff and faculty are welcome to attend and share their ideas every Wednesday at 1 P.M. in the Science Center, room 243.
According to Tosto, several groups on campus have focused on issues of sustainability, including the Principia Energy Coalition and the Center for Sustainability. Tosto said he sees this new group as a way to combine forces and work together. He added, "We're just trying to start initiatives and we're still kind of gaining momentum right now."
Although the Center for Sustainability is just now finding its place in the community, the original charter was signed in May 2009 by former biology professor Mike Rechlin, Dean of Academics Scott Schneberger and Dr. Palmer. Ward was recently asked to step in as the interim director.
Because the Center for Sustainability is still in its early stages of development, Ward said there's been a strong focus on determining the group's vision for sustainability on this campus. He explained, "Presently we are exploring and deepening our vision for sustainability from Principia's unique perspective." As it currently stands, the mission reads as follows: "The mission of the Principia College Center for Sustainability is to promote and coordinate campus greening efforts, inspiring Principia's students, faculty and staff to become more responsible local and global citizens."
With that goal in mind, the Center for Sustainability has launched a number of new initiatives this quarter, including the "Sustainability Movie Series." Ward said members of the group chose to show three documentaries on campus this quarter, the last of which was "Big River," a documentary that investigates the environmental impact of growing corn in Iowa.
Ward also mentioned a Center for Sustainability-sponsored speaking event scheduled for May 7. Colin Bevan, also known as "The No Impact Man," became a self-proclaimed "eco-extremist" in order to reduce his carbon footprint. Bevan and his family spent a year in New York City abstaining from the use of public transportation and other modern conveniences that we often take for granted, like refrigeration.
Prior to his talk, Bevan's documentary film will be shown in Wanamaker on April 21.
In addition to providing "eco-inspiration" at Principia, students and faculty involved in sustainability efforts are making practical changes to benefit the greater community. A few eco-minded students harvested fresh greens several times this quarter and shared them in the Scramble Room. Junior Austin Kingsbery worked with the biology department to coordinate the project. According to Kingsbery, this student-run effort began two quarters ago with a few trays of seeds in the greenhouse. Kingsbery was happy to report that the group has adopted a wider variety of greens this quarter.
According to Ward, a few students have expressed interest in raising tilapia in a closed system with a vegetable garden starting next quarter.
Tosto said that a community garden would provide Dining Services with a greater range of fresh, locally grown vegetables and herbs. Kingsbery added that in addition to selling produce to Dining Services, several students and faculty members have reserved individual plots in the garden for their own use.
Tosto also said that all food waste from the dining room is composted, and there is some consideration about whether individual houses might find the practice helpful.  Said Tosto, "I think we should advertise it more, just because it's a cool initiative."
Kingsbery, a former All-Campus Eco Head, said he's always been interested in promoting sustainability on campus because it "brings students to the forefront" in decision-making and negotiations with Principia offices like facilities and Dining Services.
Mosman said she thinks it's important to raise awareness about sustainable habits, especially if they only involve small changes in daily routine.