This content has been archived. It may no longer be relevant
This is a personal essay. The Pilot welcomes letters to the editor, personal essays, and opinion articles from the whole community. Please submit to pilot@principia.edu.
By Henry Soney
We all gathered in the Pub to eat lunch together on Friday. The thing is though, this wasn't just a regular Friday. Less than 24 hours before this fateful gathering, Interim President John Williams had called an emergency campus meeting to call for all students, if able, not to return after spring break which started that Friday.
This impacted all students socially, everyone but a handful of students would be going away for the rest of the semester with most unable to see each other until next fall.
The reality of this was voiced among my friends that Friday lunch that we had in the Pub. Everyone was generally bummed out that they wouldn't be seeing each other until next fall, so we decided to make the most of our time together and push a bunch of Pub tables together and have a giant last meal together before we all bid farewell.
It was at this table that freshman Nathan Babcock brought up the idea of creating a Discord server for everyone to join.
If you aren't familiar with Discord, it's a service similar to Skype, where people can communicate through chats, audio, and video calls.
"I created this discord server to give people in our friend group a way to communicate with each other in real time, without being face to face," says Babcock.
At the time of writing this article, the discord server has grown to 27 members, made up of primarily Principia College and Upper School students.
The application itself can be used either through a smartphone or on a computer. Discord runs it's own servers, which is helpful because it removes the need for a user to initiate a call and people can just come and go anytime they want to.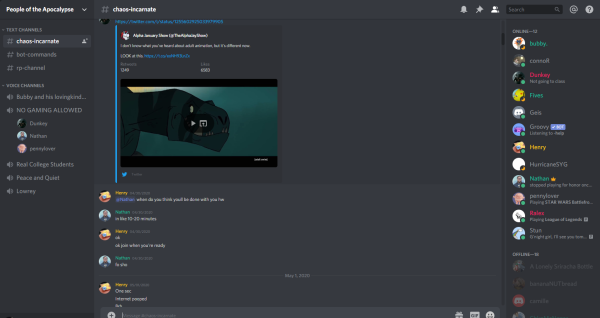 I interviewed a few of the students involved in the discord server, and most of them shared the same feelings regarding the useage.
"Because of this, I've kept in touch with my friends a lot more. Even though we're not in person, I feel like we still have that closeness as if we were." says Freshman Jordan Cranford, who lives in Las Vegas. "I've had a lot of fun playing games together, and it's taken a lot of monotony out of what I would have been going through."
Freshman Lucas Sousa, who's from Brazil, but is currently living on campus says: "This Discord has definitely kept me in touch with my friends. Since I'm at the college and there's less than 50 people here, there's no one really to talk to in person. So Discord has really bridged a gap for me, allowing me to talk to my friends who are as far as 500 miles away from me, which has been really nice."
The name of our Discord group – "People of the Apocalypse" – was a little bit of a joke regarding the current situation surrounding the Coronavirus.
While none of the members think that the Discord server will last once we get back in the fall, it's really been nice finding community in quarantine.
•Featured photo at top shows the final face-to-face gathering at the Pub of a group of students who now do their gathering in the Discord platform.