This content has been archived. It may no longer be relevant
Vegans and baseball players. Writers and comedians. Texans and Uruguayans. There is only one group on campus that has them all: The Principia College Student Senate. Composed of the Student Body Presidents and seven student senators, the Senate is primarily responsible for connecting the student body with the administration and enabling communication between the two groups. This job is fulfilled by a group of people who, regardless of much diversity, share a common goal: giving back to Prin. Don't know much about these students? Well, maybe it's time to take a look behind-the-scenes of our student government.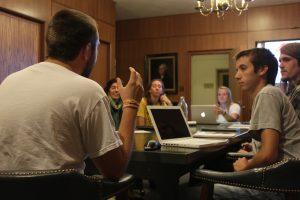 The Student Senate is a new feature in Principia's social and administrative structure. The student senators were elected by popular vote last spring. Rather than having one clearly defined responsibility, the Senate takes on various needs and activities as a whole, as individuals, or in small committees. The senators are an eclectic bunch, which makes for an interesting and well-rounded team.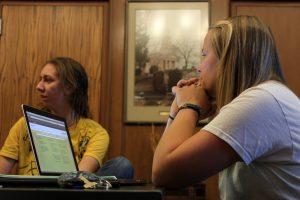 The following is a quick overview of our seven senators:
Maija Baldauf, senior – "I am just learning to love Principia that much more, and I am learning how to work well with others. I just want people to really love this place and feel at home and feel like the transitions that we are going through right now are as easy as possible. If Student Senate can achieve any of that, we've done a good job."
Baldauf, an English major, is also currently Editor-in-Chief of the Pilot. As a senator, Baldauf's focus lies with the academic committees and contacts on campus. This includes regular meetings with Dean of Academics Dr. Scott Schneberger and serving as a student contact on the Scholastic Committee.
Liza Hagerman, junior – "I feel like a lot of times students are dissatisfied with Prin, because they don't have control over a lot on campus or don't feel like they have a voice … For students to have a voice is really important to me!"
As an English major and member of the spring 2011 Prague Abroad, Hagerman adds a lot of creativity to the job. Among other duties, she is the Senate's link to Dining Services. She is currently working to help find solutions to dining schedule issues that came up early in the semester.
Fassio Elder, junior – "I am learning a lot about the community and about how Principia works. And that is something I've been interested [in] since I got here."
Elder is well-known as one of the few vegans and ecological activists on campus. Representing the eco-head function on an all-campus level, Elder has several eco-related aspirations. Those include trying to ban plastic water bottle sales on campus and encouraging the use of electric vehicles by Principia staff.
Greg Ball, senior – "Prin has done a lot of great things for me. It's so great to be part of something bigger than myself and be a part of a group of people that want to make a positive impact for Prin. And we have the power to do that!"
Being an athlete in various sports, Ball is in touch with Principia's intramural program and athletic events.
Ifi Xifre, junior – "Our purpose is to be the connection between the administration and the students. We really want to be in touch. […] We're there to help."
Hailing from Uruguay, Xifre is the only international student on Senate. She is also a Tuesday CSO reader. Xifre's primary contact is International Student Coordinator Bente Morse so that the Senate as a whole can develop an awareness of international student needs.
Christine Nacewicz, sophomore –  "I really like being that person who is the helping hand […] [and who is] there when someone needs [me]."
As the youngest member on Senate, Nacewicz is the contact for all the metaphysical heads on campus. In that role, she takes part in deciding the metaphysical theme for the week, as well as scheduling Thursday Quiet Time activities for the entire campus.
Sam Nickell, junior – "I want to see a renewed awareness by Prin students of their student government, as well as a reestablishment of the lines of communication between the Principia student body and their student government."
Fresh off his abroad experience in China, Nickell connects the Senate to the Admissions Office and is also involved in updates regarding Principia's Master Plan (see the Pilot article from spring, 2011). He will also help to organize Open Meetings between the student body and Senate later this semester.
Elder summed up their different backgrounds when he said: "It's so neat that we have these different perspectives and that each of us is individually involved in totally different activities here […] They are just all great people doing wonderful things in all sectors of campus." Nickell has a very similar feeling about the Senate's make-up: "The group works very well together. We all get along very well and aren't afraid of bouncing ideas around and talking about issues. There are multiple perspectives and ideas that everyone contributes and that is helpful. There is a good mix of personalities."
Seniors Christian Richardson and Bekah Charlston lead the Senate as Student Body President and Vice-President, respectively. Both were elected by the student body popular vote during the spring of the 2010-2011 academic year. Though both might best be known as comedians in Principia's improv comedy group 'Lazy Zipper', Richardson and Charlston know how to take their job seriously.
Richardson said: "I love [this job]. It's great! Being able to talk with all the faculty is amazing. Having weekly meetings with Dr. Palmer and Dorsie [Glen] is excellent. Being able to take the whole pulse of Prin and make decisions out of that [is great]. I just love it!" While having to deal with many decisions, ideas, changes, and possible issues, the presidents work from a clear foundation. Richardson continued: "One of our main things that we emphasized when we were running [for presidency] was practical Christian Science, and we apply it every day … [making sure to] get that morning study in, making sure we are using Quiet Time appropriately." Richardson added that every decision made in student government is based not on personal sense but on prayer.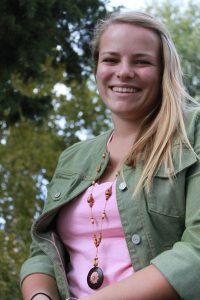 This attitude definitely pays off. Senator Xifre noted: "This senate, of all the groups I've been involved with, is the most metaphysical […] Christian and Bekah have a very strong metaphysical basis that they bring to the Senate and to all the meetings, and I think that's where we all are starting from."
On an individual level, every senator balances his or her work with a close study and trust in Christian Science. Nacewicz said of her studies: "Metaphysical work really helps me to take a breather and realize that it's God doing the work and not me."
Like the others, Elder spiritually prepares for his duties as a senator: "Every time that something is brought up, especially…something that a lot of students are thinking about, I take significant time out of my week to pray about that.… And I bring that same support into the meetings. I am thinking metaphysically before and after the meeting about everything that's been talked about." And Senator Nickell listens to spiritual guidance as well: "I just keep my thought open and listen for God's direction on how to approach issues and work out solutions. Knowing that God is in control helps tremendously."
As stated previously, the main purpose of the Student Government is to help students feel that their voices and ideas are heard and linking them to the administration. Talking to the presidents and senators, one cannot help but notice the passion all of them have to be that link. President Richardson hopes students make use of that opportunity more often: "We have our office hours down here and nobody comes by! […] All in all, what we want to do is communicate with students. We want to talk to people and evaluate what we can do better!"
Elder speaks for the presidents and each senator when he says: "Anyone can talk to me anytime. Whether they want to send me an email or leave me a phone message…or come to me in person, I'm always willing to talk and willing to relay anybody's opinions to the Senate and let them know what's up. So, I am very open. Any suggestions, any concerns, any comments, you can come to me whenever."
So, if you ever have a great idea for the campus, if you don't understand or agree with something, or if you just want to hang out and have a good time, come and find any of the Student Government representatives. Seriously, it's their job!