How These Musicians are Living the Music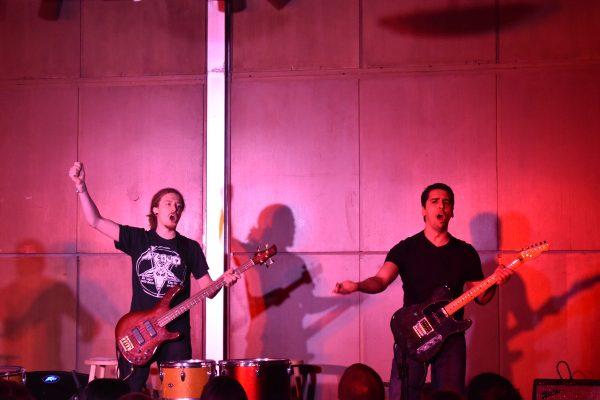 By Julia Schuck
When I sat down to interview four wonderfully talented musicians at Principia College, there was nothing but excitement on the topic of music. Everyone was open about their music, the processes of making and writing music, and just how much music means to them.
With bright eyes and large smiles, Lily Oyer and Lindsay Clarke (or as they like to be known together, "L squared") spoke about songwriting and what they were currently working on. Lindsay and Lily are constantly getting inspiration to write songs.
Lindsay tries to write a song every day, because practice matters. Lily believes that inspiration can come to her at the most random times. Sometimes late at night a simple melody will slip into her head and she will turn it into a song.
Currently, Lindsay is working and collaborating with some friends from home. She loves being able to record in the studio here on campus and still be able to work with her friends from home on this project. The access to the studio at Principia makes it easier for her to be creative with her music.
Just a few weeks ago, Lindsay had her first gig, playing for a small park audience. She smiled shyly as she mentioned this event. She was clearly happy, yet humbled at her big step toward moving further outside the Principia community with her music. Lindsay explained that the process of creating music is not always about the product but about growing from those products of music, good or bad. She said, "You're bettering yourself."
Lily recently added another gig to her growing list of performances. Lily is becoming more and more well known in the St. Louis community with the open mic nights she participates in and the small gigs she organizes in places around the city. Over the weekends, she solos in church on campus. Sometimes she visits local branch churches to solo there as well. Lily loves any opportunity to sing and be a part of the community through music.
Lily writes music any time she feels inspired. She is working on being more involved with it by recording in the studio as often as she can, and collaborating with Lindsay to write more songs. When asked how she fits everything in, Lily declared, "There's always time for music".
But those two aren't the only musicians on campus with big projects.
Senior Evelyn Schuck is currently working with Kai Patterson to create a music video for her new song, Falling (With a Broken Heart). She is working on putting out an EP in the near future, while hoping to use social media as a platform to get her music noticed.
Like Lily and Lindsay, Evelyn works with other musicians on campus and has formed a band that changes its name just about every time they perform. Evelyn adores playing with these musicians, but she also enjoys personal time to create her own music.
After graduation, Evelyn said she would like to perform more, to get herself out there and get her music noticed. She believes it's important to be a good musician as well as a good performer. Constantly working toward both aspects to better her skills, she explained that, "If you're working too hard to be a performer, your music suffers. And if you're too deep into your music, people might want to come and see you play. They go hand in hand." She is excited to continue working in the studio and getting used to that process, whether that's by herself or with her band.
I also spoke with Denny Veidelis. We sat on the couch in Anderson's living room and talked adamantly about music and his plans for the future. Denny's schedule seems to never end. He is involved in Jazz Band, Plus-One, and orchestra rehearsals, on top of Anderson House board meetings, school, and a social life. To Denny, it seems like he always starts his homework after his fellow classmates have gone to bed.
Although this is the case, Denny doesn't see this as a damper on his college experience. In fact, he's enjoying every minute of it. Even with all of his rehearsals, school work, and balancing the responsibility of being the president of Anderson House, Denny is still looking to do more with his music. He expressed interest in "jamming out" with the Jam Factory as well as the fact that he tries to play piano for at least 30 minutes each day.
Denny asserts that music always has been and always will be a large part of his life. Throughout his busy days as a Principia student, he tells me how he lives Christian Science through music. He said, "Music is one of my best outlets for prayer. When you're totally focused on producing a harmony, that's prayer. You're focusing on God completely."
Like so many others on campus, Lily, Lindsay, Evelyn and Denny are demonstrating and contributing to our world in a positive and uplifting way. I have no doubt that these musicians will continue to live and achieve their music dreams.
Image courtesy of