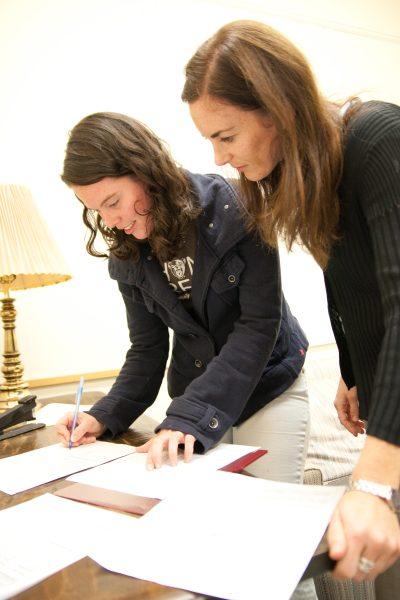 Chair of the College Curriculum Committee (CCC), Dr. Julie Blase, joked that the switch to semesters is waking her up at 4:30 in the morning, but some do have genuine concerns about the transition. Are these legitimate? The administration and professors have put in countless hours to make this as smooth a transition as possible.  Although much of the work has been done, the students also must do their part to be proactive in planning their education.
As the deadline approaches, students are setting up adviser meetings and finishing their TAPs, or Transition Advising Plans. Each plan serves to fulfill Principia's pledge to the students that the transition will not cause students to lose any credits they have already earned and it will not delay any student's degree completion so long as students fulfill their responsibilities of the plan. Students must map out when they will complete all of their distribution and major requirements with their advisers and turn in the necessary forms to the Academic and Career Advising (ACA) office to be reviewed. Midge Browning, director and academic adviser in the ACA office, said, "I think it's a wonderful process and opportunity for students to learn about majors, combinations of gen-eds, electives, abroads, and internships."
Browning also stresses that if a case does come up such that a student will not graduate on time, the school will make arrangements for them as long as the problem was due to the transition. For example, if a student fails a course or takes a quarter off, he or she is held accountable for not graduating on time, and will have to continue to pay for their prolonged education.
Dr. Blase thinks that the switch will be a big improvement overall, but also holds some hopes and concerns. "There are still a lot of unknowns with scheduling of times. Students should be direct and communicate with faculty in their majors and minors about requirements they need to meet, and when these classes might be scheduled," she said, "The sincere hope of the faculty is that students' problems are minimal." Blase also wants the students to keep in mind that they should try to complete their P.E. credits as soon as possible if they have not already because they may find it more difficult to do so within the new semester system.
Student Activities Board (SAB) Scholastic Representative Amy Baldauf is not having trouble finishing her rigorous double major of Education and Sociology/Anthropology, and does not seem too worried about the transition. "I feel that the new schedule will take time for us all to adjust to what with our greater course loads, different breaks and lengths of quarters," she said, "While I personally am not really looking forward to having to go through a transitional period during my senior year, I'm not too concerned. It will be fine."
Deep thought has gone into the review of every course and major. Baldauf said, "I don't know of anyone who is having issues finishing their major on time. I do know that students are concerned about whether or not all of the classes that they still need to take will fit into their schedules, but I know that teachers are working to make sure that everything will work out." Blase added that some of the majors made little tweaks, such as adding or dropping courses, but a few were greatly reconfigured, one in particular being the Global Perspectives major.
This multi-disciplinary department overwhelmingly feels that the changes made are a much-needed improvement. Prior to the redesign of the major, students took a variety of courses across the curriculum and then completed their capstone, but now there are three major points to the structure and focus of the major. First, students will study issues with no geographical bounds. Second, they will analyze the very complex problems behind these. And lastly, they will choose two disciplines to approach their universal issue with, for example: deforestation from the angle of both Environmental Studies and Economics. The Department Chair of the Global Perspectives major, Dr. Faith Paul, said, "This is 21st century, cutting edge—we can't use the old lens of nationalism."
There is an overseeing board of professors from various disciplines to make this possible. Dr. David Winder, a History professor on the board, is certainly energized about the new program. "Our mandate in the past to be global was limited because we lacked the faculty to support such a mission," he said, "Now a new advisory board can offer not only more expert guidance but also necessary added resources and different disciplinary perspectives." In regards to that, many courses will also now be team taught, he said, "The result is a coherence in our approach to issues perhaps as broad as refugees, drug trafficking, immigration, environment, ethnic and religious tensions, and international security that was not possible before."
Jenn Odell, a senior Global Perspectives major under the old requirements, said, "You're required to go on an abroad, which is really cool." Majors will in fact be required to go on an abroad or work with an international organization to gain an international experience with the issue that they have chosen. This should not be a problem to fit in, according to Paul. With the restructuring, the major requirements were also decreased, so it will be much easier for students to fit in an abroad and even a second major if they want. Additionally, majors will be required to gain proficiency in a foreign language relevant to their focus.
Dr. Paul believes that the new major will make students much more marketable for endeavors such as working for NGO's, governmental organizations, the UN, and getting into good graduate school programs. Dr. Winder agreed and said, "The more we can empathize with others, speak their languages, know their culture, study their economies and political institutions, the more informed and the better equipped we are to offer practical assistance and contribute to international understanding."
A message that Odell wanted to pass on to new majors was, "[you] need to be self-directed, need to be able to design your own major, and if you're passionate about two majors, it would be great."
Though Browning and Dr. Blase are both academic advisers, they would also support the "self-directed" portion of this statement in regards to all students undergoing the transition. Everyone plays a vital role in the process, and as Dr. Blase said, people will need to be "patient and gentle with each other because change is beneficial, but can be stressful."