By Griffin Carlson
For some Principia students, the transition from face-to-face learning to remote learning has been relatively easy. Throughout midterms, quizzes, final projects and exams, students have been forced to move into the digital realm. Group projects are done over various live video chat software. Final projects of long papers or graphic design elements can be submitted, reviewed and given feedback, all via the internet.
Not everyone can make this transition so easily, though.
Thirteen studio art majors hoping to graduate this semester exhibit their capstone projects starting today at the virtual exhibit link below. They have faced a tough challenge: finishing their capstones in isolation. The studio art capstone project is a solo endeavor that requires the student to delve deeply into a part of art that they are really curious to explore.
The
senior capstone virtual exhibit is live
here
. An artists' reception Q&A will be held via Zoom tomorrow, Thurs. May 14 at 6:30 p.m. (Central) – see Watercooler for the link and password.
Some students pick painting, some pick sculpture and some students have even done digital art in the past. For all students this semester, the coronavirus pandemic has complicated things. Most students departed campus, and out of all of the studio art students working on their capstones, only three were allowed to remain on campus.
While you may think that a solo endeavor would be one of the easier styles of projects to manage during this era of remote learning, with materials, space concerns and a lack of in person feedback from their professors, most of those working on their studio art capstone had to rethink a few things.
"In Voney I was suspending a canvas frame from the rafters and working on it upside down, I don't have the ability to do that here," says Mackenzie Holmes, who is at home in Massachusetts working in her father's garage.
"I was forced to change the process quite a bit."
While Holmes claims that this has posed some challenges for her, she says that her overall theme and medium hasn't changed: "The ideas are still present, and I am still recycling cardboard to make my sculptures."
Holmes says her professors have been great at responding to her needs, even mailing her materials: "One of my professors sent me rubber cutting boards for my cardboard cutting, so that my razor blades don't get worn down cutting on wood."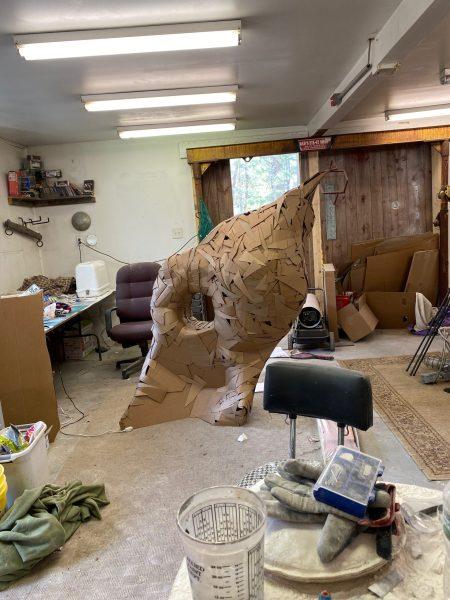 Graham Littell, who is also working on his studio art capstone, says he's extremely grateful for how his situation has worked out. A retired SIU Collinsville professor of painting who lives in Littell's hometown Michigan City, Indiana, had recently renovated a long garage for his own studio space. (See Littell in that space in the featured photo at top of this article.) Littell reached out to him, and the professor gave him the use of a small corner to set up shop. Littell explains how lucky he felt to have a professor of painting able to provide him with some input every day of quarantine.
"At first I thought our professors would not be able to accurately perceive our art through the screen."
But, while he still holds that concern, he says his perspective has changed slightly with regard to remote learning: "The reality is you can get the gestalt of the art piece through the screen, the big picture still comes through. It is still difficult, though."
Luckily, says Littell, he was able to bring most of his paints with him, and did not need anything additional to complete his capstone.
Other students haven't felt as fortunate.
JC Vogt has had to change a lot about his capstone.
"I had to end the photographing of abandoned rooms on Principia campus," he explains. "I had two weeks to go into willing participants' rooms, but I only got to photograph two houses on campus before it was all shut down."
Vogt says he was grateful to Principia for letting him stay a little longer on campus, but he ultimately had to rethink his idea entirely: "Now I am working with the idea of distance, and I am sending out little boxes, envelopes and postcards that are gessoed; and inside the boxes and envelopes, there's an art material in there with vague instructions on how to interact with it." He hopes that there will be participation from those he sends these items to, and that they will create a collaboration that will highlight how distanced students really are. He hopes to be able to get really creative with how he curates this collection when he gets them back.
Having only just started, Vogt hasn't received any of his posted objects again. On one object that was returned to him because of an improperly written address, he noticed that someone at the post office had actually manipulated the object based on some of the instructions written on the box. That was an unintended outcome of his project, but he welcomed it: "It was unexpected but definitely interesting."
Vogt, who is at home with his family in Cincinnati, Ohio, mentions that he has to move up and down between his room on the top floor and his basement every day, based on limitations of the space and what his other family members are doing.
In spite of his total reconsideration of his project, his professors have been there along the way and helping him adapt. "Now that I have figured out what I'm doing here, I'll just update my professors over direct messaging applications and continue to attend the Monday night capstone review class."
While many of the students working on their studio art capstones faced unique challenges, everyone found a direction, and their capstones are finishing up as usual. The capstone showcase will be a downloadable Powerpoint curated by Mackenzie Holmes, and will The senior capstone virtual exhibit is live here. An artists' reception Q&A will be held via Zoom tomorrow, Thurs. May 14 at 6:30 p.m. (Central) – see Watercooler for the link and password.
•Featured photo at top shows Graham Littell working on his capstone from Michigan City, Indiana. Photo courtesy of Graham Littell.