This content has been archived. It may no longer be relevant
­­­The campus student body is divided over the switch to semesters, with 38 percent opposed and 32 percent in favor, according to a Pilot poll in late October and early November. The remainder of those surveyed had no opinion.
The adjustment has stirred much comment over the past 10 weeks, and interviews with students, faculty, staff and administrators indicate areas of concern and possible adjustment.
The implementation of semesters has been considered several times in Principia's history. According to College President Dr. Jonathan Palmer, a "tiger team" was established in 2008 to discuss new General Education requirements as well as College Learning Themes and Assessment. As the 16 to 18 committee members worked together, every one of them ultimately agreed that developing a semester system was an option worth exploring.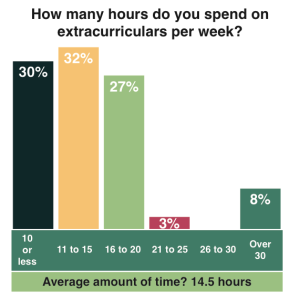 One appealing feature of the new plan was the fact that students and teachers could devote more time to important course material. Additionally, it was thought that semesters would allow students to transfer in and out of Prin with greater ease and would give students a more competitive edge in applying for summer internships that typically started before spring quarter courses ended in June.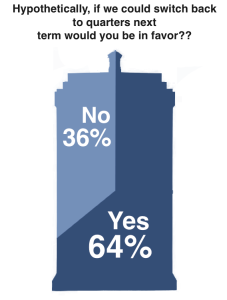 As great as semesters looked on paper and as much as seems to be going well with the switch, many community members acknowledge that things aren't quite perfect.
Some of the complaints students have made about semesters – including the absence of a common lunchtime – are actually more relevant to the daily schedule.
Dr. Palmer explained the distinction this way: "The semester schedule is a way that you divide the year up. The daily schedule is a way that we have attempted to take all of the input that we had, particularly from faculty, to try and figure out how we can accommodate these different sizes and shapes of classes."
While the administrators interviewed for this article were well aware of many of the issues students and faculty are working through, it's difficult to know what adjustments will solve problems without creating new ones. Dr. Palmer suggested that it's important to identify what kind of challenge is presented so that the right people can handle it. Dr. Palmer said he often asks himself: "Is that a structural issue, is that a timing issue, is it a course design issue?" The answer to that question greatly affects how it's ultimately worked through.
Although the daily schedule may seem set in stone, Dean of Students, Dorsie Glen, explained: "We are continuing to look at it. We have a daily schedule committee [made up of faculty, staff and students]. So we are trying to be open minded…" Glen added that because the system is so new, it's difficult to change course and "to all of a sudden say 'well let's make a change.'"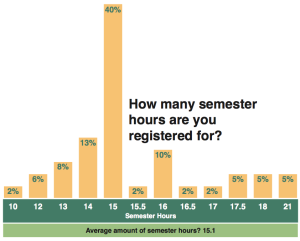 Dean of Academics, Dr. Scott Schneberger, explained: "We're all learning about the new daily schedule and we're all learning about the semester change."
As the daily schedule continues to evolve, the issues of multitasking and busyness continue to play a big role in the community.
The Principia community has always been built upon student and faculty involvement. Even under the quarter system – when classes lasted only ten weeks and students took three rather than five at a time – we still found ways to keep busy.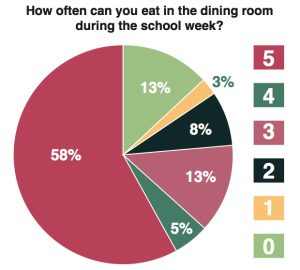 Junior Karsten Olsen said: "When I hear people say, 'I have less time to do things because of semesters,' I don't really think that's true. When I hear people say, 'Oh, I'm more busy," I can believe that…."
As important as it is to avoid multitasking, it's hard for students to know what to give up. Some students feel as though they're missing out on social interaction more than anything else.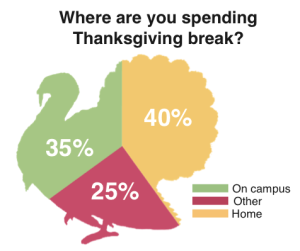 Senior business major Matt Orlando explained: "A whole man education has five different parts … I feel that the social aspect is taking an extreme hit under the semester system and it's being crowded out by the academic portion of it, which is counter to what Mrs. Morgan wanted of the Principia institution." (see Education at the Principia p. 69).
Many of the students selected for the Pilot Poll on semesters commented that the amount of homework they did in a week fell within the recommended standard of two hours of homework for every hour spent in class. We neglected to ask, however, if students actually found they were able to complete every assignment to a certain standard. Still, if one also accounts for the number of hours students spend on non-academic extracurricular activities, including on-campus jobs and athletics, it seems there's hardly time in the week for much else.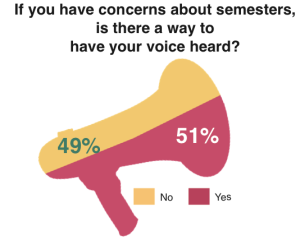 Orlando added: "Between extracurricular activities and my academic work, everybody is demanding 100 percent of my effort. It's just unrealistic to assume that I'm going to be able to do everything that a student is required to do to keep this community working and to do it successfully."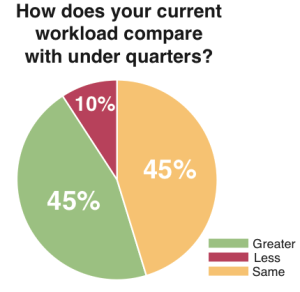 According to Dinah Ryan, a professor in the English Department, "We need, as a community, to think about the various ways in which we overload. We try to do too many things and we try to do too many things at once."
Some may say that a hefty workload could be better handled if there were more breaks in the day.  Louise Kingsbery explained the issue this way: "What I'm hearing students say … is that they're pretty overwhelmed. And it's not so much the amount of work that seems to be affecting them as much as it is not having that common lunchtime to just take a breath, deflate a little bit, and hang out with friends."
Dr. Palmer said: "I've looked at a number of a schedules and a number of students have a day where they don't have classes or they have a single class. My sense is that there is time in that day to make that connection. Now, I realize if your friends don't have the same schedule, it's harder to make that time connection."
While the administration has explained that students should be held accountable for the decisions they make in registering for classes, Dr. Schneberger acknowledges that the lack of a common lunchtime is a feature of the new daily schedule that might not have been immediately clear to all students when they registered for fall semester classes. He explained: "[I]'m not sure we point-blank told every student 'Hey, if you haven't noticed, there's no lunch hour here.'" Still, Dr. Schneberger added that he hopes "that students will think hard about their daily schedule after the experience of this semester."
Even beyond the desire for common break times, certain members of our community point to the need to preserve what makes this community great even in an era of change.
Linda Bohaker, a professor in the Business Administration Department and Director of the Abroad Office, brought up the point that class sizes have expanded under semesters, meaning it's sometimes difficult for faculty to make personal connections with each student. According to Bohaker: "I feel in some ways it's pulling us away from what a Principia education is about. If I'm supposed to be helping with hand-wrought, experiential [learning] and I'm supposed to be working on assessment and outcomes, it's difficult to provide this type of individual attention for 20 students." Bohaker added that she finds herself asking the question: "How is this best supporting what [Principia is] so good at?"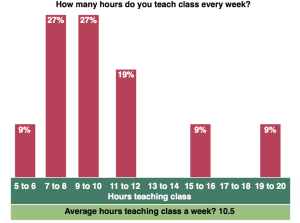 In addition to teaching two classes, Bohaker devotes a great deal of time to her administrative work in the abroad office. She also explained that the semester switch has affected abroad programs in ways no one quite anticipated. For one thing, abroads now require five courses rather than three. Consequently, more abroads require more than one faculty member, which creates staffing and budget challenges. Also, more time on campus can create challenges in terms of building and maintaining an abroad learning community. It's also not clear yet if students will find it more difficult to fit an abroad into their four years at Prin.
It's evident that Bohaker, like many, is taking time to consider how recent changes further our growth as a community. She added: "I'm a team player. This is the direction we're going and I'm trying to make it work."
While some expressed strong feelings in favor of or in opposition to the semester system, a few students and faculty interviewed just see it as something new. Junior Karsten Olsen said: "It's definitely been a change. I don't know if it's been either good or bad. It's just different."
According to Dr. Palmer, a positive feature of the 15-week term is that it provides students and faculty with an opportunity to reevaluate and reschedule assignments to meet the current need.
"I think it allows faculty … to explore in a different way in that 15-week cycle. I think we all had agreed that that 10-week process was a sprint and that you really couldn't often afford to change course because it was just too tight between the beginning and the endpoint," said Dr. Palmer.
Ryan agreed that there are opportunities to adjust workloads to assist students: "I'm being flexible. I'm hearing students say that other faculty are being flexible."
At the same time, students acknowledge that this is a good opportunity to improve time management skills. Sophomore Christine Nacewicz remarked: "I feel like there's ups and downs with the workload. So as long as you plan accordingly, you won't get behind at all."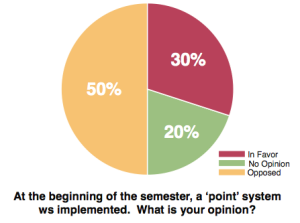 Junior Jeremiah Chiteri agreed that the semester "started with a boom." He explained that two days a week are particularly busy in terms of homework but that the rest of his workload is manageable. Overall, Chiteri said of semesters: "I believe it's a positive [change]."
Although freshman Savanna Sprague never experienced life under the quarter system, she expressed a favorable opinion about semesters. "I haven't really run into any problems yet. I started with a pretty disciplined schedule." In addition to her academic load, Sprague is a member of the volleyball team and is accustomed to completing assignments around her workout schedule. She also explained that she's in the habit of starting homework as soon as it's assigned in order to stay on top of things.
As this community continues to acclimate to a new modus operandi, many interviewed for this article agreed that there is a need for improved and continuing communication.
Orlando said: "I think that the most important thing right now is to have a running dialogue between whoever can affect this transition, whoever can affect the schedule and the semester process. … There needs to be a dialogue between them and the student body."
Glen agreed that communication is the answer to a number of on campus issues, as long as we distinguish between communicating and complaining. "I think we just have to be talking to each other. The more we do that, the less time is wasted talking about the problem with others that can't solve it."
Kingsbery added that it's important to consider how we deal with anything in life with which we don't agree. She suggested that it might be helpful to hold occasional Chapel meetings for the community to discuss challenges and successes until we can find a collective sense of peace.
Dr. Schneberger said:  "There may be some sense of limitation, but part of our job here is to take away senses of limitation … So we're in that balance of trying not to limit ourselves while trying to be very appreciative of issues that people are facing and dealing with."
To build off a point made in Dr. Palmer's convocation address earlier this term, it's important to be patient with one another now more than ever. For faculty, this likely means continuing to gauge how students are managing their workloads. For students, that could take the form of asking reasonable questions and looking for constructive answers. For the administration, that means realizing that it's important for the community as a whole to reflect on why change happens rather than passively accepting new ideas without understanding them. Constructive criticism is a good thing, but only if we actively look for ways to implement it.