This content has been archived. It may no longer be relevant
In the fall of 2001, Northeastern University in Boston, MA switched from the quarter system to the semester system. The director of this switch was Coleen Pantalone, the Associate Dean of Undergraduate Programs at Northeastern.
Despite Northeastern's large enrollment of 15,339 undergraduates, Pantalone was able to successfully make the switch.
After much research and preparation, Principia called Pantalone in to review its semester transition plan. After Pantalone saw our transition plan, she gave us the green light to put that plan into action. Patty Langton and the rest of the Registrar's office believe that if a university of more than 15,000 undergraduates can successfully switch to the semester system, then Principia, with a population of just over 530 students, will successfully begin the semester system in the fall of this year.
The first real taste of the semester switch came with the completion of TAP forms, or Transition Advising Plans. In regard to this experience, junior Samuel Thomas said: "I filled one out, saw that I could graduate on time, then I left.  That is the extent of what I know about the TAP forms."  What most students don't know is that the Registrar's office is spending countless hours a night individually loading in the data from each student's TAP form to make sure that they can take all of their classes and still graduate on time.  So far, they have worked their way through all of the non-graduating seniors and a majority of the juniors.  Langton works diligently with an Excel document that contains all students' TAP forms.  If any complications arise in a student's schedule, she painstakingly goes back and sorts through the scheduling conflict. Freshmen have three more years to work out their class schedules, so they are not required to fill out TAP forms at this time. Any conflicts that may arise in those schedules can be worked out as they come to light.
Even though things seem to be moving along smoothly, some students have concerns about the semester switch.  "I'm not really sure about the daily schedule for fall semester," said junior Dana Gaubatz.  Gaubatz is one of many students who share this concern.  What many students do not know is that you can get a copy of the schedule by visiting www.prin.edu/semesters. Once on the page, click on Documents and then on the Daily Schedule. At first, this schedule might look intimidating and confusing, but after a closer look, it can be easily understood. This schedule is actually quite similar to other colleges' semester schedules. Junior Drew Clark spent his freshman year at Bryant University in Smithfield, Rhode Island. Clark said: "The schedule that I had at Bryant was exactly the same, given the CSO and quiet time spots. We had the fifty minute classes Monday, Wednesday, and Friday, and the hour-and-fifteen-minute classes on Tuesday and Thursday, and I loved it."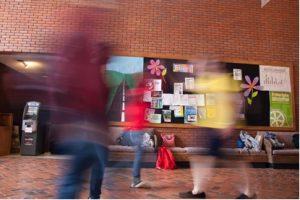 However, the big question is not so much about scheduling as about workload.  Students are worried that teachers will give the same amount of homework as they did on the quarter system; this would give each student two more classes-worth of homework per night.  This topic has been addressed in meetings leading up to the switch.  Libby Scheiern, director of the Teaching Excellence Center, is helping professors with the transition by setting up workshops throughout spring quarter and summer break.  In these workshops, teachers can bring to Scheiern their whole ten-week schedule and have it altered to span one semester. These workshops help to ensure that teachers still cover as much material while refraining from overloading the student with too many hours of homework each day.
Regardless of whether students are on the quarter system or semester system, some problems will inevitably arise when it comes time to register. But unlike previous years when registration closed after a week or two, once registration opens toward the end of spring quarter, it will stay open until add/drop week at the start of fall semester.  This will allow students who have class conflicts an ample amount of time to figure out a course of action during the summer.
There are pros and cons to both the semester and quarter systems. However, with 85 percent of the country's colleges and universities on the semester system, athletic schedules will line up better with those of other schools, students will be more likely to have the same breaks as those of their friends at other colleges, and the longest class that most students will have to sit through will only be an hour and fifteen minutes in length.  Both the Registrar's office and ACA office have worked hard to make sure the transition is smooth. All the biggest obstacles have been worked out, and "there are no show-stoppers" said Associate Dean of Academics Joe Ritter. Ritter is optimistic about the transition, but little problems may still occur. "We don't know what we don't know," said Ritter. However, student feedback may help to resolve any issues that may arise. "People are definitely interested in student feedback. The more people that participate in this, the better it will be," said Langton. She added:  "What one person doesn't think of, another person might."