This content has been archived. It may no longer be relevant
By Sophie Hills
Sam reaches out and takes my phone, looking down at the picture on the screen. They start laughing, their shoulders shaking up and down and their eyes crinkling. It's a laugh that makes you feel good, a full-bodied, colorful laugh that rolls its way around the room.
"Dude, that's hilarious. Jabba the Hut," Sam said, laughing again. They're looking at a picture of a seal—an impossibly fat seal, mind you, so fat that it seems questionable whether it swims or just floats with the tide. Dubbed "Jabba the Hutt," the enormous seal is lightly colored, with spots decorating its whole body.
For background, the Great White sharks have been swarming towards Cape Cod, where I live, which means that the seals—their favorite snacks—have responded by coming in closer to land, weaving their way through channels and making their way into harbors, which they now colonize.
This picture is captioned, "Jabba the Hutt ate a Great White." That may not make you laugh as much as it did me and Sam that night, but we sat there in the library as it approached midnight, laughing away the cricks in our necks and fog in our eyes that comes from staring at a computer screen for too many hours.
This is a simple story, but it reminds me of the essence of Sam: Joy.
On May 31, Sam Engel, previously known as Brooke, "passed on…by apparent self-inflicted injury," wrote Interim President John Williams to students on June 1.
Since then, first one Facebook post, and then several others, sharing photos and thoughts about Sam, have been flooded with photos and memories shared in the comments.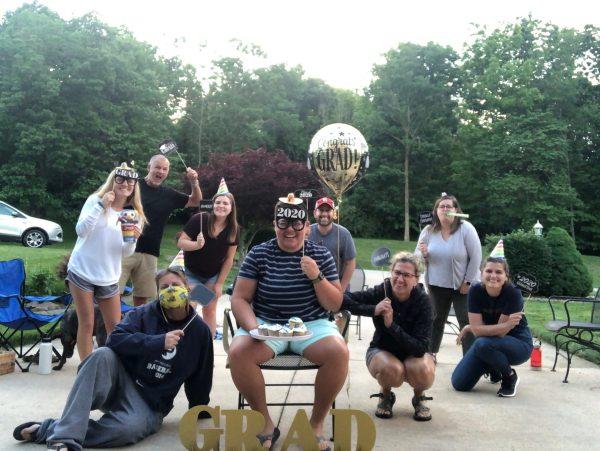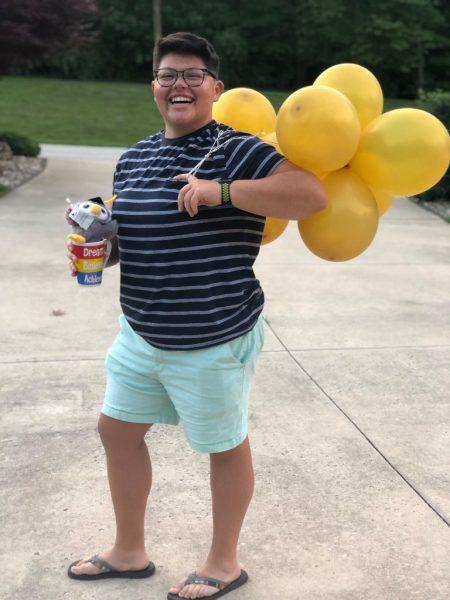 "I unfortunately never had the chance to get to know Sam very well, but I will never forget them," wrote Daniella Kimberly, a sophomore, on a Facebook post. "I worked as a cashier in dining and every single time I saw them, they would always, without fail, ask how I was doing. They would say it and look me in the eyes like they actually truly cared. Such a simple yet meaningful thing. Sam cared so deeply for every person they came in contact with."
Sam's genuine interest in other people was evident on their study abroad trip to Slovenia and Croatia, said Nicole Gervais, who was the resident counselor on the trip. Sam would say hello in Slovene, and if it became evident that someone spoke some English, they would spend time getting to know them. "They wanted to talk to them and see what their life was like, and really get to know people," beyond surface level, Nicole told The Pilot.
Sophia Hathaway, who graduated with Sam this spring, wrote on Facebook about going on a run with Sam when they were studying together in Slovenia. "I wanted to see the sun rise and they were willing to wake up to see it with me," she wrote. "I am committed to live life as fully as they did."
For me, that enthusiastic, unqualified embrace of life was felt without question through Sam's hugs. Whether conciliatory, celebratory, or just because, hugging Sam lifted my mood and warmed my heart. Grinning, they would wrap me up, sharing their joy and love of the moment with me—and it never failed to send me on my way with new energy. That generosity of spirit is contagious.
"Sam just loved helping other people, just really loved being able to serve others," said Nicole.
Sam finished their Principia degree as a studio art major with a concentration in graphic design last December. They stayed at Principia for the spring semester, working as the post-graduate teaching intern for the Center for Teaching and Learning.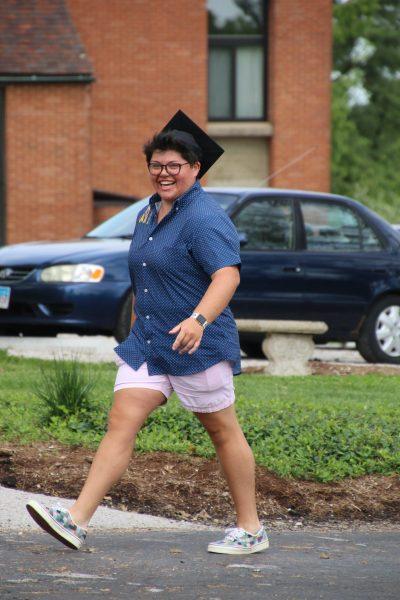 Sam was an accomplished musician and artist, loved dogs (LOVED dogs), and played soccer early in college. They were involved with the CTL throughout their time at Principia, first as a writing tutor and then as a senior writing tutor.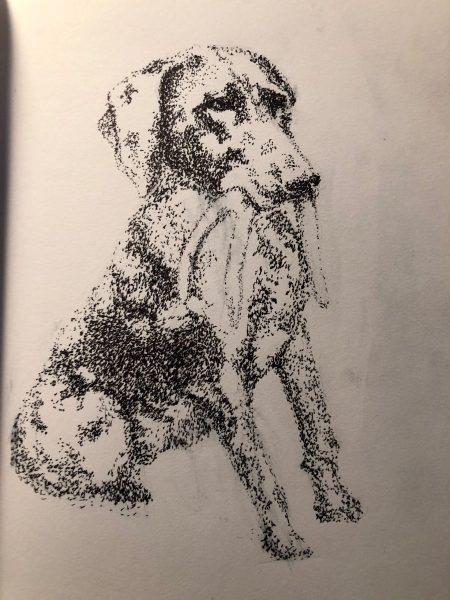 "They made working with them feel like I was working with a colleague, often, more than with a sophomore or junior or senior," said Ellen Sprague to the Pilot. Assistant director for the CTL, Ellen traveled with Sam, first as leader of the abroad to Slovenia and Croatia, and then to two writing tutors' conferences. Ellen said she appreciated "the excitement and the wonder that [Sam] brought to everything," while traveling abroad.
Sam embraced the opportunity to present at the second conference, demonstrating how their earnestness with friends and strangers translated to their work ethic. "They took ownership of everything they did," said Ellen. "They were all-in."
Sam was Ellen and her husband Josh's go-to dog-sitter for the last several years. The first time Sam came to her house was with the Slovenia group, said Ellen, and her father-in-law's brand-new puppy was visiting. Sam sat down one the floor right away, and "it was all about the puppy," said Ellen. "All I can picture is a smile. Just a big smile and laugh."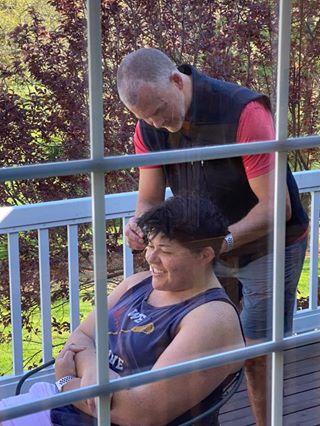 "One of my favorite things was getting Sam to laugh, because their laugh was just whole-hearted," said Nicole.
Adrianna Swarts, who graduated in 2019, commented on a Facebook post, writing that Sam read her 50-page capstone paper and sent it back with specific comments, despite it being a niche subject that Sam didn't have a particular connection to.
"Sam would always be busy when I saw them, laughing with others and generally being one of the best presences in any room no matter how big, but whenever I'd be having a bad day they'd put their hand on my shoulder and ground me back into the world, tell me 'you got this buddy, I'm here for you dude,' and never fail to show up. If you've ever got a friend who showed up to hear you play some classical pipe organ literature, you know you've got a good one," wrote Adrianna.
Genuine, love, living life fully, sincere conversations, selfless, generous, courageous—these are just some of the themes and phrases that were repeated, over and over, in the comments on posts dedicated to Sam. The stories above only begin to scratch the surface, but hopefully they can remind us to delve into the qualities expressed by Sam and endeavor to embody them ourselves.
"Sam did not leave me where they found me," said Ellen, "and I think that's true for everybody."
There will be two opportunities to celebrate Sam this week. Join a Zoom gathering today at 4 p.m. CDT to share stories and thoughts. The link to register can be found in the June 7 Watercooler announcement. For those close to campus, walk or jog the cross country course—with pets, if you have them—on Sat., June 13, at 7 a.m.
Featured photo courtesy of Nicole Gervais.