This content has been archived. It may no longer be relevant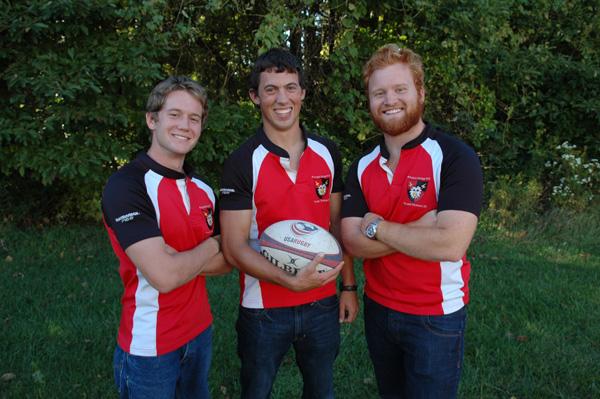 After a big victory over Washington University in St Louis that raised their record to 3-0, the Principia College Thunder Chickens demonstrated that the rugby program may be an effective way to fill the void that was created when the football program was dropped a year ago. The team's success in the fall collegiate league could provide a way to gain athletic recognition among larger, more established universities. While the team previously only competed in a spring adult league, it is now able to participate in the fall collegiate conference, which includes larger and bigger-name schools such as St. Louis University and offers a shot at a championship.
Athletic Director Lee Ellis said, "When I came in as an Athletic Director…someone asked me what program I wanted to invest in and thought would be successful, and I said rugby." Ellis pointed out that, "It's a game that works with our demographics. Almost twenty percent of our students are international students. They're more familiar with soccer, football or rugby football than American football."
According to Senior Captain Tom Bisbee, "One of the reasons why we can be successful against these big schools is because rugby is a skill game, and we have the skill sets to compete against other teams. There's limited subbing, so it's not a sport of numbers." Coach Nick Johnson also attributes success to the effort of the players. Johnson said, "We have a large number of players who devote the time and effort it takes to be successful. The other aspect is… organization through captains and having a coach and assistant coaches and having the support of the school in giving us fields, a locker room, money for a coach, and a budget to get the necessary supplies. Those two combined have led to a great team."
Ellis and Johnson both agree that rugby was never seen as a replacement for football, but without a football program, the rugby team has enough players to compete in a collegiate league during the fall. However, Ellis said that they had already planned to invest in rugby before the football program was brought into question because he saw it as an opportunity for success.
"I never envisioned football and rugby as one taking the place of the other. I thought that, based on a number of things, that rugby could be a really successful enterprise for us. … I never ever said 'let's go to rugby because that's the replacement for football,'" Ellis said. "I'm happy that football players find that the rugby program offers them the kind of outlet for the kind of bonding that takes place on the football field. I think that's awesome."
For many of the players, rugby has filled the football void to a certain extent. Junior Tyler Marunde, rugby player and former football quarterback, says that rugby "filled the void because we have a good team sport where guys have fun together and play as a team, but it's not the same as football. It's not the same team chemistry. Rugby and football are two different things. It's a good substitute, but nothing replaces football."
Senior captain and former football player Graham Thatcher says, "They're very different games and have a very different atmosphere. Rugby was a great outlet for my frustrations, but I wouldn't say it's the same as having a football team. In football, there are more intense bursts, but the pace of rugby is more like soccer."
Ellis clarified that the budget from football was not given to rugby. Ellis said, "We didn't cut football because of the budget crisis. We actually gave a lot of money back to the institution, and we did not invest the money in rugby. Everything that we were doing with rugby had already been on the planning books prior to that."
Even though the rugby team takes itself seriously as a club sport, it is very different from a varsity NCAA team. Being able to participate in the collegiate league in the fall, as well as the men's club in the spring, has provided opportunities both for those who prefer serious, competitive athletics and for those who prefer a more fun, light-hearted atmosphere. Senior captain James Suber says, "In the past, it's always been difficult for the club to find the balance between being competitive and being more laid back, but now I think because we have two seasons, we are starting to think about devoting our fall collegiate season to being more competitive and then our spring season to being more laid back. I think it achieves the balance that people are looking for, so they can come out for either or both seasons."
"We've definitely moved to a more formal and standardized program, but at the same time we are keeping our roots, so we don't practice every day," said Johnson. "What we're trying to do is walk a tightrope and on one side, include the players who really want an organized contact sport. On the other hand, we are trying to be inclusive of people who have never played a contact sport, but they want to give it a try.  So we have a huge range."
Ellis reports that he has not seen a large impact on enrollment in the switch of focus from football to rugby. Ellis said, "I have no doubts that there are some individuals that don't come to Principia because they want to play football and say rugby doesn't fit the bill, but part of the problem that football was having was that we weren't getting solid support from prospective student-athletes that translated into big numbers coming here. I'm not noticing a downturn or any serious negative impact on enrollment as a result of not having football."
While it's tough for the team to do any official recruiting, Johnson says that they get a handful of players through admissions, but "another part is camp. At least half my players go to camp and are counselors, so they get [prospective players] excited about rugby there."
Marunde said, "Football was pretty much the reason I came [to Principia]. I knew that I wanted to play, and I could've gone to another D-III school…but I wanted to play all 4 years, so I came here…. " For Thatcher, on the other hand, rugby played a large part in his decision to come here. "I got to practice when I visited, and it was one of the reasons I came," Thatcher said.
Check out the Principia Thunder Chickens