By L. Kincaid Holmes
Corey Carter and his cousin were walking home from a corner store as middle schoolers when suddenly the police pulled up and threw the two boys on the ground and handcuffed them. "They didn't tell us why," says Carter, and he and his cousin were held for two days and questioned about the whereabouts of a man they had never met.
Growing up in downtown Cincinnati, Ohio, also known as Over-the-Rhine and classified by authorities as a "high violent crime area," Carter has myriad stories of experiencing blatant injustices as a Black individual growing up in an inner city.
Anti-racism protests have roiled the country, and the world, since May 25 when George Floyd was killed while in police custody in Minneapolis, Minnesota. Activists say that Floyd's death is only one in a stream of Black-American deaths driven by systemic racism.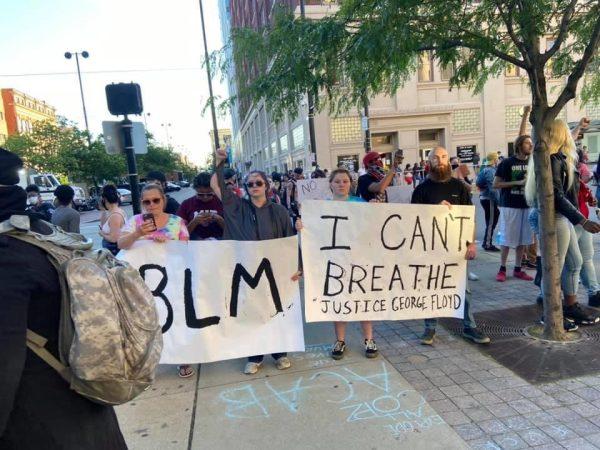 At the center of the conversation is #BlackLivesMatter, now a global organization, which began as a response to the 2013 acquittal of George Zimmerman after he fatally shot Trayvon Martin, a young Black male, in 2012.
Principia students are protesting Floyd's death around the world, from Berlin to Florida. Now a senior at Principia, Carter joined protests in his hometown of Cincinnati. "I am protesting because I live in a predominantly Black community and have lived there my whole life. I have witnessed, firsthand, the injustice when it comes to the systemic oppression [of] Black people, and unfair treatment," says Carter.
Hearing about "police shootings…makes me angry, because I know it could easily be me or a friend," says Carter.
Tre Goodman, who graduated in May, recently attended a protest in Fort Lauderdale, Florida. "It was something I felt I should do being that I am African-American," says Goodman. "I mostly went for the people that can't speak up or that are afraid to speak up or are afraid to go out because of the 'what ifs.' I went for those people who can't go out, like my grandpa."
In Woodstock, Georgia, junior Grace St. George became the lead organizer of her community's protests.
"I drove by one day and I saw that there were about 10 to 15 people protesting and I immediately jumped on board and have since become the head organizer," says St. George. "Now we have a Facebook group of over 1,000 people from this local area."
St. George and her fellow protesters marched daily from 5 p.m. to 10 p.m. the week after Floyd's death. They have a list of demands, she says, one being that police officers take an Implicit Association Test on race which "gives a numerical score on any biases you have."
"In general, what needs the most change in this location is the level of education of the residents here and how much they know about what Black people have gone through," says St. George.
In Town and Country, Missouri, sophomore Gracie Paul joined a youth protest, marching past Principia School where members of the school were handing out refreshments for the protesters.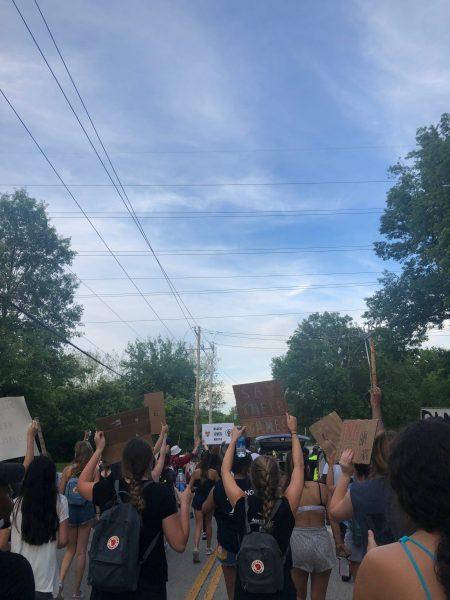 Ryan Eisenauer, a Principia College 2020 graduate, went to a protest in downtown St. Louis with his father and brother on Monday, June 1. Organized by congressional candidate Cori Bush, this was Eisenauer's third protest in the past two weeks. The march began at the 22nd Judicial Circuit Court at the corner of market street and ended at the Gateway Arch. Eisenauer and his brother and father left the protest before the area's curfew and the arrival of the National Guard.
"I am protesting because I am just so tired. I am so sick of this," says Eisenauer. He and a friend joined protests in Ferguson, Missouri after Michael Brown was killed by a police officer in 2014. "I felt like a portal to a new world had been opened up. I started reading and educating myself on white privilege, systemic racism, everything going on."
Growing up, Carter was taught about "walking while Black," he says. "Your parents teach you these rules of what to do if you are approached by a cop: Go peacefully, don't look a cop in the eyes, don't wear a hood in their presence, keep your hands out of your pockets, don't ask questions, basically just be powerless and go along with the situation."
"There's a certain point in these communities where you become a threat and not a kid anymore," says Carter, whose cousin, Timothy Thomas, was chased by police and cornered in an alley before they shot and killed him. He was 19 years old and unarmed, says Carter. Thomas' shooting sparked the Cincinnati Riots of 2002.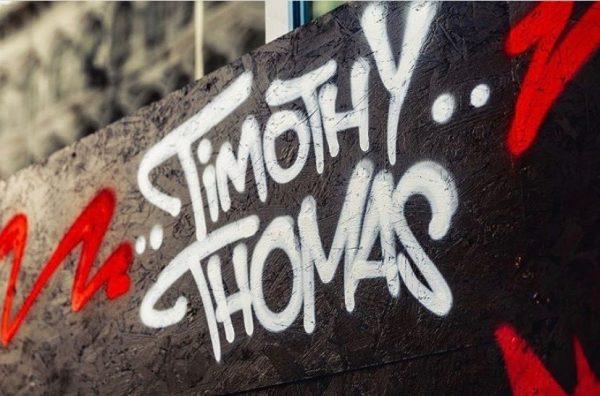 "In these communities [the police] have the power and there's really nothing you can do. Try to stay out the way and be safe," says Carter.
After the first day of protests in Cincinnati, in the early morning of May 31, protesters and police had a confrontation and someone shot a police officer in the head, dispersing the crowd, says Carter. The police officer was wearing a helmet and was unharmed, said Cincinnati Police Chief Eliot Isaac. The people who incited violence were not there for the right reasons, says Carter.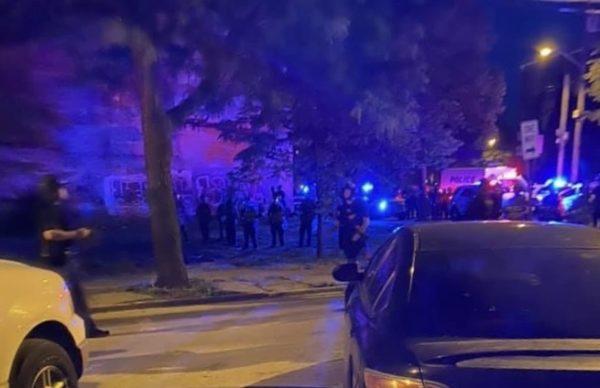 Local Cincinnati news outlets reported that 307 people were arrested for everything from protest infractions to breaking curfew. Some claim they were kept in a parking lot and denied food, water, and blankets and their hands were zip-tied together for up to 12 hours. They were in custody until 9 a.m. June 1, the following day.
Carter was not arrested, and "we still came back and protested everyday, but it was more peaceful because we didn't want anybody getting hurt," he says. "We are all in this together, whether you are Black, white, brown, etc…We are fighting for our brother's and sister's rights."
Meanwhile, Tre Goodman says he has never had a physical altercation with police, but he has been racially profiled.  
"It's ignorance on both sides," Goodman says with regard to what he believes needs the most change. "It's not white versus Black, it's not Black versus Asian; it's everybody versus racism."
The unity at the protest Goodman attended made clear that protesters were  all "celebrating peace within each other, that there was no physical difference that we saw," he says. "We all celebrated that we are one kind and we were all here trying to fight for justice, and that love is what we need."
Though not able to join in protests, junior Olivia Denson, who lives in St. Louis, has found other ways to support by posting on social media and educating herself.
"I didn't want to be that silly white girl that was like 'I support you, I hear you," says Denson. She explains that she wants to know why she supports. She wants to have an educated and clear explanation that has backing.
"In my mind, this may seem really basic, but I think people need to redefine what love is, because it's not always at the forefront of our thought," says Denson. "I think we need to remember what it means to be loving." 
"We need to recognize that times have changed, and people have changed, and America has changed," says Denson. "Life is a journey, wherever I am right now I probably won't be there in 10 years and so why can we expect that America will be that way with all of us changing inside of it?"
Incoming sophomore Shemarri Miles also hasn't attended a protest, but he says that everyone coming together is the most powerful way to foster change. "Two is better than one," he says, meaning that "we can come together" regardless of race.
"Peace, love and positivity; nobody hating on each other, that's the vibe I want to come in with," says Miles, "Regardless of color, we are family at the end of the day."
Eisenauer joined protests because staying engaged on social media left him wanting to do more. "I just really got that itchy feeling that I can't do what I need to do just by being at home, so I went online and I found several marches and protests in St. Louis," says Eisenauer.
"I am white and have only [been educated on Black history] for six years and there are people who have spent their entire lives being the subject of this," says Eisenauer.
Organizer Cori Bush told protestors on June 1 that "We are not here to peacefully protest," says Eisenauer. "And she made a point that we will protest peacefully but we are not going to package this as a peaceful protest because that is how we always expect protest to be. We are demanding justice. That is not a peaceful action, but we will do it peacefully," says Eisenauer.
Gracie Paul's main takeaway from the St. Louis march she joined was that she is in a position to take further action. "Use your voice as someone who is still in school to talk to your administrators and to talk to your teachers and ask to have Black history [taught]," says Paul. "It's not just one month. It's not just February."
Principia College has a total enrollment of 391, as of spring 2020. Although roughly 20% are international students, the number of African American students is fewer than 10. 
"Significant work must be done to lift the knee of systemic racism off the neck of black individuals and communities so that they can breathe and flourish," wrote Interim President John Williams in a statement. Principia intends to take "concrete steps," including offering diversity training, he wrote.