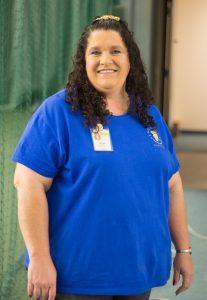 While Principia's housekeepers are great with a mop and scrub brush, they are also always excited to meet and interact with students.
The housekeepers have made it clear that they love being here, and that they're here for the students. "The students are why I've gotten up everyday for the past 19 years. They're our kids," housekeeper Sara Foster said.
Foster has grown up around Principia her whole life. "I just love this place," she said. Her father worked here when she was younger and she loved being around and helping out. Foster even got married in the living room of Joe McNabb House while working here. She currently works in Hexberg Tennis Center, Voney Art Studio, Lowrey House, and Cox Cottage with her housekeeping partner, Cindy McCoy.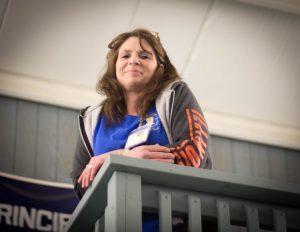 Foster and McCoy have become close friends over the years, having worked together at Principia for 19 years, and at a restaurant in Grafton.
Housekeeper Michelle Ayres has worked at Principia for 16 years. She can be found in Joe McNabb House, Buck House and Ferguson House with her cleaning partner Becky Hill. Ayres really enjoys getting to know different students with varying cultures and backgrounds.
Years ago, when each housekeeper was assigned to clean just one house, Ayres spent a lot of time in Brooks House. She really got to know the girls. "The girls were so good to me, we had to have a spa day," she said. Ayres is still in contact with some of the girls on Facebook.
Hill has been here for 20 years, and her husband, facility worker Kevin Hill, has been here for 27 years. When Hill was asked what has made her stay for 20 years, she said, "Everyone is so friendly, nice and appreciative. I feel comfortable here. I don't know that I would feel that way anywhere else."
Like most of the housekeepers, Hill has worked in numerous houses and buildings throughout her time here at Principia. Her favorite place to work has been the Guest House. She likes change, though, so she can meet different people and make new friends. Foster and McCoy agreed that their favorite place to work was Eliestoun – they couldn't get enough of the view over the Mississippi River and the beautiful house itself.
Ronda Trask, housekeeper of Rackham Court, Buck House, and Marshall Brooks Library, said one of her favorite things about her job is the drive to work. "I drive the country way. It's nice and peaceful and I love the drive into campus, especially in the fall," she said.
Trask has been at Principia for seven years now and she couldn't be happier. She had heard about it being a great place from friends and decided to check it out. Since then, she has found that to be true. "I think Principia is a wonderful community. The people are all great, the faculty and staff, everyone that works here. I've never had a problem," she said. Trask always feels welcome and is glad to be working in a great environment.
Shari Manees, housekeeper of Sylvester House, Gehner House, and Crafton Athletic Center, also agreed that Principia is a very welcoming community. She has only been here for three years so far, but she definitely sees herself being here a long time, like Hill and Foster. Manees really enjoys her hours and interacting with students. When Manees was asked what her favorite part of her job was she said, "I don't know, because I like it all."