The fall of 2021 ushered in an era of change for athletics at Principia College. For the first time, the historically Christian Science institution opened its doors to students who are not part of the faith. And so far, the number of non-Christian Science students on campus has rapidly increased.
Principia has done exceptionally well on the recruiting front for a Division III school. For instance, the rugby team – known as the Thunder Chickens – has athletes who play at the national level in their home countries. Some, like freshman Andrew Matoka, even have Olympic flames fanning their future.
"Principia gave me the best offer," said sophomore Kudzai Chiwara when asked about his incentive for coming to Elsah. Chiwara, like many of his teammates on the rugby team, has been playing rugby for nearly half his life. "When I'm out on the field, the feeling is like nothing else," he added. Principia promised him the sweet release of sport coupled with a solid liberal arts education.
By opening admissions to non-Christian Science students, Principia's sports teams are able to recruit athletes from an exponentially larger and more competitive pool. Principia is allowed by the National Collegiate Athletic Association (NCAA) to send recruiting materials, such as brochures or invitations, to students. By admitting more international students, Principia is contributing to the 180,000-plus DIII athletes playing in the United States.
This semester, Principia's soccer, tennis, baseball, softball, volleyball, and basketball teams have taken a dip in the newly opened recruiting pool. Coaches are looking as close as Alton and as far as South Africa. Although the process is not foreign to the coaches, the prospects are.
"(We) have opened up an entirely new pool of applicants that we have never looked at before," says Bill Whittaker, assistant coach of Principia men's soccer. The quality of the athlete being admitted to Principia has been raised because of this wider pool, he said. Platforms like Common App are introducing Principia to fresh students, and coaches are grateful for it.
Whittaker says that for Principia men's soccer, the coaches' networks play a huge role when recruiting. These networks extend well beyond U.S. borders and sometimes involve scouts.
Prospective international students even work with scouting agencies to help place them in U.S. colleges. According to Whittaker, the pandemic and declining economies in Latin America, Africa, and Europe have motivated international students to consider the United States.
International student admissions across the country have been steadily increasing. A report published by the Institute of International Education (IIE) reveals that colleges across the country have seen growth in applications by international students. The report cites data from 559 institutions and shows that 65 percent of these institutions saw an increase in their international student applications for the 2022-2023 academic year, up from 43 percent a year ago.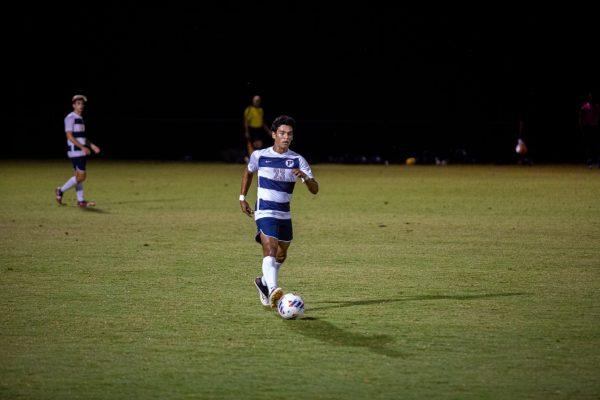 Colleges across the country are fighting for the best student athletes to build their teams. For students like Chiwara, team sportsmanship is just as important as the game. The values Principia's teams hold dear made him feel welcome.
Chiwara had never heard of Christian Science before coming to the college. Like many international recruits, he graduated high school and was looking for a way to chase his dreams. "Initially, I was preparing to go to aviation school," he said.
But after reaching out to a recruiting agency and sending his details, the U.S. came calling. "I got accepted into Brown," he added casually. The Ivy League university was one of the five colleges that tried to draft a mighty rugby team. After careful consideration, Chiwara picked Principia because of the trust, honesty, and love expressed by then-assistant rugby coach Tim Drysdale.
"It doesn't hurt that Principia also offers the best financial aid package," Chiwara noted.