This content has been archived. It may no longer be relevant
Reforestation at Principia
Last Saturday, the day after Earth Day, around 50 students and some faculty members from Principia gathered on the farm field past the barn near Elistoun. Rain fell off and on that morning; conditions seemed prime for a game of mud soccer. The purpose of the trip was not only to get muddy and wet, but to plant as many tree saplings as possible. An impressive three thousand saplings of black oak, red maple, dogwood and black walnut were donated by generous individuals with an interest in Principia's landscape. Only a few hundred had been donated originally. Steve Ward, Director of Principia's Center for Sustainability, described the rise in saplings donations as "a loaves and fishes moment." The event was a success. Half the trees were planted in one day, and participants genuinely seemed to enjoy themselves.
The Euphrates Institute: Bringing the Middle East to the West
The Euphrates Institute is actively wading through the thorny issues in the Middle East. Under Professor Janessa Gans Wilder's guidance, Principia students have had the chance to discuss US foreign policy in the Middle East and how it hinders or promotes peace. Freshman Dillon Siewert, a fellow at the Institute, recently moderated a well-attended round table discussion at Principia College. At the discussion, several important issues were raised, such as the need for aggressive advocacy for religious tolerance and accommodation of divergent viewpoints. "The Institute is very helpful as far as understanding the Middle East is concerned," said Siewert. The Institute is planning a major summit in the fall of 2011 at which Lawrence Wright, the author of the book Looming Tower, will speak. Major news organizations such as The New York Times and CNN will be there.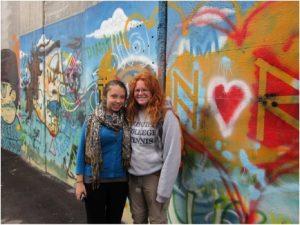 First Incoming Freshmen with the New Semester System
Brian McCauley, the Dean of Enrollment Management at Principia College, is as confident as ever about a smooth admission process for the first group of students under the semester system. "We are reaching out to admission candidates and advising them to approach the process prayerfully," said McCauley, who recently traveled to Africa where he met applicants from Kenya and a few other countries. Of course, newly admitted students will not know about how Principia College has been functioning under the quarter system. They will only have heard tales from continuing students, who seem to view the semester system with ambivalence. Principia College has prided itself on its reasonably high percentage of international students, a trend that will definitely be maintained. Marina Byquist, the International Students Counselor, says that she cannot emphasize enough the great diversity brought to the college by students of different ethnic and national origins.
The Whole World Festival
May 6-7 should be marked with all colors of the rainbow. These are the days for the Whole World Festival (WWF), when the Principia College's diversity will be celebrated in a variety of events, including dances and shows. In previous WWF events, there has been abundant joy and fun. Sophomore Jeremiah Chiteri is working closely with sophomore Fredrick Ochieng, sophomore Daniel Otieno and freshman Janet Mulwenge, who are all from Kenya, to come up with a performance that they hope will give domestic students a glimpse of authentic Kenyan music.
Free Geek Goes Strong
Principia College students who are in need of computers do not have to agonize over the issue any more. "We still have some machines left in our office, and donations have been fine," says senior James Koval of Free Geek, the group that receives donations of desktop computers from well-wishers and distributes them to students. So far, the donations have been overwhelming. The Free Geek organization is also adding a program where students can get help with a computer problem by sending an email to a free technician, usually a student, who is recognized by Free Geek. To find out whether there is a free desktop available, a student needs to contact any of the Free Geek officials, such as Koval, senior Theodore Lindsey, and others. Get rid of all those bugs that have slowed your machine by simply looking out for the Free Geeks around campus.