This content has been archived. It may no longer be relevant
By MCOM 210 Newswriting & Reporting students Tara Adhikari, Liam Anderson, Kelsey Bettman, Viviane de Castro, Haley Hill, Rachael Ostheim, Henry Soney, Hannah Switzer and L. Kincaid Holmes
The CSO service was just coming to a close on a Sunday afternoon in December of 1941, when President Frederic Morgan stepped to the Chapel podium and asked that all members of the congregation stay behind for an announcement: Japanese forces, just hours earlier, had bombed Pearl Harbor. The United States was now at war.
"The thought was to direct your thinking away from fear or from yourself and toward Principle, and just prepare for what's to come," Howard Bay, a retired history and economics instructor at the Upper School, explained in a teleconference interview last week with 15 college journalism students.
Nearly 80 years after the start of World War II, in a globally seismic parallel, the coronavirus pandemic sent Interim President John Williams to the stage in a Cox Auditorium all-campus meeting to notify students that they would be sent home for the semester.
From world wars to economic collapses to the deadly measles outbreak and even an Air Force eminent domain grab at the Elsah campus, the disruption of routine, and the fear and confusion of the COVID-19 crisis is not unprecedented in Principia's 122-year history.
Fifteen students in a Principia newswriting course interviewed Bay via videoconference earlier this month to see what 2020 Principians can learn from Principians in past crises. Bay, whose college summer session course on Principia history was cancelled because of COVID-19, had some fresh research to share.
Principia first felt the effects of a major global crisis when the United States entered World War I in 1917. Two days prior to the official announcement of war, all the men of the College gathered together "and decided unanimously to give up all their spring athletics and just devote themselves to preparing to be of service to the country," said Bay.
This preparation involved taking classes in military theory, signaling, fieldwork, military topography, and troop leadership. Bay noted that while preparing for war constituted a big change in routine and that it "was a time of real mental turmoil," there was a strong desire "to serve your country" and "to be patriotic."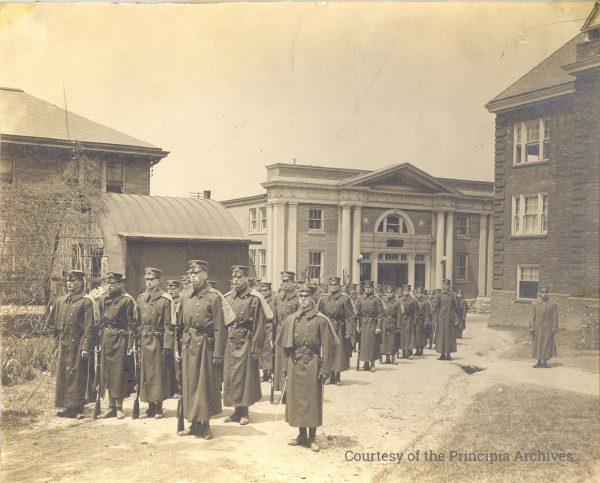 By September of 1918, of the 125 graduated Principians in the service, 80% were commissioned as officers. "What Principia was stressing was that heroism is not something that's self-conscious, it's an unselfish thought," described Bay.
This spirit of selflessness carried forward to World War II after the United States entered the war in December of 1941. At this point, Principia was a four-year college located on the current Elsah campus. By April of 1942, half of the men on campus had gone into the armed forces, and the remaining men, women, and faculty members contributed to the war effort, and to keeping the College running, in any way they could.
The women of the college took on greater responsibilities, from leadership positions on student council to more than 200 paid jobs that men had previously filled. The administration at the time asked every student and faculty member to do two hours of volunteer labor every week in housekeeping and grounds work, given that those who had previously filled these positions either enlisted or went to work in defense plants in St. Louis.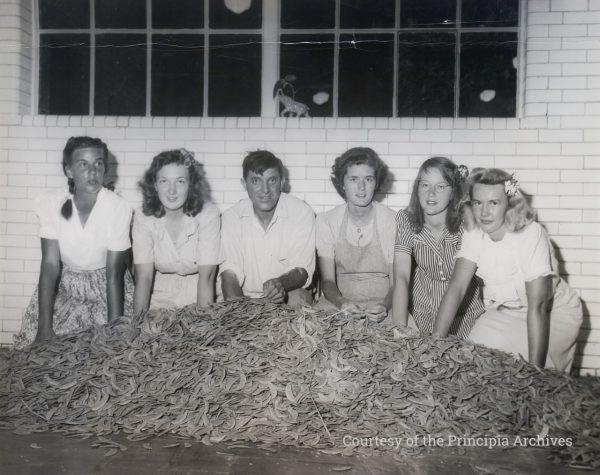 Many students and faculty members went beyond this two-hour requirement, spending their free time planting 25,000 pounds of vegetables and canning the harvest to help with food rationing. These "canning parties," as Bay termed them, would often last well into the dark hours of the night.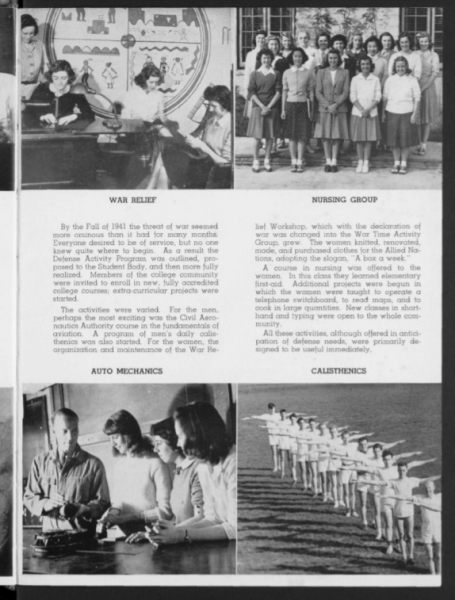 These war sacrifices are not entirely different from the sacrifices Principia students are making now. In December of 1943, civilians were asked not to travel from December 15 through January 15 so that soldiers could travel home. Principia, in response, canceled the holiday break with classes continuing as usual, although Christmas Eve through the end of the week was given off.
Bay said changes to the 2020 graduation ceremony (now scheduled for homecoming weekend) is "quite a sacrifice for many." While social isolation is a relatively new challenge in Principia's history, the issue of staying connected isn't foreign – Principians struggled to stay in touch with soldiers overseas during the war years. Bay noted that the technology accessible now is a tremendous advantage given that during World War II, Major Hubbell, the men's dean, would write 80 letters a day from his typewriter to stay connected with students.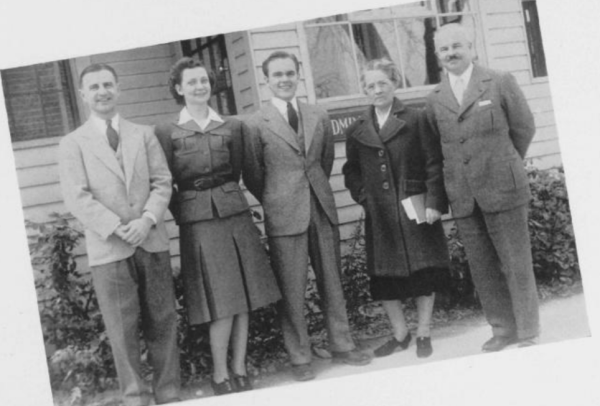 The years of the Great Depression saw not a run on toilet paper but a run on banks.
"There was, what most economists will agree, a contagion of fear," described Bay. Once the major banks in Detroit closed, the rest of the banks across the country followed suit in what Bay described as a "domino effect." During the first years of the Depression, construction plans for the move of the College to the Elsah campus proceeded as usual: Ground broke for the construction of the Chapel on May 4, 1931. But less than a year later in March of 1932, construction came to an abrupt halt over a labor dispute. Principia had employed St. Louis union workers for the job, which angered many Alton union workers who demanded to be hired instead.
"Times were hard and they wanted to work," explained Bay, noting that throughout the 1930s, unemployment was at a historic high. Tensions escalated and more than 40 men, some armed, came onto campus in an effort to intimidate the St. Louis workers out of a job. Principia, in response, suspended all construction work until the situation was resolved, a pause that lasted two years.
Nine years after defending their country in World War II, Principians once again rallied, this
time to protect the College campus against the power of eminent domain.
In the summer of 1954, military vehicles rolled through the front gate all the way up to the Chapel as the campus
was scouted as a potential site for the new Air Force Academy, similar to West Point, said Bay. Surveying the campus, Air Force Secretary Harold Talbott said he envisioned tearing it all down, except the Chapel, added Bay.
Calling it a "major crisis," Frederic Morgan, chairman of the Principia Board of Trustees, urged the Principia community to express opposition to the plan by contacting the government. The response – 2,200 protest telegrams sent to Air Force Secretary Harold Talbott – was a factor, reported the St. Louis Post-Dispatch, in the Air Force Academy choosing its second-choice site: Colorado Springs, Colorado.

While no one on campus has been infected in the current COVID-19 pandemic, it's not the first disease to shake the Principia community. In 1985, the college suffered the largest measles outbreak among many that year: Centers for Disease Control data showed 128 confirmed or probable cases on campus (113 among the 712 students) and three related deaths.
In 1918 and 1919, the Spanish Flu made its way into the St. Louis area causing movie theatres, bars, schools, and athletic events to close. Principia did not cancel classes nor close the campus and send anyone home during the time of the Spanish Flu. In fact, on paper, it appeared that they kept business running, and even raised teachers' salaries in 1918, expressed Bay.
When the measles outbreak occurred, things were handled very differently than the Spanish Flu. Students were quarantined to their rooms and campus, but no one was sent home. At the Upper School, Bay recalls a wing of the boy's dorm being closed off for use as a quarantine area. Sports seasons and classes continued but with precaution, such as having fewer people on a team. Similar to now, Principia School and College did not have mass quarantining capacity, but students also did not have the luxury of returning home and continuing classes from their computers.
While COVID-19 has presented new challenges for students, faculty members, and the administration alike, Principia's history has shown that in times of similar challenge, Principians use the resources available – from typewriters to computers – to adapt, all while keeping selflessness and community at the top of thought and action, said Bay.
"The idea was not to be fearful, not to be selfish, not be romantic about it," said Bay of the students who prepared to be drafted for World War I. "They knew they were going to have to sacrifice a lot and they placed themselves in readiness to serve.
"Be selfless was the idea."
•Featured photo at top courtesy of Principia Archives: Principians circa 1943, during World War II, seeded fields to help feed the student body because of shortages. The student in the center is Bill Drake '44.