This content has been archived. It may no longer be relevant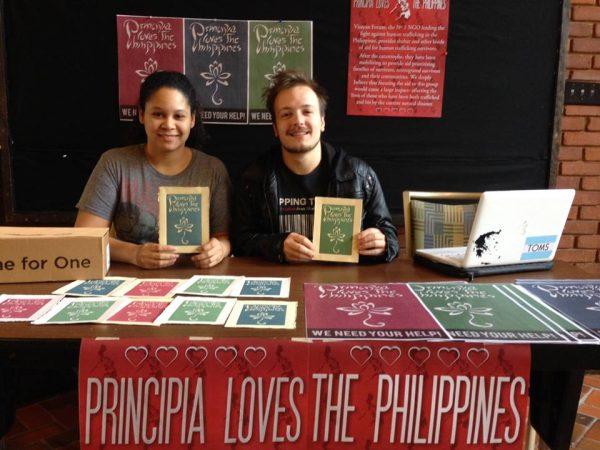 Principia College hosts a vibrant international community. This became especially apparent in the campus coming together through the "Principia Loves the Philippines" (PLP) campaign after the occurrence of Typhoon Haiyan.
In early November, a Category 5 super typhoon made landfall in the Philippines, a sovereign collection of islands in the western Pacific Ocean. With wind speeds peaking at 200 miles per hour, Haiyan has been recorded as the fourth strongest cyclone in history, according to the Joint Typhoon Warning Center in Hawaii. At least 5,560 Filipinos were reported dead as of Nov. 28, according to their government's National Disaster Risk Reduction and Management Council. In addition, over 3.54 million people, including 779,000-plus families, were displaced after the typhoon struck.
Senior Malcom Scholz-Luzio, president of LAZOS, has a personal connection to the affected area. This past summer, he went to the Philippines to conduct research on human trafficking for his global perspectives capstone. There, he also did volunteer work for the Visayan Forum Foundation (VF), a non-governmental organization "innovating solutions to end modern day slavery," according to its website.
"After the typhoon, I emailed my contacts in the Philippines, and they informed me that many trafficking survivors' families and communities were terribly affected by the catastrophe," Scholz-Luzio said. "I realized that actions had to be taken."
He and several others met to determine the best way to help those in need. Scholz-Luzio – along with international student coordinator Marina Byquist; senior Christine Nacewicz, student body president; and senior Cheryl Johnson, president of the Black Student Union – decided to raise money that would be donated to those in need through the VF.
"This was an NGO we could definitely trust," Johnson said of the VF. "These are people that Malcom had come to know and develop a relationship with. There was no better fit than this. We weren't just going to collect people's money without a plan. We wanted to make sure that the money gets to the victims."
"It gave the Principia community a chance to be part of the larger global community and work together to support those in need," Nacewicz said of her personal involvement in the campaign. "The entire project came together literally the day before it started."
Thursday through Sunday of Week 12, a table was staffed in the concourse to collect donations. A table was also in the lobby of Cox Auditorium during performances of "Titanic: The Musical."
An email from the PLP organizers was forwarded to the houses that Thursday night, Nov. 14, along with Johnson posting in Prin's Cräglist the next day. Her post received 20 likes, a very high number for the Facebook group. It also indicated the support that was to come for the campaign.
"I think it's really special to see the support and sincere thought that Prin gives, and how as a community we can come together and give something of ourselves without needing to have a personal connection to the cause," junior Lindsey Browning said.
In addition to raising money, Scholz-Luzio made cards in his Printmaking class for community members to write messages for those who would be receiving the donations. Citing Ronny Edry's "Israel Loves Iran" campaign as an inspiration for PLP, Scholz-Luzio described the importance of people from different cultures reaching out to each other.
"At the end of the campaign, we sent the money with all the messages of support, which, in my opinion, are as important as the monetary contribution," he said. "After reading some of the beautiful messages people wrote, I must tell you that all the loving and spiritual messages that were sent will create a huge impact. The money we sent will help to remediate the urgent needs, such as food and water. But these cards will be a legacy that this people will treasure forever."
According to a Cräglist post by Scholz-Luzio two weeks ago on Nov. 19, the campaign raised $2,550.45. This post received 38 likes, the most for that group in recent memory. The VF even acknowledged Principia's efforts in a Facebook post of their own:
"We thank the Students, Faculty and Administration of Principia College, and all those who have shared their time, talent, and resources [with] the survivors of Super Typhoon Haiyan. Thank you for making us feel your love and compassion. We salute you. Rest assured that your generosity will be shared as intended – to provide immediate relief and protective information so that highly vulnerable individuals will be kept safe from human trafficking, and so that those who have survived human trafficking before and suffered through the devastation of the typhoon will not be pushed into exploitative situations anymore. Thank you very much and God Bless."
Two freshmen – Kat Biang and Lorilyn Tacio – are both from the Philippines, and they had only positive things to say about the outcomes of the PLP campaign.
"I was really overwhelmed that the student body, BSU and LAZOS approved this fundraising for the Philippines. Even though everyone from home that I know was safe, it means a lot to me. I am eternally grateful to them and to the people who gave donations, prayed and sent their love to the Philippines," Biang said. "I am really grateful that through unselfish acts, we can make a difference."
"The 'Principia Loves the Philippines' campaign is a great help in our country. I am very grateful that Principia extends love over the world," Tacio said. "I am very grateful for the love that Principia shared to my beloved country. I also appreciate the cards because it means that helping is not all about money, but that even a single word can help and uplift."
Scholz-Luzio said that while he sometimes personally struggles with the concept of what he termed "armchair Christian Scientists," he said that the results of the PLP campaign disproved that notion. "I had the opportunity to witness a great sense of social responsibility from many students and staff," he said. "This campaign had strong metaphysical support, which led every step of the process."
"This experience showed me how much Principia cares about the world and that people always pray and keep positive thoughts," Johnson said. "I enjoyed being a part of this, and encourage others to always take action to help our neighbors; 'Love thy neighbor as thyself.'"
Nacewicz also spoke well of the Principia community in this way: "We are part of a community that is always thinking about ways we can serve the global community. Also, it highlights that we can come together for a greater cause. It really is a special feeling to know that you're part of a community that is always looking for ways to love and support in any way they can."