By Nathan Brantingham
Principia College Men's Soccer defeats the Spalding University Golden Eagles to obtain their third SLIAC championship and advance to the national tournament.
Tonight, the Panthers battled through the below freezing temperatures to win yet another come-from-behind playoff game fueled by sensational goals from Senior Captain Carson Hussey and Junior Kaleb Keller.
This game, just like the previous playoff game, was an amazing showing by Principia's defense. Carson Hussey and Sophomore Cole Heinbaugh both had outstanding performances supplemented by strong outings from Sophomore E.G Pierce, Sophomore Caleb Grow, and Senior David McCook.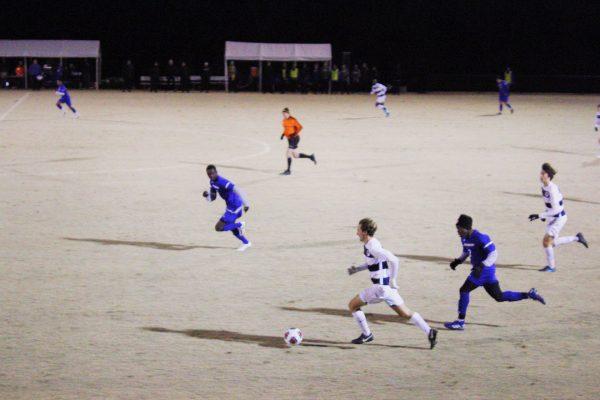 The game began with Principia's offense putting a lot of pressure on Spalding's defense, but halfway through the first half the Golden Eagles began to push back, resulting in the first goal of the game at the 13th minute mark.
Even as the temperatures continued to drop, more and more fans piled into the stands to support Principia's title run. The air around the field was electric with energy from the crowd.
The first half ended with the score 1-0 Spalding, but it would not remain that way for long. In a turn of events eerily similar to their last game the Panthers came out of halftime firing, and only 7 minutes into the half Carson Hussey scores Principia's first goal of the game off a header delivered from one of  Kaleb Keller's free kicks.
The Panthers continue to put the pressure on for the next few minutes but then Spalding began to push back, and the game was back and forth with both teams refusing to let the other team gain the advantage.
With 5 minutes left in the game, Kaleb Keller broke the deadlock with a beautiful strike that found its way to the back of the net, causing the crowd to roar with excitement.
After that, all Principia had to do was maintain a sturdy defense, and they did just that. As time expired on the clock Principia students rushed the field to celebrate with the team.
With this amazing come-from-behind victory, Principia College secured their third ever SLIAC championship and qualified for the Division III national tournament. Junior Denny Veidelis, who watched the victory from the stands said, "we were sportsmanlike the whole game, and that made the win even sweeter," and what a sweet win this was for the Panthers.

Image courtesy of Katie Penfield