This content has been archived. It may no longer be relevant
By Sophie Hills
In the late 1970's, Principia students proposed and initiated a new abroad with the goal of gaining a comprehensive picture of a different community. However, these students would not be travelling out of the country, or even out of the state. They would be embarking on an "abroad" to Alton.

This process began with an informal group that met occasionally to discuss topics of interest to them, said English professor Heidi Snow, a member of the original Alton House. This same group of students approached the administration with a "well-intentioned proposal" and expressed their desire to learn "how a community works," wrote Ed Gondolf in the introduction of the report that the group generated by the end of the abroad.

Sociology professor Ed Gondolf led the first Alton House group, which he described in the report as an "emerging band of community enthusiasts." After hearing the suggestion from the students, the sociology department decided to develop the idea further. In the spring of 1987, 12 students, Gondolf and his wife, and a resident counselor moved into an old antebellum house on Henry Street in Alton.

There were four men and eight women in the group, and many enjoyed the opportunity to live with their peers of another gender, care for the house, and organize shopping and cooking together.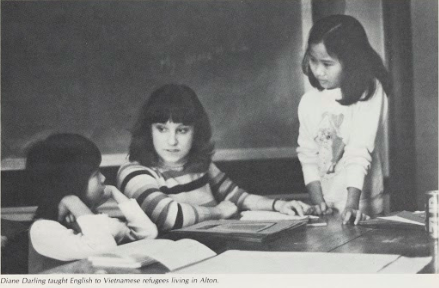 "There were two things we felt we needed on campus, and one was there was no co-ed housing at the time and we thought that was a problem, that it didn't encourage… just normal relationships between the sexes," said Snow. "The other [thing] was we felt as if students on campus were largely ignorant of Alton and the needs there."

"We had the brick in the door," said Valerie Davia, who was also a member of the first group, referring to the campus rule that required students to prop their dorm doors open with bricks if there was someone of the opposite gender in their room.

"That was a very new thing, right, to have guys in the house and see them working and studying, because up till then it was mostly socializing," said Snow, who enjoyed the increased opportunities for interaction with her male peers on the abroad.

Doug Simpson was not part of the informal group that first proposed the idea, but he was a member of the first Alton House. "I was interested in community development and [was] someone who… kinda felt like the campus was a little cloistered and a little isolated," said Simpson.

For Davia, it was appealing to live in Alton for similar reasons. "I was interested in social work… But I think the main thing was to get off campus and be around a more real-world life." After she graduated, Davia lived with a later "Alton Abroad" group while working for the sociology department.

Principia had quarters instead of semesters at the time, explained Snow, so each student on the abroad took three classes. The first time the program ran, all classes were related to the abroad, and one of them was an internship.

"Each one of us had a nonprofit organization that we worked with… and we worked several hours a day in that. I ended up working in the daycare, which I absolutely loved," explained Snow.

"I was interested in recycling…. Alton was considering being part of a waste energy project and I was working for… a sort of clean up organization," said Simpson.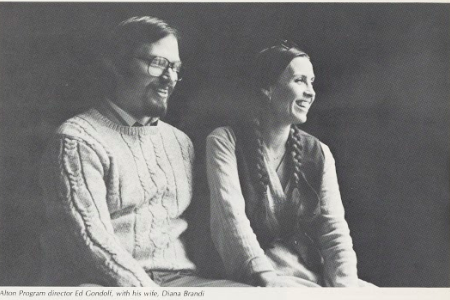 Davia worked for Oasis Women's Center, which was just preparing to open. "That involved a lot of writing up job descriptions and just sort of making it up…. What's the ideal place going to look like, how do we foresee this? That was a ton of fun," said Davia.

Another class was a Sociology class taught by Gondolf on intentional communities, such as the Amish, said Snow, as the students were simulating living in an intentional community. Gondolf's wife, Diana Brandi, was Quaker at the time, and she taught the students about consensus decision-making. The group's regular meetings were held on a consensus basis.

"It was a lot about the process," said Simpson. "There was a lot of discussion [about] every decision we made. And on the one hand it was frustrating because it was so slow." But that made the group "a force to be reckoned with," he continued, because it had taken the time reach unanimity.

"That skill of working in a group, really being observant…..making sure everyone's voice is heard is something I think I've taken with me," said Simpson of practicing consensus decision-making.

Learning how to operate by consensus "has definitely carried through in my life," said Davia, who went on to work for a battered women's shelter, a literacy program, and various non-profits throughout her career.

The third class was based on community research done by the students, the final product of which was a lengthy report. It was based on students' research into Alton's history, identity, class dynamics, social services, town government, and more. In the introduction, Gondolf explained that, "[this method of study] attempts to 'mirror back' to the community a composite picture of itself. It simply echoes how the community says it sees itself, thus offering an inventory of people's perceptions of their own town."

"The whole thing was super fun," said Davia, who appreciated the opportunity to get information from people in their fields rather than from books. Much of the students' research came from interviewing various members of the community.

At the time, Principia was perceived by many Altonians as isolated and inaccessible, said several of the founding members of the abroad. The Principia community didn't embrace Alton, and Altonians, in turn, saw Principia as "this strange place up on a hill," explained Davia. The students thought of themselves as ambassadors to Alton, in a way, said Gondolf.

"I think [Alton House] stimulated a conversation and more awareness of the community," said Gondolf.

Image courtesy of 1980 Principia Purpose