This content has been archived. It may no longer be relevant
On a snowy Saturday night, I found myself searching for a dinner to warm both my stomach and my soul. Driving through the Central West End of St. Louis, I stumbled upon Duff's Restaurant and decided to step in out of the cold. It turned out that I was in for a culinary treat.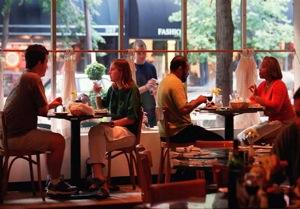 dineatduffs.com / photo
Duff's has two separate dining rooms and a banquet hall in the back. The first dining room, where I was seated, has wood-covered walls, a cozy fireplace, and a floor-length window with stained glass, which made for excellent ambiance.
After being seated and looking over the menu, I realized that Duff's has a special fixed-price option, so that for $25, you can order an appetizer, entrée, and dessert. This seemed to be a bargain for someone looking for a good meal at a low price. I tried two appetizers: the bruschetta and a pate served in a "country" French style with mustard, an onion jam, and pickles.
Pate isn't a delicacy I order too often, so it was a treat to have this smooth liver spread on a piece of baguette topped with spicy mustard and sweet onion jam. It was a perfect bite, although I'm not sure if it was an authentic French culinary experience.
The bruschetta reminded me of a dish I enjoy at home, with onions, zucchini, tomatoes, and eggplant cooked in olive oil and lemon, covering a piece of bread with a walnut oil-based lemon sauce. It was so good, I decided to throw the etiquette book out the window, and used my finger to lick the last of the sauce off the plate.
For an entrée, I enjoyed the lamb (medium-rare, of course) with a lemon cream sauce and potatoes au gratin. It's very rare for me to order red meat of any kind, so this lamb was a treat as well. It was cooked perfectly, and tasted just like lamb should: gamey and tender. The juniper berries in the sauce worked beautifully with the meat. With the acidic smoothness of the sauce, each bite of the dish was amazing. The potatoes were nothing to write home about though, and one sad piece of broccoli was the only thing left on the plate. The other entrée I tried was the smoked salmon quiche with a mixed green salad. The flavor of smoked salmon isn't always my favorite, but wrapped in the pillow of egg and crust, it was light and pleasant. The salad was a simple field green with lemon vinaigrette and capers on top, which gave it a salty twist.
For dessert, I tried the apple walnut bread pudding with a caramel liqueur sauce and a scoop of vanilla ice cream.  I love bread pudding, and the gooey bread and sugary caramel sauce lived up to my expectations. The other dessert I tried was the hazelnut chocolate torte with coffee ice cream. The torte was heated, which initially caught me off guard, and had a delicious orange flavor that took this simple dessert to the next level.
The restaurant has great décor and feels like a local favorite in the Central West End, and the fixed price menu is a great option for the financially sensitive student. Duff's is located on 392 N. Euclid Ave, and is open for brunch, lunch, and dinner.