This content has been archived. It may no longer be relevant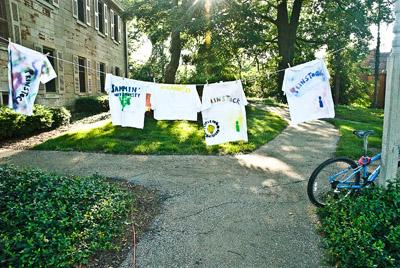 For the Prinstock Jammin' with Amnesty festival on Saturday of Week 8, God blessed Principia with the most beautiful weather so far this year.
Prinstock, a throwback to Woodstock with less LSD and more Frisbee, was much more than just a tree-hugging hippie-fest. According to Prinstock co-organizer, junior Amelia Heron, the festival was about the free expression of creativity and celebrating the community's unique talents and individual passions.
Junior Kristen Rosen said, "Prinstock was a great opportunity for the student community to gather together and emerge from their individual worlds."
Prinstock took place around the Chapel green, with a few booths spilling onto the grass near the concourse and the library. Designated areas were marked by lines of fluttering light blue sheets. Junior Daniel Georgatos, who helped man the solar car booth, said that the location was perfect.  He estimated that about half the campus was out enjoying the day.
The variety of fantastic booths was even more impressive because they were all student-run. Students and visitors could learn from tables promoting various causes, and could participate in everything from painting to T-shirt making, sunbathing to bocce ball, and jewelry-making to kite-flying.
Several bands sent their tunes floating across the field, providing a beat to help carry the energy of the day's festivities. Junior James Suber commented, "The band stage should have been moved to a more people-friendly location" that was out of the sun. He suggested that next year, the stage should have been put on the Chapel steps. Suber helped run the Native American Awareness booth.
Senior Kateland Oakes said she enjoyed just walking around and seeing the different areas. She said that it "made our campus feel alive." She added that the one negative aspect of Prinstock was that it would have been better if it had been done earlier in the quarter. Prinstock was rescheduled because of weather, but Oakes thinks that there would have been an even higher turn out if people were not feeling guilty about studying or writing their capstones.
Junior Katie Hueffner said, "Prinstock reminded me of art festivals in downtown Dallas … it showed a bigger sense of the community and revealed a changed atmosphere. It's like Prin had a different vibe for a day, and I really liked that."
Freshman Wren Saylor exclaimed that the entire day went "beautifully." Much of that was due to effective advertisements put forth by co-organizers Heron and sophomore Nick Tosto, Student Activities Director Yvonne Quinlan-Pierce, and the bands.  A large map hung in the concourse with sticky notes on which interested students could stake out an area in which to share their hobby. Additionally, creative fliers adorned bathroom stall doors, specifying the time and date.
However, the most effective advertisement was the Prinstock Preview that happened several weeks before. Prinstock was originally scheduled to happen on the weekend of Week 5, but ominous storm clouds convinced Heron and Tosto to reschedule the event. Instead, a stage and tables and benches were set up under the covered walkway between the School of Nations and the School of Government.
Under strands of cheery Christmas lights, many international students generously shared tastes of delicious ethnic foods from their home countries.  Students danced to the music from bands that played in this intimate setting. This music provided the soundtrack to a delightful evening that kicked off the idea of celebrating and sharing creativity.
One of the most beautiful outcomes achieved by the Prinstock Preview, last week's TASK party, and the actual Prinstock Jammin' with Amnesty festival was that social barriers are being broken down so that stronger bridges within the community can be built. Rosen said she was grateful to hang out with people that she normally doesn't get to on a regular basis.