This content has been archived. It may no longer be relevant
Rose Mapendo
The Principia College Diversity Speaker Series featured a very special guest this fall. Rose Mapendo, survivor of the Congolese Holocaust and a current human rights advocate, told her story in a packed Wanamaker Hall on Thursday, October 20. Following are a few impressions from students who attended the talk:
"I loved meeting Rose because she was so genuine and it was clear that everything she said came from the heart. She was equally good at speaking and listening, and this example of humility really inspired me. Her presence was beautiful and alive, which seemed to embrace everyone. […]I really like the simple idea she shared that you can't change the outside until you change what's inside first.  In this sense, forgiveness is really a gift to yourself because it allows you to release whatever burden of resentment you may have been carrying around.  She also talked about having everything material taken away and what remains is your soul, which I related to your spiritual identity.  I love the promise that when we trust wholeheartedly in God, our prayers are answered in full.  I also love that she said something about the fact that man is inherently happy because he was created by God." – Emily Osborne, sophomore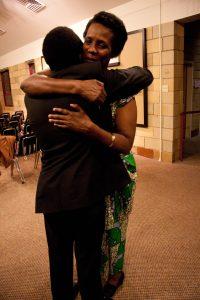 "Rose really stressed that forgiveness was actually the option of strength. You might think that forgiveness involves stepping aside and allowing someone else's will to dominate. But forgiveness and strength actually coincide. It is weak to turn to anger; it is weak to feel bitter. I do like that. […] I [also] was struck by how often she referred to God and how grateful she was for everything that God had provided her. […] Overall, it just was another big sign for all of us to say this is the way to work, it is to forgive other people." – Cameron Wells, junior
Pan African Conference
The Pan African Conference is hosted every October on the Principia College campus. This year, the topic of the 12th annual conference was Institutional Reform in Africa: The Role of the Youth in a Changing Continent. In light of recent protests in Northern Africa and the Middle East, the conference hit on a timely topic. During the keynote address on Friday, October 21, Moses Kanduri gave an engaging and inspiring outlook on the opportunities, rights, and responsibilities of the youth around the world to step up for their interests and future. The continent of Africa, with 50 to 60 percent of its population under 35, has made important demands on its youth. Young people are starting to share and participate more freely.
The conference lasted through Saturday, October 22 and featured panel sessions and round table discussion groups. The speakers included Onyeka Obasi, Ahmed Samid Farag, and Ryota Jonen. Overall, co-executive director and senior Brenda Khisa was very satisfied with the result: "I liked that we had a diverse group of speakers. […] Most importantly, I loved that the participants want to take action to help support the African youth through the various ways suggested by the speakers. That was what was important to me. [In the future] I would encourage more people to participate, though. It really does make you a better global citizen."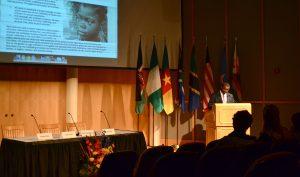 In her preparatory work and during the conference itself, Khisa learned a lot on a personal level: "What I got from [the conference], was that we are all family. We are all an awesome idea of Love, and because that is who we are, we will always strive to be that entity [and] to live in love and in unity".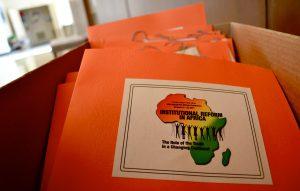 Euphrates Summit
Ever heard of a conference on Middle Eastern issues that began with a talk about the Golden Rule and ended with one on loving your enemies?. The "Euphrates Summit: Our World Beyond 9/11," was the first of its kind hosted at Principia College on October 27 and 28. The Euphrates Institute, a campus-based NGO, prepared and organized the summit, which featured a long list of well-received experts on the 9/11 terrorist attacks, various Middle Eastern countries, as well as peace-building and reconciliation.
The founder and CEO of the Euphrates Institute, Janessa Gans-Wilder, graduated from Principia College and has ten years of experience working on issues concerning the Middle East, including for the CIA and consulting companies in the Middle East and throughout the world. Ms. Wilder shared her idea behind the Summit: "[The Summit aimed] to provide the anti-9/11 experience. […] [At] 9/11, it was just a small group of people coming together with an idea of 'how can we have the biggest impact in the world – negatively?' What if we gathered the anti-bin Ladenites, the anti-terrorists together with the question: 'How can we have the biggest impact in the world for good'? Bin Laden's whole purpose was to divide, to destroy, and to tear down. […] [During the Summit] people from all over the world – Jewish, Palestinian, Arab, Muslim, Christian – all came together. It was just a blow to bin Laden's whole vision of division and the 'clash of civilizations'. Instead, this was just the complete concord of civilizations. And that was the original vision, and that absolutely came to pass during the summit".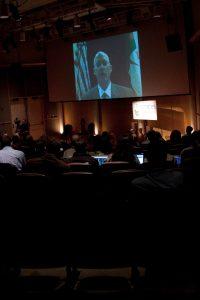 Gans-Wilder had thought about this summit for years, and she began planning over two years ago. With a total of 20 speakers, "Our World Beyond 9/11" was one of the biggest conferences Principia College has ever hosted. The overall structure saw a division into three consecutive sessions: 'Inform', 'Inspire', and 'Transform'. In each session, the speakers gave short and concise presentations followed by an audience Q&A. During the 'Inform' section, security and terrorism experts as well as the current U.S. ambassador to Algeria, who joined the summit via Skype, spoke about the current situation in some Middle Eastern countries, and specifically addressed problems between the Western world and the Middle East.
'Inspire' featured entrepreneurs and peacemakers from all over the globe, who presented different ideas about how to promote peace and understanding between and within cultures.
'Transform' was led by communication expert Sandy Wilder, who gave a two-hour long presentation on transforming oneself and the world. He was followed by the seven Euphrates Institute Warriors for Peace®, young men and women who fight for understanding and cooperation on a daily basis in the United States and abroad. The summit concluded Friday night with a Gala Dinner in the dining room, where participants had a final chance of recapitulating the ideas and experiences during the summit, while enjoying great cuisine.
Finally, Sami Awad, a Palestinian activist for peace, was honored with the Euphrates Institute's 'Visionary of the Year Award' for his tireless striving to promote love and respect between Palestinians and Israelis. His talk was on Jesus' command to 'love your enemies".
Overall, the Summit earned very positive and grateful feedback from delegates all over the world. Principia's beautiful setting was frequently mentioned, as well as the great hospitality off-campus delegates experienced.
Representing the feelings of many participants, sophomore Kynan Witters-Hicks, who is also a Fellow for the Euphrates Institute, shared with the Pilot: "This conference has illuminated the thoughts and actions of many individuals. The solution-based thinking and hope for the Middle East will spread like ripples in water after a stone is thrown. More people will be inspired to take action on issues that matter to them and the walls of racial and religious misunderstanding between the Middle East and the West will eventually be broken down. I am confident that conferences like these are a giant step forward in changing the world."