In the days following the end of their season, the Principia Swim Team reflects on a year of teamwork and personal achievement. In mid-February, Principia hosted the Liberal Arts Championship, an event that represents the culmination of a season dedicated to constant improvement.
"I think [the season] went really well. We had some challenges, number one being people leaving the team, but the core group of people who stuck together made the team really special this year," said team captain Tyler Loechner, a junior from Ferguson house. "Many of the people who left the team this year were first-year swimmers who tried out the sport and just decided that it wasn't for them."
While most sports seasons at Prin last about 12 weeks, with other parts of the year dedicated to off-season training, swimmers train for nearly six months in the pool – more than half the school year and double the time most sports teams are together. For many would-be swimmers, this commitment presents a challenge. Coaches Carl Erikson and Peter Clifford coined the term "The Incredible Shrinking Swim Team," after losing a quarter, and then a third, and then about half of the team's members.
But what makes losing team members such a challenge? Captain Laura Perry, a junior, explained: "Losing people on a team like ours is extremely challenging because each person is so essential to the way we function." She added: "When you have such a small team, especially compared to the other teams on our conference, the impact of one person leaving is far greater and can be felt by everyone. At the same time, one teammate's negativity could spread much faster unless it was handled right away. Our team this year has done a great job at overcoming and even embracing this challenge."
"Everyone who left the team still made an impact and contributed to making the team what it was," said Loechner. Despite losing numbers early on in the season, the team seemed to hold together well. "This year's team was so special because everyone had a distinct role in how the team dynamics worked," said junior Makaela Thompson. "Whether that was being the person who just made everyone feel important, to being able to coach others to make them better swimmers, everyone filled their roles so beautifully in order to make such a supportive group of friends."
While it appeared from early on that a small group of individuals would represent Principia Swimming, junior Andy Furbush said he was proud of the way the swim team managed to really become unified this year. "For an individual sport like swimming where everyone is doing their own thing, there can be very little communication during workouts because you're underwater, and it can be very difficult to have a strong unified team. Everyone is doing different races and there is little interdependence except on relays.  This can lead to a culture of indifference and independence.  The swim team did a great job overcoming that this season," said Furbush.
The swim team had an especially determined roster. In the 2010 season, Loechner came within two-tenths of a second from breaking the 400-yard individual medley record. Junior Andy Furbush also had a shot at taking the 100-yard butterfly record, and freshman Josh Harmon had a great chance to break the 50-yard and 100-yard freestyle records. The men's medley relay team also had a chance of breaking the 200 medley relay record and the women's 200 free relay certainly had a chance to make the Principia "Top 10" all time list.
Despite their diminished numbers, the swim team rallied for some major achievements and some very close record-breaking times. Andy Furbush came within two-tenths of a second from the 100 butterfly record, becoming the second person in Prin's history to finish in under 52 seconds. Freshman Josh Harmon was only one-tenth of a second away from breaking both the 50 and 100 freestyle records, and is the second Principia Swimmer to go under 22 seconds in the 50 freestyle.
"Like any conference or championship meet, performing well is a part to making a competition successful," said Furbush. "However, for our team it was more than that this season.  For the meet to be successful we needed to perform as a team and I don't mean performance strictly on a basis of times but we needed to be there and support one another."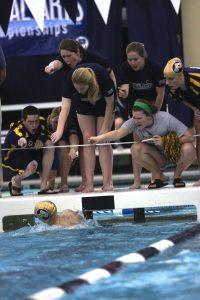 Senior Zach Harmon, who was behind the starting blocks cheering for every one of his brother's races, said, "It's tough when you have people coming within a tenth of a second to breaking multiple records, but overall we had a great season." Some of the other "Top 10" times included the men's 200 and 400 medley relays as well as the men's and women's 200 freestyle relays.
Perry explained: "I think our team has been extremely successful at taking advantage of how small it is. With only 11 people, it has been much easier to become even closer with everybody. At Liberal Arts everyone had great swims and it was really cool to see how our team support impacted that."
However, it wasn't all just close calls. Tyler Loechner broke the men's 200-backstroke record by about a second and a quarter with a time of 1:55:28, a record that was most recently set by Tyler Langdale in 2003 (1:56:45). "I will always remember the thrill of seeing Andy's face when he got out of the water after his 100 butterfly and had broken 52 seconds, and the joy we all felt when Tyler broke the 200 backstroke record," said Thompson.
Furbush added: "The swim team was a strong team this season because of how well we bonded.  It was a challenging season this year especially fall semester with the transition to semesters, no one quite knew what to expect. However, at the end of the season we as a team knew that everyone there really wanted to be there, and everyone really put everything that they had into the team and the sport."
Next season, the swim team looks to carry on the same atmosphere and unity it had established this year. When asked what he was looking forward to about next season, Loechner said, "I am looking forward to the fact that almost all of the team is going to be here next year. New swimmers will be brought into a culture that already exists rather than a changing one."
The team will continue to work hard in the off-season and prepare for what it hopes will be a season of more accomplishments both in and out of the pool.
Image courtesy of