Elsah Village is swirling with new life as the scents and tastes of the new La Salle Bakery fill the air, inviting students to come enjoy fresh baked cookies, scones, bread, sandwiches and pizza, along with their favorite gourmet coffee, tea or soda.  For the first time, pizza delivery will be available to the Principia College campus.
"We want to cater to Principia students!" said owners Ryan Baird and Sammy Da Rosa, "We are planning to stay open 24 hours a day during finals."
With free wireless internet, it's hard to pass up some monkey bread with Chai tea or a fresh Italian grinder sandwich with a mocha latte.  They are still developing their menu and taking suggestions for what they might offer, but the chalkboard tells the story for now. They have just posted a dinner menu listing a variety of gourmet pizzas and will also be offering hot wings, breadsticks and Caesar salad.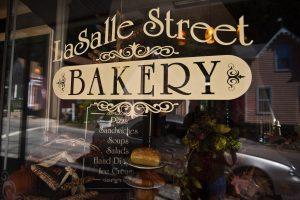 "We are so excited to be able to deliver pizza to the Principia College campus and Elsah area," said Baird.  "We have already been delivering on campus with great success.  A lot of Prin folks are also excited that we are carrying Bongo Billy's Gourmet Coffee, which is from Buena Vista, Colorado, right next to A/U Ranches!"
They spent most of the summer remodeling what used to be a bakery in the 1920s.  They stripped several layers of vinyl flooring to reveal the old wood floors beneath.  They also built wooden booths with tables that surround the small front room of the store.  The old-fashioned glass case full of baked goods catches your eye when you enter, not to mention the fresh scents of coffee and cookies wafting through the air.
"No one can imagine how much work and money we've spent just getting this far."  Baird's mother taught them how to do most of the baking. "We couldn't have done this without Mom," said Baird.  "She took a month off from work in Montana to show us how to bake from scratch and make most of what we offer.  It is a lot of work but all of our customers really appreciate what we make."
They are planning their grand opening for October 16, which is the date of the Elsah Village Book & Bake Sale.  They are located at 20 LaSalle Street, just a few blocks from the Mississippi River, and their phone number is 374-9900.  They are currently open Wednesday through Sunday from 6:00 AM until 11:00 PM, although they always seem to be there.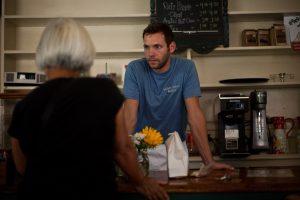 "We're married to the place," said Baird, "I'm devoted to make this place into something special – a place that students enjoy coming to study, relax or just get away from the stress of college life.  This place is my life."
They start baking at 2:00 AM and continue throughout the day, making pizzas in the evening.  Da Rosa sleeps in all day on Mondays to catch up on rest but said, "It is a lot of work but we really love working together and making people happy.  We make everything from scratch every day."