This content has been archived. It may no longer be relevant
Art student's opinions on working in Morey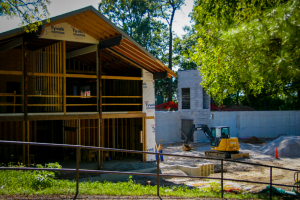 As Voney Art Studio undergoes a major facelift, all art courses have been temporarily relocated to Morey Field House during the period of construction. When it was announced last year that art classes would no longer be held in Voney coming Fall 2016, a Pilot article revealed that there was a sense of apprehension among Principia's artists who have loyally used Voney for their studies.
Yet apprehensions subsided when Morey underwent special renovations to accommodate for this change as temporary walls and offices were put in last semester. Despite being temporary and makeshift, students have found a way to make do with the old gym and auditorium, originally designed by the distinguished architect Bernard Maybeck. In addition, certain art students are currently on the Greece and Italy abroad this semester – leaving more room for the remaining students taking the five classes offered this semester in Morey.
From Watercolor Painting I to Figure Modeling, classes are adjusting well to the change in location. Art major and senior Blake Bischoff taking Drawing II in Morey remarked he doesn't "feel that much has changed. There are obvious setbacks, such as the amount of sunlight, but that hasn't affected my artwork or studies."
Art students are making do with the uncontrollable and much needed renovations on the previous Voney studio.
Image courtesy of Madison Ouellette