This content has been archived. It may no longer be relevant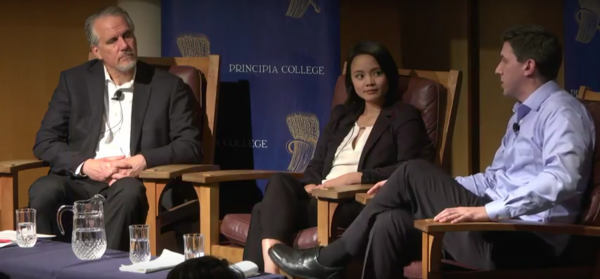 Elsah, IL – Students were given an intimate look into the world of media as Principia College hosted the 16th Monitor Night Live. This event, started in 1996, highlighted the perspectives of Christian Science Monitor staff on current issues relating to journalism and world events. This year's topic was, "How to cover the Trump era: Facts, fake fact, and what matters."
Editor-in-Chief, Marshall Ingwerson, National Editor, Mark Sappenfield, and West Coast correspondent, Jessica Mendoza, spoke to students in Wanamaker.
The talk and Q&A session examined the role that current political polarization, as a result of Donald Trump's campaign, has had on media. The uncertainty surrounding Trump has increased the need for Monitor writers to be even more unbiased and accurate. Considering the current political atmosphere and increased scrutiny journalists have faced, Ingwerson said it is important to be "precise" in all aspects of reporting.
With today's political climate, Sappenfield said that journalists can be, "manipulated by emotions to drop [their] standards…but we're at a moment where we can't do that." Instead, he insisted Monitor journalists return to the basic practices and principles of proper journalism.
Doug Brown, husband of RCE Ann Brown, had takeaways from the talk that closely mirrored this need for straightforward reporting. He was inspired when Sappenfield said that society needs journalists to "do their jobs. Do them honestly. Do not react, and wait for the facts." Brown noted that this waiting is essential in contrast with the fast-paced and news-saturated nature of media.
Freshman Gabriel Fugman and Senior Cha Cha Fisher, were impressed by the speakers' fair approach to media. As Fisher put it, "it's how the media should be," and this perspective gave them greater appreciation of the Monitor's efforts.
The visiting Monitor staff interacted with students beyond the talk. Ingwerson, Sappenfield, and Mendoza visited various mass communications and political science classes. Discussions with students continued during meals over the course of their two-day visit.
Despite having a, "nation that fears the other side," as Sappenfield noted, the Monitor seeks to build bridges between differing viewpoints. As Ingwerson said, the Monitor's role is not to tell readers what to think, but rather to add clarity to issues and, "challenge its readers," to consider other perspectives. In the politics of today, this outlook was welcomed by students and will continue to guide the Christian Science Monitor in its mission, "to injure no man, but to bless all mankind."