Zoey Herr, Pierre Aimable Ilyamukuru, Aidan Lloyd, and Edwin Tongori are all enrichment students at Principia College. The enrichment program is a unique interdisciplinary learning opportunity for students who are not seeking a degree at Principia. They come to Principia to experience campus life, build genuine relationships with other young Christian Scientists, and engage in experiential learning. Principia is the only university in the world that will allow them to integrate Christian Science practice and demonstration into their college experience. As one-year enrichment students, they are given the opportunity to explore the broad spectrum of Principia's liberal arts education and thrive as well-rounded and discerning global citizens.
Edwin Tongori
Edwin Tongori is from Mwanza, Tanzania. He finished his degree at Mzumbe University and first heard about Principia through his church community. In Kampari, Uganda, Jennifer Day, the Albert Baker Fund Office Administrator for East Africa, introduced Edwin to the opportunities Principia has to offer. Edwin also says, "my brother, Daniel, graduated from Principia last year and said great things about Principia College."
Edwin was the only Christian Scientist at Mzumbe University. Edwin's brother told him that Principians are united by their love for Christian Science. This love creates an atmosphere that encourages spiritual support. Edwin says that "Christian Science love brings us all together. At Principia, we are all embraced by this love."
The kindness and helpfulness of his professors has been very meaningful to Edwin. In Tanzania, the approach to writing papers is generally very different. Edwin explains that "papers are graded by a panel of four professors." Half of a student's grade is based on a visual presentation of ideas expressed in your paper. Professors at Principia have been very supportive in navigating these differences. At Principia, Edwin has been able to take a wide range of classes and cultivate new skills.
From rock-climbing in Hay Field, to sharing Tanzanian food with Kenyans, to joining the Thunder Chickens Rugby team, Edwin has fully embraced the Principia experience. Edwin says that Principia has "spiritually shepherded me to trust, love, be kind, and share." At Principia, Edwin has learned the value of loving everyone and how this love is reciprocated.
Aidan Lloyd
Aidan Lloyd is from Victoria, Australia. Lloyd jokes, "I really wanted to catch my sister, Tania, during her senior year at Principia College." This enrichment year at Principia has proved to mean much more. Aidan says that he has "met a whole lot of different people and loved building genuine friendships within the international community at Principia. People are just themselves."
Aidan also enjoys seeing the "friendliness, patriotism, and outdoorsy-ness" of Americans. He says witnessing how Principians reflect the positive aspects of American culture has been very eye-opening. He also loves being exposed to the many cultures that Principia students represent.
Aidan says that Principia has "shown me that I am capable of more than I initially thought." He enjoys getting involved in everything he can and pushing himself spiritually, academically, morally, and socially. He has also developed a "better appreciation for what he can achieve if he puts his mind to it." Principia has taught him the importance of raising one's standards, being productive, and open-minded.
Aidan has expressed a strong desire to glorify God while here at Principia. He is also inspired to "demonstrate [his] deepened understanding of Christian Science after Principia" and share his experience with friends and family.
Zoey Herr
Zoey Herr is from Berlin, Germany. Her family has been involved in Christian Science for three generations. Herr says that she has "known about Principia ever since I could think." She went to the Upper School for one year and loved it. However, she needed to return to Germany and earn her degree at home. She says, "the thought of going to Principia College was always in the back of my mind."
Zoey recognized that the "most important thing to do was grow and love more each day." The atmosphere at Principia College supported this idea. This enrichment year has been transforming, inspiring, exciting, and renewing. She has been auditing a class for free, taking classes that usually require pre-requisites, enrolling in classes that only upperclassmen can get into, and engaging in a vast spectrum of activities and academic endeavors.
A few classes that have particularly made an impact on Zoey are Oil Painting II with David Coughtry, Introduction to Sustainability with Froggi VanRiper, Living Religions of the East with Mike Hamilton, and Voice and Speech with Chrissy Steele. Herr says that Voice and Speech "changed my life. This was the first time [I've] really gotten to know my body and notice how to use my voice with soul."
When asked how the Christian Science atmosphere at Principia College has impacted her experience, Zoey was speechless. After several moments of deep thought, Zoey says, "Principia College reminds me of how I always want to work on spiritual progress. This should always be my first priority. I have to live it in order to actually live. Christian Science is the way to exist. It is about putting aside your own will, and following the divine Oneness. Following Love leads to adventure, surprise, and beauty."
After this enrichment year, Zoey wants to demonstrate the spiritual growth gained at Principia and "put each day in God's hands. I want every action to be pursued without doubts and with the greatest confidence in God's direction." Zoey has always been fascinated by the mentality of Latin American culture. Zoey says, "I want to unlearn my western culture. A lot of it isn't reality. Poverty brings out your real character. You have to be strong and cherish what real happiness and contentment is." After this year, Zoey plans to give up her material possessions and travel throughout Latin America. She is excited to embrace the mystery that comes along with this new adventure.
Pierre Aimable Ilyamukuru
Pierre Aimable Ilyamukuru is from Kigali, Rwanda. He found out about Principia College while perusing Facebook. He noticed that mutual Facebook friends had "liked" the Principia College Facebook link. In November 2010, Pierre attended a Christian Science summit in Kampala, Uganda. Someone was wearing a Principia T-shirt at the summit and Pierre recalled his earlier experience with the name. These occurrences and connections with people affiliated with Principia College ultimately inspired Pierre to apply.
Pierre exchanged e-mails with the International Admissions Counselor, Marina Byquist, and began the application process. When Pierre was accepted, he was extremely excited about the opportunity. Pierre says his time at Principia has "strengthened my English and supported my dream to go to graduate school in the United States. I have already applied to several graduate schools and am waiting for admission."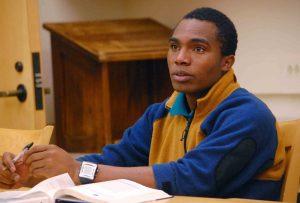 Pierre says that when he first arrived in the United States the "American accent was challenging." The tightly knit community at Principia College has shone through these challenges and blessed Pierre in wonderful ways. Pierre really loves the CSO testimony meetings every Tuesday. He treasures the testimonies, ideas, and remarks of gratitude from his peers. Pierre says that absorbing the messages inspired by testimonies has "helped me grow spirituality and put Christian Science into daily practice."
Pierre has made the most of his Principia experience by demonstrating the value of staying focused every moment. He says, "I like to be focused in classes, ask questions, and participate in the small classes." Pierre is passionate about water resources engineering. He has benefited from several business administration classes at Principia where he explored decision-making and creative problem-solving strategies. Pierre says, "decisions can help or save people. I want to help people see the power of their decisions." Pierre has a lot to give. He is so grateful for the foundation that Principia College provides because it has enabled him to share his gifts with the world.
Image courtesy of