This content has been archived. It may no longer be relevant
The new loans that international students expected to receive this coming fall will be delayed, probably until 2011. The new loan program represents a major shift away from the largely grant-based aid that has comprised most of the financial aid offered to students from developing countries.
Coming after a widespread reduction in student employment hours, a rise in federal incomes taxes owed by international students, and a job market in recession, the loan proposal has been a source of controversy between the international student community and administrators.
Now the administration has announced that it does not have sufficient information about the long-term implications of these loans to go forward with the program in 2010. The news came just weeks before student transfer applications were due, arriving in a February 4 email from Brian McCauley, Dean of Admissions Enrollment.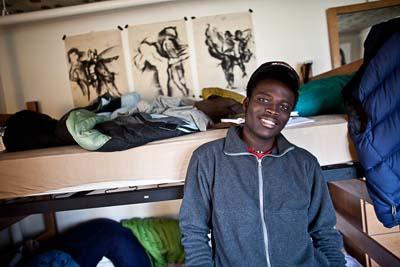 Benjamin Chernivsky / photo
The "administrative and tax issues" cited in the February email reflect concerns as to whether international students would actually be able to repay future loans, McCauley told the Pilot in an interview. "If Principia makes loans that aren't repaid, the government considers those gifts, and there's a 30 percent tax," he said. "We need to analyze that impact more thoroughly, and then there's the administrative issues of keeping track of [international students after graduation]. Are they in the United States? Are they in their home country? That whole process needs to be [investigated]."
The administration's lack of information about the financial realities facing international students after graduation is a primary concern for junior Muguna Siameja, president of the international student club, Friendship Around the World. "Their whole assumption is that international students graduate, stay in the United States, get good jobs and can pay off loans," said Siameja. "Some people do get jobs, but I think that percentage is low because of the competitive job market and because not too many companies want to hire students who have just a year on their visas."
Bente Morse, Principia's International Student Coordinator, agrees. "Putting a loan on an international student during a recession is, I think, the very worst possible time to do it." Morse is responsible for tracking international students for twelve months following their graduation.
"They're very motivated, [but] they have just one year to find a job [before their visas expire], and students have had difficulties. These students are not getting jobs, they're having a very hard time paying their school fees, and then to add loans on is going to be too much."
Keeping track of international students after graduation is an admittedly complicated process. "About half enter grad school," said Morse. "Some may be hired, or they could be here through marriage." But others, Morse says, fail to find permanent work or extend their visas by other means. Those are the students who drop off Principia's radar, likely because they return to developing countries or stay in the United States illegally in the hopes of finding work.
"I don't know the number or percentage, because no one is required to keep in touch, and I'm not supposed to be policing them," said Morse. "Ultimately, we just don't have enough data. It's going to be difficult to base it [the loans] on the data we are collecting, because it just tells us if this student is working temporarily, it won't give us enough to understand their economic situation."
Yet proposed loans and the ongoing recession are not the only financial pressures facing international students. Last spring, administrators corrected a filing error which incidentally led to a steep increase in the federal taxes owed by international students on the aid they receive for room and board. "The taxes are another big thing, which is another reason why I felt that this was the wrong time to give loans," said Morse. "[As an international student], you are now actually being charged 14 percent for room and board. It's definitely a change for the students, and last year we had to help the students pay these taxes. I took what was in my budget and it nearly maxed me out completely."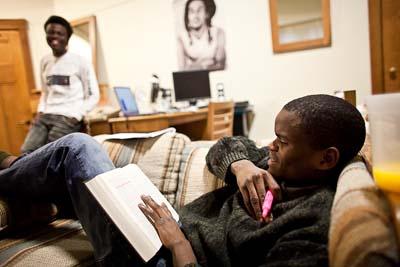 Benjamin Chernivsky / photo
For Ghanaian freshman Anthony Ackah-Nyanzu, the high taxes and scarcity of student employment make it nearly impossible to stay on top of school fees. "Right now my Prin bill is about $1400, which is what they told me I would owe for the whole year, but that's just for fall and winter quarter. I was supposed to pay $500 a quarter, and I paid that [for fall quarter] before I came in the fall. So later I check my bill, and whoa, it's $1800." Ackah-Nyanzu said Morse told him the increase in payment was due to taxes.
Ackah-Nyanzu currently works in the kitchen ten hours a week, for $8.10 an hour, and worked 20 hours a week over break. He said: "Yeah, I wanted more, but the jobs just aren't available. But if you read the status of the visas they give to students who come to the US, they say you can work 40 hours a week during break and 20 hours a week during school. They told us the jobs on campus would be enough."
Like all freshman international students, Ackah-Nyanzu received the details of his financial aid package in a letter sent around May 21 last year. At the bottom of the letter outlining the grant he received was a brief notice explaining that the school was planning to change these grants into loans in 2010. It was over a month since he'd accepted his spot at Principia, and nearly two months since he'd turned down a place at the other schools he'd been admitted to. "I felt pretty much locked in. I could have waited another year to go to school at all, or I could have just gone ahead and come here," he said. "If you tell people this stuff in May, they're kind of floating."
Taking on foreign loans to pay for school is not something Ackah-Nyanzu believes he can afford. He said: "If I have like a $20,000 loan to pay and I'm in Africa [after graduation], it's like I have $200,000 loan to pay by US standards. If I have this loan, why didn't I just stay in Ghana, go to church and invest in Ghana? But I came here because I want to live with other Christian Scientists. I want learn about C.S. There should be a way where if you want to come here, you don't end up with a bunch of loans around your neck. You shouldn't have to regret coming to Prin."
The prospect of large loans has motivated freshman Ifi Xifre Villar of Uruguay to begin exploring the transfer process. "There were a lot of reasons to come to Prin, but finances definitely played a role, too," said Xifre. "I know in America, it's common to graduate with a lot of debt, but if I was at home, I'd be going to a public school."
"My parents worry, because compared to their income, it's so much. My mom suggests to me, why don't I go home for college?" said Xifre. "When the time comes, I'll have to decide."
So far Xifre has filled out at least one transfer application, though she is waiting to see what ultimately happens with the proposed loans before sending the applications in. "Since I'm going to have to get a loan, I want to see what my other options are, to look for the highest benefits," she said.
Xifre has also been frustrated by the administration's virtual silence throughout the decision-making process over the past several months. "Whenever I've asked Bente [Morse] about it, they say, 'Oh, we're talking about it.' So they don't really release information because they're talking about it. I think Bente just doesn't want to scare us, but I like to know what's going on."
Administrators have discussed the possibility of "loan forgiveness" for students who choose to return to developing countries with struggling economies after graduation. "If you go back to your third world countries, nobody is going to penalize you for that," McCauley told the Pilot last spring. "We don't know the exact details yet, but it should be a very fair forgiveness program."
Fundamentally, McCauley said in an interview this quarter, "the equity of everybody contributing to pay back their education is what we think is reasonable, so that you're not treated unfairly. That's a significant component, that fairness. Why should a domestic student pay loans, but never an international student?"
But the possibility that these loans may end up as gifts one way or another – either through loan forgiveness or by a student's defaulting on them – is particularly perplexing, says Morse. "That was a red flag for me, because Prin may end up spending more money than it is actually collecting. I know where Brian [McCauley] is coming from when he is using the word equity, but on the other hand there is a point where there has to be affirmative action."
Still, McCauley said he is confident that the loans will go forward for 2011. "We lose students every year that we would like to have because finances don't work out here. He added: "We know a loan program could have some impact that way, but we feel we are still extremely generous with our assistance that we give to all of our students. Our feeling is that it'll only be a couple of people that may make decisions differently than they would otherwise."