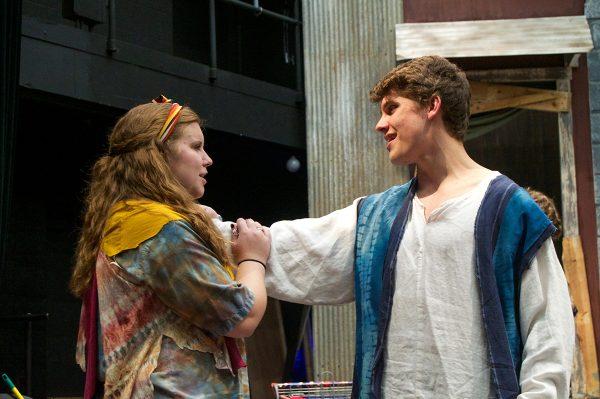 George Napper
Guest Entertainment Critic
From the moment the lights went up on director Trish Brown's production of Godspell, I knew we were in for something special. I didn't know quite what to expect, but as it took shape, it quickly revealed itself to be a marvel of ingenuity and passion.
I guess that saying "from the moment the lights went up" is a bit misleading, because this production started with what seemed like ad-libbed interactions between characters already on stage as the audience piled in. And pile in they did! I felt truly blessed to have been among the lucky patrons who were able to purchase a ticket online before most of the shows sold out.
The show's popularity has to be a testament to the power of word-of-mouth, as I can't imagine anyone coming away from this production disappointed. In addition to being impeccably sung and choreographed, the production had an edge to it that few productions attempt, let alone execute, with flying colors.
From the outset, the characters who inevitably became Jesus' disciples seemed harshly divided against one another. Reasons for this division varied among the cast, but the set implied our divided America. I can't overstate how much I appreciated the bravery of this approach. This production is an example of why the world needs theatre.
When Jesus arrived, played with the phenomenal strength and nuance of Nik Peschke, he wore a bright orange jumpsuit. This cemented the idea that the production took place in a dystopian prison of sorts. He removed the jumpsuit in order to be baptized. He then began telling a series of parables, most of which led into a musical number.
The show includes some iconic Broadway tunes, including "Day by Day" and "Prepare Ye." The ensemble of singers was excellent, not only in the all-cast numbers, but also in the quiet, contemplative songs. These songs stripped away some of the grime of the show's tethers to the present day and allowed the audience to focus on the beautiful story of Jesus' sacrifice. "By My Side" and "All Good Gifts" were my two favorite pieces from the production.
Godspell is a story which we still have much to learn from today. We may think we have moved past it, or that it's stale and boring, but a play like this gives us the rare opportunity to re-contextualize Jesus' teachings and learn even more from them. Trish Brown embraced this opportunity with full force, and this production was only blessed by her approach.
While not part of my review, I want to express my overflowing gratitude for the Principia Theatre Department in general. This show is an example of why I'm so thankful for my time as a Principia theatre student.
There are thousands of theatre programs a student could choose from. Narrow that down to "theatre programs which emphasize the study of Christian Science," and that list gets very, very short. But the reason I loved and still love the program isn't just due to the Christian Science aspect. It's also because it is challenging as well.
In Science and Health with Key to the Scriptures, Mary Baker Eddy speaks to the conflict between the spiritual and material as epitomized through Christ Jesus:
The invisible Christ was imperceptible to the so-called personal senses, whereas Jesus appeared as a bodily existence. This dual personality of the unseen and the seen, the spiritual and material, the eternal Christ and the corporeal Jesus manifest in flesh, continued until the Master's ascension,[…] (pg. 334)
Godspell, and all the Prin productions during my time as a theatre student, dealt with this conflict in some way. The fact that our world isn't perfect isn't something that's ever been lost on Principia College theatre. That's part of why my theatre education was so enjoyable and life-changing.
Godspell brought all of this to the forefront of my mind specifically because it featured such an effective balance of both sides of this conflict – between the spiritual and material viewpoints from which we can choose to see the world.
Ultimately, with Jesus' resurrection, this production of Godspell shows us the importance of hope amidst seeming imbalance. Like Principia's Theatre Department, these characters realize that despite seeming material complications, they can be the light of the world.
Image courtesy of Zoe Mahler