This content has been archived. It may no longer be relevant
Journalist Lara Logan, who survived a horrific sexual assault while covering the upheaval in Egypt this spring,  shared her inspirational story with Principia College November 10 as part of the Ernie and Lucha Vogel Moral Courage Speaker Series. This series has brought together speakers from around the world who have demonstrated moral courage through their acts of personal sacrifice for the good of the whole.
Logan, chief foreign correspondent for CBS, said her upbringing in South Africa introduced her to the realities of racial tensions under apartheid. Her family ingrained in her an innate sense of respect for all people. She was taught to develop her own voice and take action for the causes she believed in. Inspiration came from the examples of Nelson Mandela and other leaders fighting for rights, who for her represent a "living embodiment of moral courage." As a white South African growing up at the end of the apartheid era, Logan said she learned that "the white way of doing things in South Africa wasn't the only way, wasn't even necessarily the right way, that you had to put yourself in other people's shoes, and see the world through their eyes, and that's what I do over and over and over again, and you have to be open to that, and you have to be fair."
Logan went on to pursue journalism in her professional career as a means of exploring her place in the world and exposing the realities of life and events worldwide. Sophomore Dillon Siewert said of Logan, "I really admire her humility because she talked about how whenever she went to another place she would let the place speak to her, instead of her speaking to the place." Logan said she learns about her environment through listening, observation, and by speaking to local people about their lives.
Traveling to Cairo, Egypt to cover the crumbling rule of Hosni Mubarak, she reported from Tahrir Square and in the course of one night experienced a violent sexual assault by a mob of 200-300 men that nearly cost her her life. By sharing the story of her experience in Tahrir Square, Logan expressed her inner strength and moral courage. During the darkest moments of the assault that night, she told the audience in Cox Auditorium, "I thought of my babies, I can't believe that I gave up on them that easily, how could I do that to them, that's how I found the strength to fight."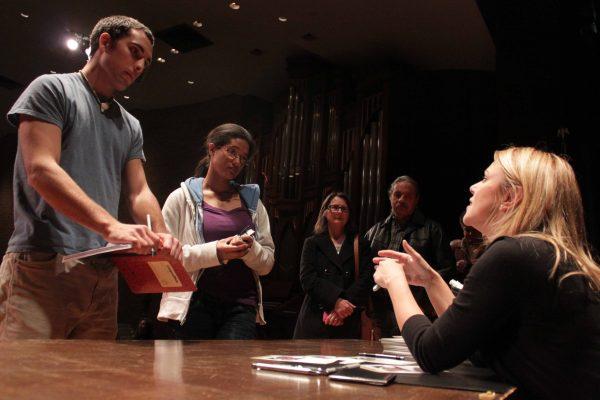 In consideration of the events that occurred in Cairo, Logan remarked, "If anything good came out of it, it was the response. I never in a million years expected that there would be so much compassion, so much support, so much understanding, that was the first thing I was overwhelmed by."
She went on to say, "more than that it was the people that came out and said, if she can talk about this, I can talk about it. If she can not deny this, then it's okay for me not to deny it."
The inspiration women found in Logan's story, and her willingness to share it publicly, gave them the strength to do the same. Logan understands that the world is still working to overcome numerous problems, from poverty, to violence, to racial inequality. Speaking on this subject she said, "It is indescribable what we still do to each other, and if in some small way I can change that, I feel very grateful that I can do that."
Senior Tim Dixon said he was "really impressed that she was so adamant that it was not something to be ashamed of. She went through a really terrible experience, but she is not ashamed of what happened, and it is not her fault. I was really amazed by that." Her example is one we can all learn from. Her story evidences the fact that even the most traumatizing experiences don't have to determine our lives; rather, it is our moral character that will determine the lasting effect these experiences have.
Logan is very clear that the events in Egypt will not define her. She said, "I know who I am, and I know what's right." She is continuing her career, traveling abroad to cover the news and learning the real stories behind world events. Junior Maddy Grendel reflected on Logan's talk: "Lara Logan was a phenomenal speaker. I admire her bravery, her courage, and the fact that she is willing to go off again, even now. She is so focused and driven to have this professional career." Logan's moral courage and her determination to pursue her goals in spite of all obstacles are truly inspirational. It seems all who attended the talk came away with an inspired outlook on life.