Recent talks from professional mountaineers give students new outlooks on personal challenges
If life was a mountain, then we would all be travelers. Life – and mountaineering – are all about the attitude you have on your climb to the top. Principia College students, faculty, staff, and community members had the opportunity to hear about the unfoldment of this revelation from a man who has peaked the world's tallest mountains blind.
Erik Weihenmayer was able to share various stories when he recently visited the college as a Koh Foundation speaker who has climbed, kayaked, and even created a technology that has allowed him to "view" images with his tongue. He entered the stage with the help of his German Shepard and introduced Principia to a movement he started called No Barriers. In this program, Erik challenges people to go on mountain climbing expeditions with him. He urges individuals to find personal barriers along the way and subsequently tackle them head on.
"What is in us is stronger than what is in our way," Weihenmayer said as he inspired the audience during his speech about pushing the limits.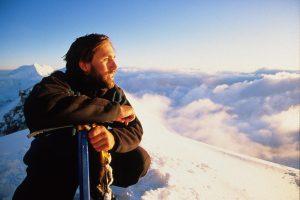 Being the first blind climber to reach the peak of Mt. Everest didn't come without challenges. Weihenmayer relied heavily on fellow travelers and Sherpas, a guidance group of Nepalese people who have grown accustomed to mountain climates. The Sherpas encouraged him with the idea, "Mind is like water. If you do not disturb it, it becomes clear."
The concept that we, as individuals, have the power to leave our minds in peace was truly refreshing. He was adamant that – with love and support – the Principia community could help everyone (on and off campus) to climb their own mountains.
The following Thursday, Principia was granted with another opportunity to attend a talk given by high altitude mountaineer, Ed Viesturs. Viesturs is the only American to peak all 14 of the world's highest peaks.
Though not blind like Weihenmayer, Viesturs faced plenty of his own challenges. Not only was he – at multiple points – caught in blizzards, but he chose to climb every mountain with no oxygen.
Viesturs emphasized the importance of both peaking and descending a mountain. It seems that climbing, like many things in life, is a two-way street.
Junior Bess Bookout said, "this lecture was inspiring because [Viesturs] emphasized working together to reach a goal. We can tie those same principles to what we believe here at Prin. We all share this community to help each other grow."
Viesturs encouraged the community to, "Be self motivated" – meaning, we should never give up on our own personal goals and desires. His message touched and inspired many.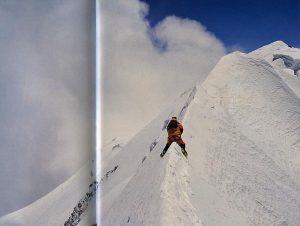 The two fearless climbers brought words of encouragement to the campus that students, staff, and visitors will be able to hold on to throughout their own journeys in life. Both speakers highlighted the idea that no matter what mountain one may face, nothing is ever impossible.
Images courtesy of Touch the Top and Mountains of Travel Photos