Five budget cars for the newly graduated
Graduating from college can be scary. Your newfound responsibilities include finding a job, renting an apartment, paying off your PrinBill, and having to buy a car. As newly graduated, most of us are not going to be able to afford a new Mercedes or a Porsche. So that forces us to look at other options that may not be as appealing, but at least gets us from point A to point B. Most people our age would probably buy a used car or nothing at all. However, there are vehicles that can be purchased new and are still affordable. Listed below are five automobiles that serve a variety of purposes and can be purchased for less than 20,000 dollars. These include sporty coupes, spacious SUV's, and other cars that will provide the transportation you need for the real world.
2017 Chevrolet Spark: $11,900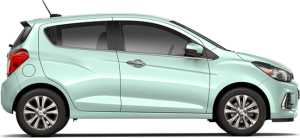 The Chevrolet Spark is a small but mighty hatchback. Its MSRP of $11,900 makes it appealing for the tight-budgeted. Its compact size makes it easily maneuverable through big cities, and its 4 cylinder, LS1 engine boasts a money-saving 38 miles per gallon (mpg). Chevrolet brags that it, "has plenty of space for your favorite things," including 27.2 cubic feet of cargo space. Other features include 4G LTE Wi-Fi, vibrant colors to support any style, and much more. Overall, the Spark is the perfect little car for a city environment at an affordable price.
2017 Jeep Renegade: $18,990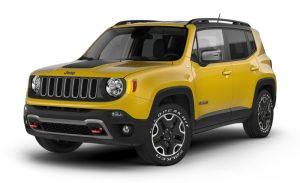 Jeep has been known for its rugged and reliable vehicles for years. During the second World War, they were a favorite among American troops as a staple of transportation. Jump forward to 2017, and they are producing stylish yet affordable sport utility vehicles. The Renegade boasts a turbo-charged, 180 horsepower engine. It may look small, but it has ample cargo space to fuel an active lifestyle. Per Car and Driver magazine, it is a more-than-capable off-roader. The styling is fun and sporty and will turn heads wherever you are. Whether it's a drive along the coast or a trek in the mountains, the Jeep Renegade will have you covered.
2017 Volkswagen Golf: $19,315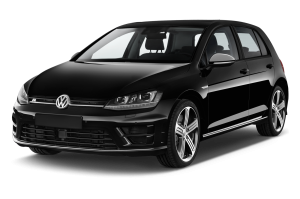 The Volkswagen Golf has been around since 1974. It has been upgraded, tested, and tested again to ensure complete customer satisfaction. CarandDriver.com gives it a perfect 5 out of 5 stars due to its, "well-made interior," and, "Standard ApplePlay and Android Auto." The hot-hatchback has a 170-horsepower engine that catapults from 0 to 60 mph time of 6.8 seconds. It has good gas mileage of up to 37 mpg on the highway. Volkswagen in German means, "Peoples Car," which is the perfect description of the Golf.
2017 Kia Rio: $15,015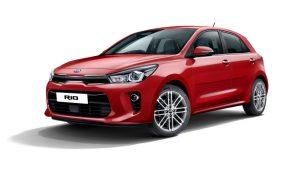 The Kia Rio is everything you would expect from a small, European-style sedan. It is sporty but practical in the sense that it can zip around town while carrying everything you need. The Rio is not the fastest on this list, but it will get you from point A to point B in style. This sedan is perky and well-equipped with AC and satellite radio. Its fuel efficiency is probably its best attribute, getting 36 mpg on the highway. This little car will keep things interesting while having enough room for three of your friends. Also, at $15,015, it is friendly to your wallet.
2017 Toyota Yaris: $15,760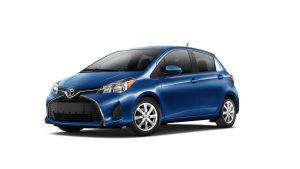 For 17 years, this car has been one of the most popular low-budget cars on the road. The new Yaris is a lot sportier and refined than previous models. The Yaris is not a car for someone who wants to go fast or turn heads. The Yaris is a simple, down-to-earth affordable car. Its source of power is a 106 horsepower, 4-cylinder engine that will get you from 0 to 60 in just under 11 seconds. Its fuel efficiency, however, might raise some eyebrows for new graduates. Much like the others on this list, the Yaris gets 36 miles per gallon on the highway. It's also simple and clean. Toyota's famous sales pitch for the Yaris is, "It's a car!" alluding to its price point. With that said, it is a car that helps the tight on cash.
Image courtesy of