This content has been archived. It may no longer be relevant
The Piasa Pub is loved by many Principians because of its delicious food and friendly atmosphere. Most would agree that the campus hotspot serves as a refuge from homework and a unique place to socialize with friends. The Pub is very much a part of Principia, and the campus would not be the same without it.
In some cases, however, the Pub has been a place of frustration and discouragement. Missing orders, orders not made as requested, and even occasional rudeness from the employees have turned some away from the beloved eatery.
"Sometimes I get really frustrated with how people make the food," said junior Zack Becker. Becker referenced the Nickelodeon television show Spongebob Squarepants, and how it's stressed on the show that the infamous Krabby patties be made with care. He believes this is an important standard that all restaurants should uphold. "That's something I think the Pub lacks . . . If it's trying to be restaurant style, make good quality food, put a little care into things and care about your job," said Becker. He also mentioned that, from his perspective, it seems Pub employees lack focus, adding that he has observed "an awful lot of standing around."
It's not all negative for Becker, though. He recognized what he believes to be the positive aspects of the Pub, "I think they've done a better job with the menu." He also expressed his gratitude for the convenient hours and the delicious sub sandwich. "That's such a good thing to have," he said.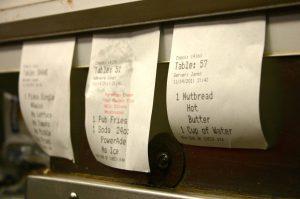 Jordan Anderson, a freshman here at Principia and a frequent Pub customer as well as employee said: "After working [at the Pub] I feel more sympathetic towards the workers because a lot of times the mix-ups come whenever shifts are switching." For example, if you order something around 10:00, when there is a shift change, it's easy for that order to get lost or mixed up because of the confusion that ensues as workers swap out. Anderson mentioned that there is "food still cooking on the grill" and that "we don't know who it's going out to."
As a customer, Anderson has learned to be more considerate when something he has ordered is lost or forgotten. He did mention, however, without naming any specifics, that "you see things that shouldn't be happening . . . something that [the Pub workers] should be doing that they're not, or they're doing something wrong." This may be because, according to Anderson, "unless you do something really wrong, you're not going to get canned."
With this arises the question of management. Karlin Krishnaswami, a former Student Pub Manager who now works elsewhere on campus, considered herself a "tough manager." At the beginning of each shift, Krishnaswami addressed all the employees. She said she believes this helped set the tone for the rest of the evening, and ensured that everyone knew she expected the rules to be followed. "I like to do things to the best of my ability," said Krishnaswami. She said that for the most part she had great shifts.  However, she mentioned, "it was tough on rotating weekends because I couldn't have that speech, I couldn't tell them what to expect."  Krishnaswami found that on these weekends the standards she expected employees to follow were commonly disregarded. "I definitely made some enemies for being more strict," she commented.
As a customer, Krishnaswami said that at this point in the semester she's pretty satisfied with the Pub, "I think now it's fairly consistent because people have had more experience."
Mary Odhiambo, the Dining Services Pub Manager, explained, "Fall semester has always been the hardest semester because we lose all our seniors and we have a whole new batch of freshmen." The large number of people that must be trained in the fall allows for the possibility of a shift with all freshmen or new workers. This justifies, at least at the beginning of the semester, the occasional inefficiencies at the Pub.
"Obviously this problem isn't something that has just been this fall, I'm aware of that," added Odhiambo. Odhiambo said she leaves notes at the Pub as well as informational emails and voicemails, which are often an attempt to give support. She realizes, however, that there's no way to tell whether people are reading or listening to what is being said. In addition, she also supervises and works with the student managers. "There's a lot to take in and some people have a more natural knack at it than others," said Odhiambo. Overall, Odhiambo is very happy with the "large majority" of the Pub workers and feels that while orders still go missing and the restaurant hasn't quite reached perfection, "there has been a large improvement."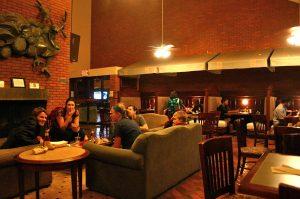 From an employee's perspective on the Pub's leadership, Anderson said that from what he has seen, Mary is an effective manager. "Mary's pretty down to business when I have worked with her. She knows what she wants . . . she really stresses that we're always doing something to help the Pub."
Lauren Furbush, a sophomore here at Principia, can't seem to get enough of the place. "I have Pub dates at least everyday," said Furbush. She has only experienced bad service once, and she eats there almost every day. Many aspects of the Pub appeal to Furbush. First, she's always satisfied with the cuisine. She's also one of few who can actually get homework done even with the Pub's background noise. Just last week she wrote an entire paper there, despite the loud music and incessant chatter. She loves the games, too. "I play tons of games in there . . . It's game heaven," she said.
Furbush also admires the fun that the employees seem to have. "I always look back there . . . people are always dancing and having fun," she commented.
The Pub has been serving this campus for many years. The restaurant is also open to constructive criticism, which is clear from the comment box located across from the ordering window for positive or negative feedback. Perhaps a better effort as customers to be considerate and understanding as well as a more committed effort among the employees to communicate effectively and work to the best of their ability could help evolve the Pub into its highest ideal.