This content has been archived. It may no longer be relevant
The Public Affairs Conference (PAC) office is one of those places on campus that few people really know about. Tucked away in the depths of the School of Government, it isn't the kind of place many frequent on a daily basis. But a few dedicated and worldly students will become quite familiar with this office as they prepare and plan to host this year's conference, titled The End of Oil? Energy Challenges in the 21st Century, from April 8-10.
The 2009-2010 PAC board, headed by Executive Directors Laura Buchanan and Kenny D'Evelyn, has worked throughout this quarter to organize the event.
Now in it's 61st year, PAC is the oldest student-run conference of its kind in the United States. Speakers started coming to campus for the conference in 1939.
According to an official PAC document, the event received acclaim even in its early years. "As the first of its kind, the Public Affairs Conference received widespread publicity in newspapers from coast to coast. It was a forum created by and for students to listen to notable speakers and to discuss relevant issues of the day."
Decades later, PAC still serves as an opportunity for student delegates to come together and learn about pertinent world issues. This year's conference theme seems fitting in a world that is increasingly aware of the finitude of its natural resources. Buchanan and D'Evelyn proposed the idea of examining current energy challenges last winter, and the theme was announced at the end of the 2009 China Rising conference.
Buchanan said, "We were looking for a topic that was more universally applicable" rather than an issue that appeals largely to political science majors.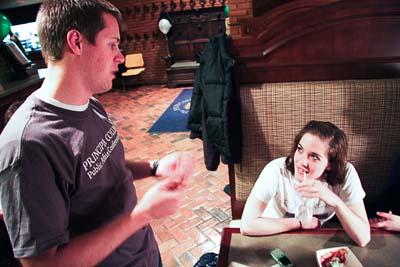 D'Evelyn said the conference will "look at the role oil plays in our economy and our world today, and then how we … can move forward from that dependency."
Senior Emily Kabura, Director of On-Campus Delegates, said that she hopes to learn more about the responsible management of oil. Although Kabura said that her native country, Kenya, does not have its own oil reserve, she knows that oil-rich African countries like Nigeria have dealt with a lot of turmoil concerning the resource. "Oil is a very important resource all over the world. Can we manage it without conflict?" asked Kabura.
As executive directors, Buchanan and D'Evelyn have worked since fall quarter inviting experts to speak at the conference. Senior Kateland Oakes, Director of Speakers, has worked alongside the Executive Directors to determine who to contact about participation in this year's PAC.
D'Evelyn said that the biggest difficulty in choosing speakers has been "making sure that we're giving a balanced perspective."
On a similar note, Oakes said that the topic of oil is broad, and therefore has the potential to branch off into a variety of subtopics. Oakes said, "Oil is the confluence of politics, environment, sustainability, [and] economics" to name a few subjects related to the potential end of oil.
After months of reading the news, writing letters and emails, and calling countless experts from all over the world, the board has finalized twelve PAC speakers. Each speaker will bring a different area of expertise to the conference in order to holistically address the issue of oil.
Considering Principia's small size, PAC attracts high profile speakers every year. William Fisher, former chairman of the Department of Geological Sciences and current professor at the University of Texas in Austin, will give the opening address. Ambassador Richard Jones, Deputy Executive Director of the International Energy Agency and former ambassador to several Middle Eastern countries, will provide the keynote address. Complete speaker bios are available on the PAC website (www.principia.edu/pac).
Buchanan said, "We have some big names that came together through a lot of prayer."
Although finding speakers and planning a schedule of events are among the biggest items on the PAC to-do list, the eleven-person board has more work to do. Although every board member handles separate issues related to planning PAC, Buchanan and D'Evelyn oversee all general activity to be sure everyone is working consistently.
D'Evelyn said, "[It] makes our job exponentially easier when we can make sure that our board is doing what it's supposed to be doing…"
Kabura said it is her job to make sure students know about the conference and how they can get involved. Without her effort, no one would come to absorb the speakers' wisdom and expertise. Kabura organized a Week 5 showing of the movie Syriana, which is loosely based around the theme of international oil use, as a way to introduce this year's topic without presenting a specific PAC perspective or agenda.
Kabura also planned a Feb. 25 registration night in the Pub, where students were able to pre-register and hear a little more about the topic. Buchanan said, "We're hoping to get a higher turnout than we have in the past couple of years."
Members of the Principia community may also have noticed that the concourse is plastered with a large poster advertising The End of Oil? As co-Directors of Publication, sophomore Steve Bailey and junior Warren Curkendall have designed a logo, fliers, T-shirts, and signs advertising the theme.
Because students motivate every element of PAC's planning and execution, D'Evelyn said he sees the conference as a great way to develop student talent and skills. Oakes said she thinks PAC is a great way to prepare for work beyond graduation.
Buchanan said that PAC is a service to the community more than anything else. Through involvement in the conference, Buchanan said: "Students can really get a sense of the global issues that are going on when they graduate. It's an informational service to the students."
D'Evelyn added that PAC "definitely raises the prestige of Principia…we're a very small college but we have incredible speakers come here on student initiative, which I think is unique."
Registration for PAC will be open through the first week of Spring quarter. Students can register at the table in the concourse daily during lunch, or contact Emily Kabura.