This content has been archived. It may no longer be relevant
How informed are Principia students?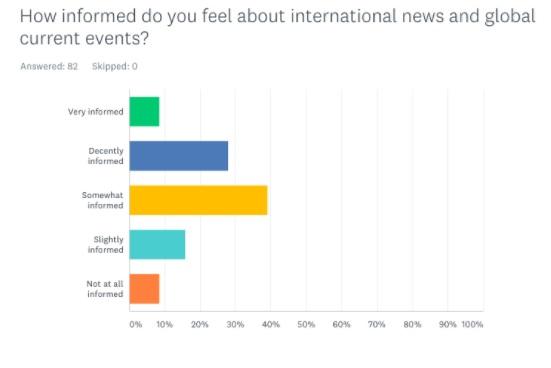 By Cha Cha Fisher
"Brazil is a beautiful country, and it's more than just beaches and bikinis," said Principia College senior Logan Araujo, when asked of popular misconceptions about his home country.
Comments like this one are not rare from international students at Principia regarding misconceptions and misunderstandings about their home countries. The Pilot set out to discover how much students at Principia know about international news.
The Pilot conducted a survey of 78 students in order to find out how informed they perceive themselves to be, compared to how informed they perceive their community to be. Additionally, respondents provided information about what news sources they regularly rely on.
The responses to individual levels of awareness represented a typical bell curve, with the largest portion of responses feeling "Somewhat informed." The curve is skewed slightly toward "Decently informed." Only 8.6% of Principia students felt they were "very informed."
Perceptions about international awareness in the community, however, differed from individual responses. As a whole, individual respondents viewed themselves more informed than the community. However, the same largest portion perceived the community as "somewhat informed."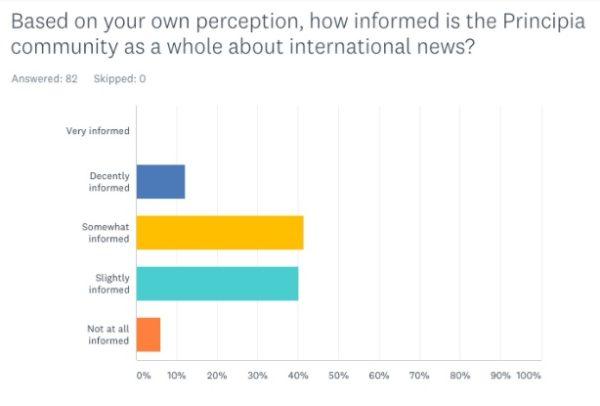 "I don't feel like a lot of students are aware of what's happening around the world. Some might know but the majority seems to be out of the loop," said international relations major, Araujo. "I wish more people knew at least the location of places… Some people I have talked to think that Brazil has only two cities, Sao Paulo and Rio, and they don't even know the capital."
Deniz Unal, a student from Turkey who currently studies in Germany, similarly echoed Araujo's concern about lack of geographic awareness. "When I was in the US, I talked to some people about where I'm from," she said, "but some of them didn't even know where the countries I mentioned are located, so I don't expect them to be informed about the news."
In 2006, National Geographic conducted a survey nationwide that tested young adults on their knowledge of world awareness and geography. It showed that young Americans had low geographic literacy, even of countries that have been in the news frequently. Among other results, it showed that 75% of respondents could not find Iran or Israel on a map.
This indicates that prevalence in current news stories does not necessarily increase contextual awareness of featured countries.
"I feel that my peers know the international headlines really well but lack the depth of understanding the complexity or significance of the issues," stated Connor Fiddler, a senior political science and history double-major. "Americans sometimes tend to view international headlines through a more domestic, bipartisan lens that prevents a deeper understanding of the issues."
This lack of depth may not be limited to Americans, but seems to be characteristic of millennials worldwide.
"As for me, I try to stay up to date on international news, but I don't follow everything," said Unal, who hails from Istanbul. "There is a Turkish blog that I read every day for international news, which has a title and a one-sentence description for each story. If it is interesting for me, I Google it to see what's happening."
This habit is common among many millennials. In the age of instant gratification and immediate feedback from social media, news organizations have shrunk articles by hundreds of words in order to keep young readers' interest.
Only 8% of those surveyed at Principia get their news from hard copy sources such as newspapers or magazines. A majority cited major news organization websites, Facebook, or news apps as a main source of their information. Some respondents included Twitter, YouTube and even Snapchat, Tumblr and Reddit as part of their source of information.
Half of Principia students surveyed cited friends and family as a source of news. Evidently, the Principia grapevine includes more substantive content than just community gossip. But there may be merit to that.
"I suggest just talking to people from other countries. You can get information and news from websites, but through conversations with others you can get to know stuff that the websites never tell you," said Araujo.
That's where the beauty of the Principia community comes in. The College has an incredibly diverse student body, representing 30 different nationalities. International students consistently make up almost a quarter of the student population. They are an incredible resource for meaningful conversation about global news. If Principia students want to be more aware of international events, the best place to start might be right here in Elsah.